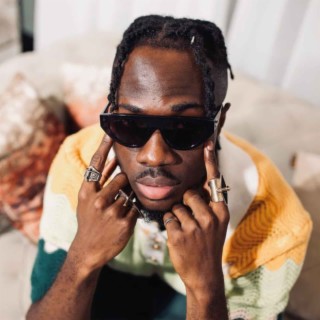 Kimilist
Current #16.3k

All Time #23.4k

Osei Kwame Junior popularly known by his stage name Kimilis was born on the 9th of November 1996 in Kumasi, he is one of such musicians who is bent on charting this path. He is a well-rounded artiste with witty wordplay, melodic tones and captivating lyrics that puts the listener on a reflective musical journey and happy mood making his brand of music unique.

Many of Kimilist Songs became very popular and trendy on social media in line with a great number of streaming and downloads on Boomplay.

Career
Kimilist followed his passion for music since his days in junior high school and has worked his way through the ranks to make a name for himself. He showed glimpses of his potential in SHS when he would rap over beats made by friends by either banging on tables or beatboxing. Kim would later start recording during his days at university in KNUST. As an artist, Kimilist specializes in rap with a large influence from the UK rap scene.

He blends Grime, Trap as well as Afrobeats and other Afro-fused genres. Moreover, Kimilist's biggest musical influence is from Kanye West who has influenced not only Kim's music-making but fashion and lifestyle. Kim enjoyed a level of success in university with his rendition of J Hus's "Did You See" titled "Party god".

He went on to perform at the biggest concerts, events, and parties on and off-campus. His dedication and zeal would put him on the radar of Tema-based record label Mimlife Records who would go on to sign him in 2019. Kimilist who has worked with the likes of Apya and Mike Millz in the past has earned a deal that made him the newest addition to the family of Tema based record label, Mimlife Records. 'Yawa' hit the airwaves today and has become the fans favorite on both radio and online portals plus social media spaces too.

He later released a rap mixtape "Flaws and Joy" which earned him slots on some platforms including EL's Bar Concert among others. Kimilist sets his eyes on becoming the new school prince of African sound. This exciting rapper/singer is determined to compete neck to neck with established acts on both the Ghanaian music landscape and Africa at large.

Kimilist has since worked with a number of artistes and producers including Kwame Yesu, Yaw Tog, Black Sherif, Medikal, Kuvie, JOSHUA3DEM, Nixieoffivicl, WebieJustDidit, Scratch The Savage among many others.

Follow Boomplay and keep up-to-date with the latest songs of Kimilist and information.

Kimilist's Songs
• Sika
• Yawa
• Kyer3
• Stranger
• Yente
• Bokor Bokor
• New Age Sound

Kimilist's Songs are included in Boomplay music playlists. Search, stream, and download Kimilist's Songs, her latest singles and albums in MP3 only on the Boomplay platform for free....more

Country/Region : Ghana
Songs

(7)

Albums

(7)

Playlists

(14)
Listen to Kimilist's new songs including "SIKA", "Yente ft. Ypee & Kwame Yesu", "Kyer3" and many more. Enjoy Kimilist's latest songs and explore the Kimilist's new music albums. If you want to download Kimilist songs MP3, use the Boomplay App to download the Kimilist songs for free. Discover Kimilist's latest songs, popular songs, trending songs all on Boomplay.
Osei Kwame Junior popularly known by his stage name Kimilis was born on the 9th of November 1996 in Kumasi, he is one of such musicians who is bent on charting this path. He is a well-rounded artiste with witty wordplay, melodic tones and captivating lyrics that puts the listener on a reflective musical journey and happy mood making his brand of music unique.

Many of Kimilist Songs became very popular and trendy on social media in line with a great number of streaming and downloads on Boomplay.

Career
Kimilist followed his passion for music since his days in junior high school and has worked his way through the ranks to make a name for himself. He showed glimpses of his potential in SHS when he would rap over beats made by friends by either banging on tables or beatboxing. Kim would later start recording during his days at university in KNUST. As an artist, Kimilist specializes in rap with a large influence from the UK rap scene.

He blends Grime, Trap as well as Afrobeats and other Afro-fused genres. Moreover, Kimilist's biggest musical influence is from Kanye West who has influenced not only Kim's music-making but fashion and lifestyle. Kim enjoyed a level of success in university with his rendition of J Hus's "Did You See" titled "Party god".

He went on to perform at the biggest concerts, events, and parties on and off-campus. His dedication and zeal would put him on the radar of Tema-based record label Mimlife Records who would go on to sign him in 2019. Kimilist who has worked with the likes of Apya and Mike Millz in the past has earned a deal that made him the newest addition to the family of Tema based record label, Mimlife Records. 'Yawa' hit the airwaves today and has become the fans favorite on both radio and online portals plus social media spaces too.

He later released a rap mixtape "Flaws and Joy" which earned him slots on some platforms including EL's Bar Concert among others. Kimilist sets his eyes on becoming the new school prince of African sound. This exciting rapper/singer is determined to compete neck to neck with established acts on both the Ghanaian music landscape and Africa at large.

Kimilist has since worked with a number of artistes and producers including Kwame Yesu, Yaw Tog, Black Sherif, Medikal, Kuvie, JOSHUA3DEM, Nixieoffivicl, WebieJustDidit, Scratch The Savage among many others.

Follow Boomplay and keep up-to-date with the latest songs of Kimilist and information.

Kimilist's Songs
• Sika
• Yawa
• Kyer3
• Stranger
• Yente
• Bokor Bokor
• New Age Sound

Kimilist's Songs are included in Boomplay music playlists. Search, stream, and download Kimilist's Songs, her latest singles and albums in MP3 only on the Boomplay platform for free.
FAQs about Kimilist
Where is Kimilist from?
He is from Ghana.
How to download songs of Kimilist?
You can download songs of Kimilist from Boomplay App for free.
Firstly, install Boomplay app on your mobile phone.
Secondly, navigate to the song you would like to download.
Thirdly, Tap on More > Download.