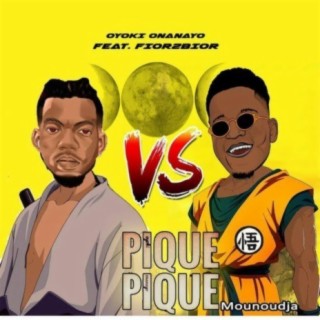 Fior 2 Bior
Current #564

All Time #527

Fior de Bior, also stylized Fior 2 Bior, is an Ivorian musical artist and web entertainer of drunken origin from the village of Anoumabo. Many of Fior 2 Bior songs, like On t'a dit, became very popular and trendy on social media in line with a great number of streaming and downloads on Boomplay.

He is best known for the rather enigmatic character he has embodied, among other things, on social networks in recent years, but also for his hit title "Gnonmi avec lait" in collaboration with the French rapper Niska.

Career
Fior 2 Bior made his debut in music in 2017, through parodies and musical freestyles which are already generating significant media enthusiasm among young Ivorians, especially on the Instagram social network. He regularly made the buzz.

In 2018, revealed by Ariel Sheney, Fior joined his label AS Record. He then released his first official single Kpokpokpouo Souhalele which met with enormous success, accumulating to date more than 2.5 million views on YouTube.

Thereafter, he went on to successful collaborations such as Piqué piqué with Oyoki Onanayo or Apoutchou with DJ Lewis, before releasing his second official single" They throw themselves".

In 2021, he released his title "Gnonmi with milk" featuring Niska which quickly became viral, already counting 3 million views after 3 days.

He also released his third official single "Victago", the clip of which was filmed in France. During his first European tour during this same period, he collaborated on "Paris c'est chic" by Junior Bando and "Baygon" by Tisco.

On December 25, 2021, he released his fourth official single "Godo Godo" which crossed the million views mark in 10 days.

On January 8, 2022, he announced via his Instagram account a second visit to Paris for the filming of another clip.

Follow Boomplay and keep up-to-date with the latest songs of Fior 2 Bior and information.

Fior 2 Bior's Songs
• Piqué piqué
• Godo Godo
• Ye Suis Kpin
• Baygon
• On t'a dit
• A Mon Nan
• Victago
• Ewee
• Noyau
• Secret De Babalao
• Bibotty
• Mon Weey

Fior's Songs are included in Boomplay music playlists. Search, stream, and download Fior's Songs, her latest singles and albums in MP3 only on the Boomplay platform for free....more

Country/Region : Côte d'Ivoire
Songs

(2)

Albums

(2)

Playlists

(0)

Similar Artists

(10)
Listen to Fior 2 Bior's new songs including "Piqué piqué", "kpokpopouho soualélé", and many more. Enjoy Fior 2 Bior's latest songs and explore the Fior 2 Bior's new music albums. If you want to download Fior 2 Bior songs MP3, use the Boomplay App to download the Fior 2 Bior songs for free. Discover Fior 2 Bior's latest songs, popular songs, trending songs all on Boomplay.
Fior de Bior, also stylized Fior 2 Bior, is an Ivorian musical artist and web entertainer of drunken origin from the village of Anoumabo. Many of Fior 2 Bior songs, like On t'a dit, became very popular and trendy on social media in line with a great number of streaming and downloads on Boomplay.

He is best known for the rather enigmatic character he has embodied, among other things, on social networks in recent years, but also for his hit title "Gnonmi avec lait" in collaboration with the French rapper Niska.

Career
Fior 2 Bior made his debut in music in 2017, through parodies and musical freestyles which are already generating significant media enthusiasm among young Ivorians, especially on the Instagram social network. He regularly made the buzz.

In 2018, revealed by Ariel Sheney, Fior joined his label AS Record. He then released his first official single Kpokpokpouo Souhalele which met with enormous success, accumulating to date more than 2.5 million views on YouTube.

Thereafter, he went on to successful collaborations such as Piqué piqué with Oyoki Onanayo or Apoutchou with DJ Lewis, before releasing his second official single" They throw themselves".

In 2021, he released his title "Gnonmi with milk" featuring Niska which quickly became viral, already counting 3 million views after 3 days.

He also released his third official single "Victago", the clip of which was filmed in France. During his first European tour during this same period, he collaborated on "Paris c'est chic" by Junior Bando and "Baygon" by Tisco.

On December 25, 2021, he released his fourth official single "Godo Godo" which crossed the million views mark in 10 days.

On January 8, 2022, he announced via his Instagram account a second visit to Paris for the filming of another clip.

Follow Boomplay and keep up-to-date with the latest songs of Fior 2 Bior and information.

Fior 2 Bior's Songs
• Piqué piqué
• Godo Godo
• Ye Suis Kpin
• Baygon
• On t'a dit
• A Mon Nan
• Victago
• Ewee
• Noyau
• Secret De Babalao
• Bibotty
• Mon Weey

Fior's Songs are included in Boomplay music playlists. Search, stream, and download Fior's Songs, her latest singles and albums in MP3 only on the Boomplay platform for free.
New Comments(
27

)