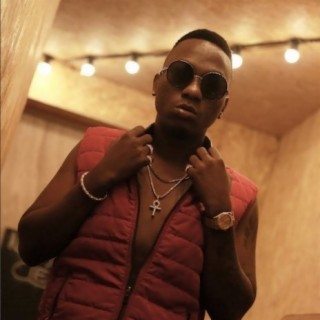 Rich Mavoko
Current #2,671

All Time #2,285

Richard Martin Lusinga (born 26 October 1990), known professionally as Rich Mavoko, is a Tanzanian singer and songwriter. Many of Rich Mavoko songs become very popular and trendy online with a great number of streaming and downloads on Boomplay. He is known for his hit song Moyo Wangu.

He is one of the few Tanzanian celebrities who have warmed their way into Africa' Äôs hearts with his songs like Roho Yangu, Ibaki Story becoming a popular tune.

Career
He was initially signed to 'King Kaka Records' in 2016, a record label founded by Kenyan rapper King Kaka, and later to WCB Wasafi. Some of his most widely known songs include 'Kokoro' featuring Diamond Platnumz, 'Rudi' featuring Patoranking, 'Show Me' featuring Harmonize, and 'Bad Boy' featuring A.Y. In 2020 he released his first E.P, 'MiniTape' as an independent artist.

Rich Mavoko's departure from WCB Wasafi was mired in controversy, with many speculating as to why he ultimately decided to leave the label. When questioned, Mavoko attributted his swift departure to an alleged top down pyramid structure at the label, with one artist receiving greater investment than others; he also mentioned unfair contractual terms as one of his reasons for seeking to terminate his contract with the label and for seeking legal redress.

It was not In 2019, former WCB label mate, Harmonize, also exited the label citing similar reasons. It has since been reported that the two may soon be label mates again, if Rich Mavoko accepts Harmonize's invitation to sign to his newly formed Konde Music Worldwide.

Follow Boomplay and keep up to date with the latest Rich Mavoko songs and information.

Rich Mavoko Songs
• Pacha wangu
• Ibaki Story
• Kokoro
• Mpe Habari
• Sheri
• Rudi
• Ndegele
• Naogopa
• Wezele
• Babilon

Rich Mavoko songs are included in Boomplay music playlists. Search to stream and download Rich Mavoko songs MP3/ single/ albums on the platform....more

Country/Region : Tanzania
Songs

(27)

Albums

(13)

Playlists

(25)
1

2

3

4

5

6

7

8

9

10

11

12

13

14

15

16

17

18

19

20

21

22

23

24

25

26

27
Listen to Rich Mavoko's new songs including "Blow Up (feat. Fid Q)", "Mapenzi", "Tololi (feat. Ssaru)" and many more. Enjoy Rich Mavoko's latest songs and explore the Rich Mavoko's new music albums. If you want to download Rich Mavoko songs MP3, use the Boomplay App to download the Rich Mavoko songs for free. Discover Rich Mavoko's latest songs, popular songs, trending songs all on Boomplay.
Richard Martin Lusinga (born 26 October 1990), known professionally as Rich Mavoko, is a Tanzanian singer and songwriter. Many of Rich Mavoko songs become very popular and trendy online with a great number of streaming and downloads on Boomplay. He is known for his hit song Moyo Wangu.

He is one of the few Tanzanian celebrities who have warmed their way into Africa' Äôs hearts with his songs like Roho Yangu, Ibaki Story becoming a popular tune.

Career
He was initially signed to 'King Kaka Records' in 2016, a record label founded by Kenyan rapper King Kaka, and later to WCB Wasafi. Some of his most widely known songs include 'Kokoro' featuring Diamond Platnumz, 'Rudi' featuring Patoranking, 'Show Me' featuring Harmonize, and 'Bad Boy' featuring A.Y. In 2020 he released his first E.P, 'MiniTape' as an independent artist.

Rich Mavoko's departure from WCB Wasafi was mired in controversy, with many speculating as to why he ultimately decided to leave the label. When questioned, Mavoko attributted his swift departure to an alleged top down pyramid structure at the label, with one artist receiving greater investment than others; he also mentioned unfair contractual terms as one of his reasons for seeking to terminate his contract with the label and for seeking legal redress.

It was not In 2019, former WCB label mate, Harmonize, also exited the label citing similar reasons. It has since been reported that the two may soon be label mates again, if Rich Mavoko accepts Harmonize's invitation to sign to his newly formed Konde Music Worldwide.

Follow Boomplay and keep up to date with the latest Rich Mavoko songs and information.

Rich Mavoko Songs
• Pacha wangu
• Ibaki Story
• Kokoro
• Mpe Habari
• Sheri
• Rudi
• Ndegele
• Naogopa
• Wezele
• Babilon

Rich Mavoko songs are included in Boomplay music playlists. Search to stream and download Rich Mavoko songs MP3/ single/ albums on the platform.