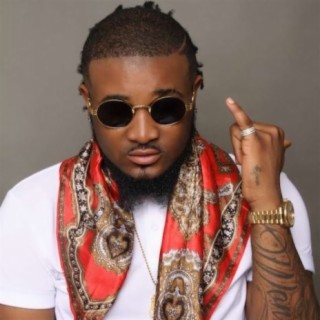 Ceeza Milli
Current #596

All Time #572

Ifeanyi Charles Bosah (born October 21, 1991) is a thriving Afrobeats singer, songwriter, and record producer. Ceeza Milli songs become very popular and trendy online with a great number of streaming and downloads on Boomplay.

He is a multi-gifted creative who is known professionally as Ceeza Milli. His successful career can be traced back to his early days in Ghana. He has worked with many of the big names in the industry.

Ceeza Milli came to the limelight in 2015 after dropping the singles, Banging and Sai Baba. His most recent work is Nawa, whose video has generated millions of views on YouTube.

Ceeza Milli was born to the Bosah family of Nigeria on the 21st Of October 1991. Eight days after his birth, he was named Ifeanyi Charles. He is an Igbo boy who hails from Anambra State. He came from a Christian family and was raised with good morals.

Though he is a southeasterner, Cezza Milli grew up in Lagos State. He was raised by a single mom, who ensured that he didn't lack any good things. On the contrary, his mother worked hard to ensure that he enjoyed the best things of life and attended good schools.

Career
Ceeza Milli developed an interest in music while he was still in primary school, which made him join the choir. His time in the choir helped develop him musically as he improved on his vocal sounds and learned how to compose songs.

So, it was no surprise that he picked up sound production at the age of seventeen and started learning how to make beats. Within a few years, he mastered the craft and became a good music producer.
As an artist, Ceeza Milli has rebranded twice. He was formerly known by the stage name, Efine. Under the moniker, he released a couple of mixtapes, which helped to launch his music career in Ghana.

His debut single, Stamina, featuring Ghana rapper, Sarkodie was a hit and won him recognition in the industry. Encouraged by this, he dropped other singles before relocating back to his fatherland, Nigeria.

On moving back to Nigeria, he changed his stage name to Ceeza Milli and started collaborating with A-list artists in the industry. He got his big break after releasing the hit single, Banging in 2015, which made him immensely popular in the Nigerian music space.

Riding on that wave, he went back to the studio to record another banger titled Sai Baba. The song featured DMW artists, Dremo and Ichaba.

His A-list artist status was sealed after he appeared on the single, Soco by Wizkid. The song, which was one of the trendy songs of 2017, helped Ceeza Milli build a strong fanbase.

Notable names Ceeza Milli has worked with include Masterkraft, Legendury Beatz, Ycee, Zlatan Ibile, Tiwa Savage, Reekado Banks, Ice Prince, amongst others.

His latest work NAWA has garnered over million views on YouTube, helping sustain the love his fans have towards him. To commemorate his 30th birthday, he is set to drop a single, Medicine, on the 21st Of October 2021.

Follow Boomplay and keep up-to-date with the latest Ceeza Milli songs and information.

Ceeza Milli Songs
• Nawa
• Socco
• Sai Baba
• Banging
• Shayo ft. Wizkid

Ceeza Milli songs are included in Boomplay music playlists. Search to stream and download Ceeza Milli songs MP3/ single/ albums on the platform....more

Country/Region : Nigeria
Listen to Ceeza Milli's new songs including "Shayo ft. Wizkid", "Flex ft. Lakizo Ent., Terri & Bella Shmurda", "Medicine" and many more. Enjoy Ceeza Milli's latest songs and explore the Ceeza Milli's new music albums. If you want to download Ceeza Milli songs MP3, use the Boomplay App to download the Ceeza Milli songs for free. Discover Ceeza Milli's latest songs, popular songs, trending songs all on Boomplay.
Ifeanyi Charles Bosah (born October 21, 1991) is a thriving Afrobeats singer, songwriter, and record producer. Ceeza Milli songs become very popular and trendy online with a great number of streaming and downloads on Boomplay.

He is a multi-gifted creative who is known professionally as Ceeza Milli. His successful career can be traced back to his early days in Ghana. He has worked with many of the big names in the industry.

Ceeza Milli came to the limelight in 2015 after dropping the singles, Banging and Sai Baba. His most recent work is Nawa, whose video has generated millions of views on YouTube.

Ceeza Milli was born to the Bosah family of Nigeria on the 21st Of October 1991. Eight days after his birth, he was named Ifeanyi Charles. He is an Igbo boy who hails from Anambra State. He came from a Christian family and was raised with good morals.

Though he is a southeasterner, Cezza Milli grew up in Lagos State. He was raised by a single mom, who ensured that he didn't lack any good things. On the contrary, his mother worked hard to ensure that he enjoyed the best things of life and attended good schools.

Career
Ceeza Milli developed an interest in music while he was still in primary school, which made him join the choir. His time in the choir helped develop him musically as he improved on his vocal sounds and learned how to compose songs.

So, it was no surprise that he picked up sound production at the age of seventeen and started learning how to make beats. Within a few years, he mastered the craft and became a good music producer.
As an artist, Ceeza Milli has rebranded twice. He was formerly known by the stage name, Efine. Under the moniker, he released a couple of mixtapes, which helped to launch his music career in Ghana.

His debut single, Stamina, featuring Ghana rapper, Sarkodie was a hit and won him recognition in the industry. Encouraged by this, he dropped other singles before relocating back to his fatherland, Nigeria.

On moving back to Nigeria, he changed his stage name to Ceeza Milli and started collaborating with A-list artists in the industry. He got his big break after releasing the hit single, Banging in 2015, which made him immensely popular in the Nigerian music space.

Riding on that wave, he went back to the studio to record another banger titled Sai Baba. The song featured DMW artists, Dremo and Ichaba.

His A-list artist status was sealed after he appeared on the single, Soco by Wizkid. The song, which was one of the trendy songs of 2017, helped Ceeza Milli build a strong fanbase.

Notable names Ceeza Milli has worked with include Masterkraft, Legendury Beatz, Ycee, Zlatan Ibile, Tiwa Savage, Reekado Banks, Ice Prince, amongst others.

His latest work NAWA has garnered over million views on YouTube, helping sustain the love his fans have towards him. To commemorate his 30th birthday, he is set to drop a single, Medicine, on the 21st Of October 2021.

Follow Boomplay and keep up-to-date with the latest Ceeza Milli songs and information.

Ceeza Milli Songs
• Nawa
• Socco
• Sai Baba
• Banging
• Shayo ft. Wizkid

Ceeza Milli songs are included in Boomplay music playlists. Search to stream and download Ceeza Milli songs MP3/ single/ albums on the platform.
New Comments(
49

)
FAQs about Ceeza Milli
Where is Ceeza Milli from?
He is from Nigeria.
What are the latest songs of Ceeza Milli?
The latest songs of Ceeza Milli are Konfidential Love, Yapa and God Abeg.
What are the best songs of Ceeza Milli?
The best songs of Ceeza Milli are Shayo ft. Wizkid, Flex ft. Lakizo Ent., Terri & Bella Shmurda and Medicine.
What are the best albums of Ceeza Milli?
The best albums of Ceeza Milli are Shayo, Diamond In The Rough and Flex.
How to download songs of Ceeza Milli?
You can download songs of Ceeza Milli from Boomplay App for free.
Firstly, install Boomplay app on your mobile phone.
Secondly, navigate to the song you would like to download.
Thirdly, Tap on More > Download.