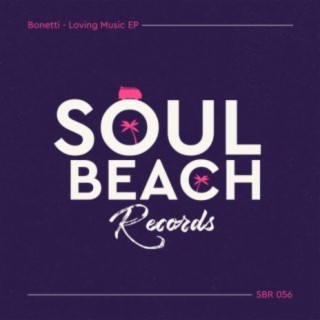 Bonetti
Current #99k+

All Time #125.8k

Bonetti is a talented producer and DJ born in Palma de Mallorca, Spain. He has performed as a resident DJ at the nightclub Pacha Mallorca, also he has performed in many hotels and occasionally in other clubs as El Barbero, Lunita, Subzhero, Es Gremi, Anima Beach Palma or Sala Republik Club (Madrid). From an early age, Bonetti has been influenced by the house music and the world of the night.
His productions are mixed between Jackin House, Deep House, House, Afro House, Funky, Disco and Soulful House.

He was named by Traxsource one of the 100 best Jackin House artists of 2016 #53 and currently he was named the #15 Jackin House artist of 2017.

He has tracks on labels such as Salted Music, Fogbank, Spacedisco Records, Quantize Recordings, Unquantize, Grin Trax, 294 Records, Mood Funk Records, MoBlack Records, Cruise Music, MoodyHouse Recordings, Seventy Four among others record labels.
His work has been supported by Miguel Migs, Dj Spen, Demuir, Scott Diaz, Seamus Haji, Mark Farina, Iban Montoro & Jazzman Wax, Angelo Ferreri or Demarkus Lewis and their tracks appear in charts and mixes of artists like Mr. Fingers, Mark Knight, Hatiras, Stacey Pullen, Kraak & Smaak, Homero Espinosa, Thommy Davis, Fish Go Deep, Roland Nights, Opolopo, Noah Pred, Mind Street or Baggi Begovic.

Bookings and remixes:
[email protected]
Follow me on:
www.traxsource.com/artist/49324/bonetti
www.beatport.com/artist/bonetti/182969
Contact:
www.facebook.com/bonettiartistpage...more

Country/Region : United Kingdom
Songs

(292)

Albums

(173)

Playlists

(0)
1

2

3

4

5

6

7

8

9

10

11

12

13

14

15

16

17

18

19

20

21

22

23

24

25

26

27

28

29

30

31

32

33

34

35

36

37

38

39

40

41

42

43

44

45

46

47

48

49

50

51

52

53

54

55

56

57

58

59

60

61

62

63

64

65

66

67

68

69

70

71

72

73

74

75

76

77

78

79

80

81

82

83

84

85

86

87

88

89

90

91

92

93

94

95

96

97

98

99

100
Listen to Bonetti's new songs including "Jazzy Adventures", "African Culture", "Sandra (Original Mix)" and many more. Enjoy Bonetti's latest songs and explore the Bonetti's new music albums. If you want to download Bonetti songs MP3, use the Boomplay App to download the Bonetti songs for free. Discover Bonetti's latest songs, popular songs, trending songs all on Boomplay.
Bonetti is a talented producer and DJ born in Palma de Mallorca, Spain. He has performed as a resident DJ at the nightclub Pacha Mallorca, also he has performed in many hotels and occasionally in other clubs as El Barbero, Lunita, Subzhero, Es Gremi, Anima Beach Palma or Sala Republik Club (Madrid). From an early age, Bonetti has been influenced by the house music and the world of the night.
His productions are mixed between Jackin House, Deep House, House, Afro House, Funky, Disco and Soulful House.
He was named by Traxsource one of the 100 best Jackin House artists of 2016 #53 and currently he was named the #15 Jackin House artist of 2017.
He has tracks on labels such as Salted Music, Fogbank, Spacedisco Records, Quantize Recordings, Unquantize, Grin Trax, 294 Records, Mood Funk Records, MoBlack Records, Cruise Music, MoodyHouse Recordings, Seventy Four among others record labels.
His work has been supported by Miguel Migs, Dj Spen, Demuir, Scott Diaz, Seamus Haji, Mark Farina, Iban Montoro & Jazzman Wax, Angelo Ferreri or Demarkus Lewis and their tracks appear in charts and mixes of artists like Mr. Fingers, Mark Knight, Hatiras, Stacey Pullen, Kraak & Smaak, Homero Espinosa, Thommy Davis, Fish Go Deep, Roland Nights, Opolopo, Noah Pred, Mind Street or Baggi Begovic.
Bookings and remixes:
[email protected]
Follow me on:
www.traxsource.com/artist/49324/bonetti
www.beatport.com/artist/bonetti/182969
Contact:
www.facebook.com/bonettiartistpage
New Comments(
0

)

What do you think of this artist?
FAQs about Bonetti
Where is Bonetti from?
He is from United Kingdom.
What are the latest songs of Bonetti?
The latest songs of Bonetti are Love 4 U (Original Mix), All Day and Love 4 the Groove (Original Mix).
What are the best songs of Bonetti?
The best songs of Bonetti are You Make Me Glow (Original Mix), Ya Llegó (Salsa Brava Mix) and Special Woman.
What are the best albums of Bonetti?
The best albums of Bonetti are Loving Music EP, More Music and Special Woman.
How to download songs of Bonetti?
You can download songs of Bonetti from Boomplay App for free.
Firstly, install Boomplay app on your mobile phone.
Secondly, navigate to the song you would like to download.
Thirdly, Tap on More > Download.