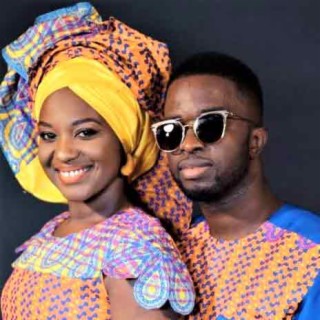 Maabo
Current #5,157

All Time #3,238

Maabo are a Senegalese husband-and-wife duo whose bright Afro-pop sound is centered around the couple's intertwined vocals and the romantic nature of their lyrics. Many Maabo songs become very popular and trendy online with a great number of streaming and downloads on Boomplay.

After finding viral success with songs like "Queen Xol" and "Yako Waral," they released their debut album, Jolofbeats, in 2019.

CAREER AND ACHIEVEMENTS
Mia and Abdoul Guisse met in Dakar in 2012 and began working together musically. Both had already been pursuing music careers -- Mia as a singer and songwriter and Abdoul as an in-demand engineer/producer -- but found an immediate chemistry when working together.

Over time, a romantic relationship bloomed, and after they married in 2015, they formed Maabo as a pop duo with both of them singing and writing. The success of their initial singles earned them an audience in Senegal, where fans were drawn not only to their music but enamored of them as a couple.

Their 2017 single "Yako Waral" won them a Raaya Award and after a few more singles, they released Jolofbeats, their full-length debut, in 2019. Another single, "Wa Li Nekhoul," appeared in 2020.

Follow Boomplay and keep up-to-date with the latest Maabo songs and information.

Maabo Latest Singles:
• Ada - 2021
• Démocritic - 2021
• Wa Li Nekhoul - 2020

Maabo songs are included in Boomplay music playlists. Search to stream and download Maabo songs MP3/ single/ albums on the platform....more

Country/Region : Senegal
Songs

(10)

Albums

(1)

Playlists

(0)
Listen to Maabo's new songs including "Al Xayri", "Daf Niou Bett", "Kuma Nop" and many more. Enjoy Maabo's latest songs and explore the Maabo's new music albums. If you want to download Maabo songs MP3, use the Boomplay App to download the Maabo songs for free. Discover Maabo's latest songs, popular songs, trending songs all on Boomplay.
Maabo are a Senegalese husband-and-wife duo whose bright Afro-pop sound is centered around the couple's intertwined vocals and the romantic nature of their lyrics. Many Maabo songs become very popular and trendy online with a great number of streaming and downloads on Boomplay.

After finding viral success with songs like "Queen Xol" and "Yako Waral," they released their debut album, Jolofbeats, in 2019.

CAREER AND ACHIEVEMENTS
Mia and Abdoul Guisse met in Dakar in 2012 and began working together musically. Both had already been pursuing music careers -- Mia as a singer and songwriter and Abdoul as an in-demand engineer/producer -- but found an immediate chemistry when working together.

Over time, a romantic relationship bloomed, and after they married in 2015, they formed Maabo as a pop duo with both of them singing and writing. The success of their initial singles earned them an audience in Senegal, where fans were drawn not only to their music but enamored of them as a couple.

Their 2017 single "Yako Waral" won them a Raaya Award and after a few more singles, they released Jolofbeats, their full-length debut, in 2019. Another single, "Wa Li Nekhoul," appeared in 2020.

Follow Boomplay and keep up-to-date with the latest Maabo songs and information.

Maabo Latest Singles:
• Ada - 2021
• Démocritic - 2021
• Wa Li Nekhoul - 2020

Maabo songs are included in Boomplay music playlists. Search to stream and download Maabo songs MP3/ single/ albums on the platform.
New Comments(
19

)
FAQs about Maabo
Where is Maabo from?
He is from Senegal.
How to download songs of Maabo?
You can download songs of Maabo from Boomplay App for free.
Firstly, install Boomplay app on your mobile phone.
Secondly, navigate to the song you would like to download.
Thirdly, Tap on More > Download.