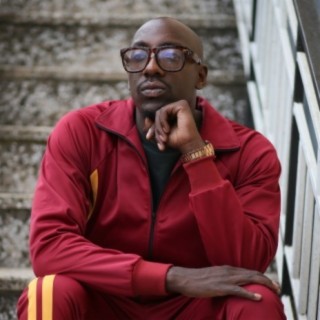 Bien-aime Baraza
Current #2,599

All Time #9,031

Bien Aime Baraza is a vocalist, songwriter, guitarist and a band member of soul group Sauti Sol. Many of Bien's Songs became very popular and trendy on social media in line with a great number of streaming and downloads on Boomplay.

He was born on 28th Dec 1987. He studied Journalism and Media Studies at the United States International University(USIU) and graduated in 2011. He has been a member of Sauti Sol boy band since 2006 and has written several songs and albums for the group. Bien is also a father of two children although he has managed to keep them away from the limelight.

Career
Bien is a Vocalist and guitarist of the critically-acclaimed Nairobi-born band Sauti Sol. The band initially formed as an a capella group and has since become a popular Afro-pop group throughout Europe and Africa. Bien Aime is a French name that means beloved; he is truly loved by his long list of fanatics for his great style of singing as well as his creative skills.

The rest of his band members include Willis Chimano, Mudigi Savara, and their amazing guitarist Polycarp Otieno. Bien Sauti Sol is successful and his prowess vocals cannot allow his talent to go unnoticed. He pursed his high school level education in Upper Hill High School. Savara Mudigi and Willis Chimano were also studying in the same high school and that's how they met.

Like other high schools, Upper Hill had a music group 'Voices in the light' and they were all performing there. In 2005, they formed a music band, 'A Capella'. Bien Aime pursed a Journalism course in one of the best universities, United States International University (USIU); he graduated back in 2011.

Since then him and the band, success is beyond words packed with tours, topping the charts, sold-out concerts, and not forgetting the band performing for the USA president, Barak Obama..

Bien Aime also revealed that he never pursued any course involving music and this means that he is fully talented into this industry making his aweing success unquestioned. Bien is in love with writing songs in that he occasionally write songs to popular Kenyan artist like Wendy Kimani, Elani, and Amos &Josh.

Bien confessed that women are a big inspiration to his music to an extent of referring to his songs as 'My Women'Bien and Wendy Kimani released a song together back in 2014,' Haiwi Haiwi'.Recently, the group has taken a break to focus on their solo projects and Bien has done so well on his end with release of an album "Bald Men Love Better" with a series of singles like 'Mbwe Mbwe' featuring Aaron Rimbui.

Achievements
Bien Aime Baraza being in one of the most famous and successful boy band groups internationally over the years 'Sauti Sol,' he has managed to get quite a number of awards both personally and for the group one of his greatest personal awards being the 63rd Annual Grammy Award for the Song writer category "Time Flies".

Follow Boomplay and keep up-to-date with the latest songs of Bien-aime Baraza and information.

Bien-aime Baraza Songs
• Thick Thighs
• Mbwe Mbwe ft Aaron Rimbui
• Bald Men Anthem
• National Treasure

Bien's Songs are included in Boomplay music playlists. Search, stream, and download Bien-aime Baraza Songs, his latest singles and albums in MP3 only on the Boomplay platform for free....more

Country/Region : Kenya
Songs

(0)

Albums

(0)

Playlists

(3)

Videos and More
Listen to Bien-aime Baraza's new songs including and many more. Enjoy Bien-aime Baraza's latest songs and explore the Bien-aime Baraza's new music albums. If you want to download Bien-aime Baraza songs MP3, use the Boomplay App to download the Bien-aime Baraza songs for free. Discover Bien-aime Baraza's latest songs, popular songs, trending songs all on Boomplay.
Bien-aime Baraza Biography
Bien Aime Baraza is a vocalist, songwriter, guitarist and a band member of soul group Sauti Sol. Many of Bien's Songs became very popular and trendy on social media in line with a great number of streaming and downloads on Boomplay.

He was born on 28th Dec 1987. He studied Journalism and Media Studies at the United States International University(USIU) and graduated in 2011. He has been a member of Sauti Sol boy band since 2006 and has written several songs and albums for the group. Bien is also a father of two children although he has managed to keep them away from the limelight.

Career
Bien is a Vocalist and guitarist of the critically-acclaimed Nairobi-born band Sauti Sol. The band initially formed as an a capella group and has since become a popular Afro-pop group throughout Europe and Africa. Bien Aime is a French name that means beloved; he is truly loved by his long list of fanatics for his great style of singing as well as his creative skills.

The rest of his band members include Willis Chimano, Mudigi Savara, and their amazing guitarist Polycarp Otieno. Bien Sauti Sol is successful and his prowess vocals cannot allow his talent to go unnoticed. He pursed his high school level education in Upper Hill High School. Savara Mudigi and Willis Chimano were also studying in the same high school and that's how they met.

Like other high schools, Upper Hill had a music group 'Voices in the light' and they were all performing there. In 2005, they formed a music band, 'A Capella'. Bien Aime pursed a Journalism course in one of the best universities, United States International University (USIU); he graduated back in 2011.

Since then him and the band, success is beyond words packed with tours, topping the charts, sold-out concerts, and not forgetting the band performing for the USA president, Barak Obama..

Bien Aime also revealed that he never pursued any course involving music and this means that he is fully talented into this industry making his aweing success unquestioned. Bien is in love with writing songs in that he occasionally write songs to popular Kenyan artist like Wendy Kimani, Elani, and Amos &Josh.

Bien confessed that women are a big inspiration to his music to an extent of referring to his songs as 'My Women'Bien and Wendy Kimani released a song together back in 2014,' Haiwi Haiwi'.Recently, the group has taken a break to focus on their solo projects and Bien has done so well on his end with release of an album "Bald Men Love Better" with a series of singles like 'Mbwe Mbwe' featuring Aaron Rimbui.

Achievements
Bien Aime Baraza being in one of the most famous and successful boy band groups internationally over the years 'Sauti Sol,' he has managed to get quite a number of awards both personally and for the group one of his greatest personal awards being the 63rd Annual Grammy Award for the Song writer category "Time Flies".

Follow Boomplay and keep up-to-date with the latest songs of Bien-aime Baraza and information.

Bien-aime Baraza Songs
• Thick Thighs
• Mbwe Mbwe ft Aaron Rimbui
• Bald Men Anthem
• National Treasure

Bien's Songs are included in Boomplay music playlists. Search, stream, and download Bien-aime Baraza Songs, his latest singles and albums in MP3 only on the Boomplay platform for free.
New Comments(
6

)
FAQs about Bien-aime Baraza
Where is Bien-aime Baraza from?
He is from Kenya.
What are the latest songs of Bien-aime Baraza?
The latest songs of Bien-aime Baraza are Too Easy ft. Dj Edu, My Baby ft. Ayra Starr and Inauma.
What are the best songs of Bien-aime Baraza?
The best songs of Bien-aime Baraza are Inauma, Mbwe Mbwe ft. Aaron Rimbui and My Baby ft. Ayra Starr.
What are the best albums of Bien-aime Baraza?
The best albums of Bien-aime Baraza are Inauma, Bald Men Love Better and My Baby.