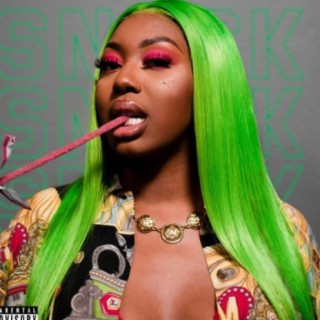 Ms Banks
Current #5,101

All Time #6,416

Thyra Kigho Deshaun Oji, better known by her stage name Ms Banks, is a British rapper of Ugandan and Nigerian descent , singer and songwriter from Camberwell, London. Oji has released three mixtapes as Ms Banks. Many of Ms Banks songs become very popular and trendy online with a great number of streaming and downloads on Boomplay.

CAREER
In 2014, she released her first mixtape titled Once Upon a Grind. She then released her first EP titled New Chapter EP in 2016. The Coldest Winter Ever was released in 2018, followed by The Coldest Winter Ever Part II in 2019.

She was born to a Nigerian father and a Ugandan mother. Oji began writing music at age 11 and she came from very musical family. Banks grew up in South London - just off Walworth Road in Elephant and Castle - and has been grafting away for sometime, revered by her peers for her pairing of technical skill with soul-searching lyricism.

Ms Banks has cited Nicki Minaj as her biggest influence. She also cites Ms Dynamite, Lisa Maffia, Estelle, Lauryn Hill, Lil' Kim, Foxy Brown and Monie Love as her influences.

Follow Boomplay and keep up-to-date with the latest Ms Banks songs and information.

Ms Banks Songs
• Bop Daddy
• Dip
• Gun Lean Remix
• Snack
• Party
• Back It Up
• Typa Way
• Bad B Bop
• THERE FOR YOU
• Novikov
• You Don't Know
• Pull Up
• Anywhere
• Like Tu Danz
• Interest
• Go Low
• Hood B*tch
• Issues
• Woi Oi
• Die a Little Bit
• No Wahala
• Phoney
• Pen Game 2
• R.I.P
• Get Loose
• Chat 2 Mi Gyal
• Champion
• Wifey Tingz
• Back Up In This
• Drama
• You Can't Afford Me
• Day Ones

Ms Banks songs are included in Boomplay music playlists. Search to stream and download Ms Banks songs MP3/ single/ albums on the platform....more

Country/Region : United Kingdom
Listen to Ms Banks's new songs including "Gbedu ft. Kwesi Arthur, Snypa & Joey B 🅴", and many more. Enjoy Ms Banks's latest songs and explore the Ms Banks's new music albums. If you want to download Ms Banks songs MP3, use the Boomplay App to download the Ms Banks songs for free. Discover Ms Banks's latest songs, popular songs, trending songs all on Boomplay.
Thyra Kigho Deshaun Oji, better known by her stage name Ms Banks, is a British rapper of Ugandan and Nigerian descent , singer and songwriter from Camberwell, London. Oji has released three mixtapes as Ms Banks. Many of Ms Banks songs become very popular and trendy online with a great number of streaming and downloads on Boomplay.

CAREER
In 2014, she released her first mixtape titled Once Upon a Grind. She then released her first EP titled New Chapter EP in 2016. The Coldest Winter Ever was released in 2018, followed by The Coldest Winter Ever Part II in 2019.

She was born to a Nigerian father and a Ugandan mother. Oji began writing music at age 11 and she came from very musical family. Banks grew up in South London - just off Walworth Road in Elephant and Castle - and has been grafting away for sometime, revered by her peers for her pairing of technical skill with soul-searching lyricism.

Ms Banks has cited Nicki Minaj as her biggest influence. She also cites Ms Dynamite, Lisa Maffia, Estelle, Lauryn Hill, Lil' Kim, Foxy Brown and Monie Love as her influences.

Follow Boomplay and keep up-to-date with the latest Ms Banks songs and information.

Ms Banks Songs
• Bop Daddy
• Dip
• Gun Lean Remix
• Snack
• Party
• Back It Up
• Typa Way
• Bad B Bop
• THERE FOR YOU
• Novikov
• You Don't Know
• Pull Up
• Anywhere
• Like Tu Danz
• Interest
• Go Low
• Hood B*tch
• Issues
• Woi Oi
• Die a Little Bit
• No Wahala
• Phoney
• Pen Game 2
• R.I.P
• Get Loose
• Chat 2 Mi Gyal
• Champion
• Wifey Tingz
• Back Up In This
• Drama
• You Can't Afford Me
• Day Ones

Ms Banks songs are included in Boomplay music playlists. Search to stream and download Ms Banks songs MP3/ single/ albums on the platform.
New Comments(
8

)