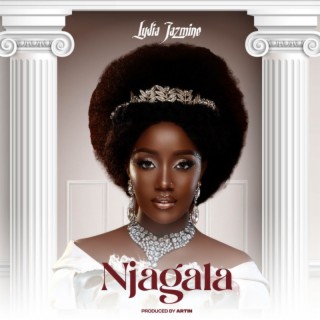 Lydia Jazmine
Current #5,602

All Time #1,904

Lydia Nabawanuka better known as Lydia Jazmine is a Ugandan female singer and recording artist. Many of Lydia Jazmine's Songs became very popular and trendy on social media in line with a great number of streaming and downloads on Boomplay.

She was born in 1991 in Masaka, Uganda. She attended Victoria Nile School for her elementary school. She then transferred to Saint Mary's School Namaliga, in Kimenyedde sub-county, Mukono District. She completed high school at Cityland College in Matugga, Wakiso District.

In February 2016, she graduated from Multitech Business School in Kampala, Uganda's capital and largest city, with a Bachelor of Business Administration and Management degree.

Career
Jazmine started singing in high school after she joined the school choir. Later she joined the church choir at the Passover Harvest Centre and at Watoto Church. When she graduated from high school, she joined a band called Gertnum, where she sang background vocals.

Later, the music group Radio and Weasel signed Jazmine to a contract as a backup singer. She is the backup vocalist on the songs "Ntunga" and "Breath Away". She later performed background vocal lyrics for Bebe Cool and Sheebah Karungi. Her first single was a duet with Rabadaba called "You Know", released circa 2014.

In 2017, Jazmine was selected to participate in "Coke Studio Africa 2017", to represent Uganda, for the second consecutive year. This time she was paired with Mozambican songstress Liloca, and assigned to South African music producer Sketchy Bongo.

This annual event, sponsored by Coca-Cola, is a non-competitive music show that brings together diverse musicians on the Continent, to work collaboratively with experienced local and intentional musicians and music producers.

Follow Boomplay and keep up-to-date with the latest songs of Lydia Jazmine and information.

Lydia Jazmine's Songs
• You Know
• Nkubanja
• Cherie
• Kapeesa
• You and Me
• Mega
• This must be love
• Kampala kyekyo
• Sing for me...more

Country/Region : Uganda
Songs

(6)

Albums

(1)

Playlists

(1)
Listen to Lydia Jazmine's new songs including "Guno Omukwano", "You Know", "Mwagala Biriyo" and many more. Enjoy Lydia Jazmine's latest songs and explore the Lydia Jazmine's new music albums. If you want to download Lydia Jazmine songs MP3, use the Boomplay App to download the Lydia Jazmine songs for free. Discover Lydia Jazmine's latest songs, popular songs, trending songs all on Boomplay.
Lydia Nabawanuka better known as Lydia Jazmine is a Ugandan female singer and recording artist. Many of Lydia Jazmine's Songs became very popular and trendy on social media in line with a great number of streaming and downloads on Boomplay.

She was born in 1991 in Masaka, Uganda. She attended Victoria Nile School for her elementary school. She then transferred to Saint Mary's School Namaliga, in Kimenyedde sub-county, Mukono District. She completed high school at Cityland College in Matugga, Wakiso District.

In February 2016, she graduated from Multitech Business School in Kampala, Uganda's capital and largest city, with a Bachelor of Business Administration and Management degree.

Career
Jazmine started singing in high school after she joined the school choir. Later she joined the church choir at the Passover Harvest Centre and at Watoto Church. When she graduated from high school, she joined a band called Gertnum, where she sang background vocals.

Later, the music group Radio and Weasel signed Jazmine to a contract as a backup singer. She is the backup vocalist on the songs "Ntunga" and "Breath Away". She later performed background vocal lyrics for Bebe Cool and Sheebah Karungi. Her first single was a duet with Rabadaba called "You Know", released circa 2014.

In 2017, Jazmine was selected to participate in "Coke Studio Africa 2017", to represent Uganda, for the second consecutive year. This time she was paired with Mozambican songstress Liloca, and assigned to South African music producer Sketchy Bongo.

This annual event, sponsored by Coca-Cola, is a non-competitive music show that brings together diverse musicians on the Continent, to work collaboratively with experienced local and intentional musicians and music producers.

Follow Boomplay and keep up-to-date with the latest songs of Lydia Jazmine and information.

Lydia Jazmine's Songs
• You Know
• Nkubanja
• Cherie
• Kapeesa
• You and Me
• Mega
• This must be love
• Kampala kyekyo
• Sing for me
FAQs about Lydia Jazmine
Where is Lydia Jazmine from?
She is from Uganda.
How to download songs of Lydia Jazmine?
You can download songs of Lydia Jazmine from Boomplay App for free.
Firstly, install Boomplay app on your mobile phone.
Secondly, navigate to the song you would like to download.
Thirdly, Tap on More > Download.