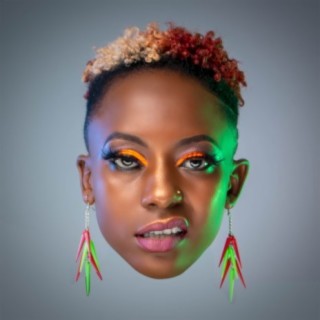 Ssaru
Current #2,429

All Time #3,702

Ssaru's stage name isn't a far cry from her real name - Sylvia Saru. She also goes with the moniker Ssaru wa Manyaru. She was born on 19th May 2002. She hails from Mbololo, Taita Taveta County - located in the coastal region of Kenya. She was however primarily raised in Kayole: a neighbourhood in the Eastlands area of Nairobi.

Ssaru completed her secondary school education at Bura Girls' Secondary School in 2018 and immediately put her feet into music. Many of Ssaru's Songs became very popular and trendy on social media in line with a great number of streaming and downloads on Boomplay.

Career
Ssaru started her musical journey by posting Hip Hop freestyles on social media platforms such as Instagram and Tik Tok. One of her freestyles went viral in 2019 and this led to her discovery by many music fans in Kenya. Regarding the burning passion she had for music, Ssaru could not hold anything back and therefore dropped her debut single entitled Nyama in 2019.

The song came with visuals and featured a similar freestyle vibe that was preeminent in her past Instagram and Tik Tok videos. The song propelled to even greater levels of popularity among Gengetone and Hip Hop fans alike. Ssaru's musical style is mostly oriented towards Gengetone, rap and dancehall genres.

She is known for her honest and hard-hitting body-positive lyrics that most would consider as raunchy. Either way, her music always has a way of appealing its listeners in the best way possible. Her appeal has seen her do guest features for a couple of artists including Mejja, Trio Mio and Parroty just to name but a few.

Achivements
In 2021, Ssaru was featured as artist of the month on Spotify's Equal Playlist. The Equal Playlist is meant to celebrate and recognize the work female creative are doing in the music industry at large.

Ssaru's popularity has seen her hit over 4 million total Boomplay streams in such a short period of time. He latest song - Kichwa Tu - featuring Trio Mio has nearly 900K streams on YouTube as of now: making it her best performing release on the platform.

Ssaru's mass appeal in the Gengetone genre has made her automatically crowned as the 'Queen of Gengetone'. This comes after her resilience and success in a genre that is male dominated and usually shunned by female artists. Explore Boomplay and download Ssaru's latest songs.

Follow Boomplay and keep up-to-date with the latest songs of Ssaru and information.

Ssaru's Latest Songs
The following is a list of some of the tracks she has been featured on, she has also created a name for herself since her debut in 2019 with a string of successful singles including:
• Sipangwingwi by Exray
• Wanani Remix by Bahati and Various Artists
• Kalale by Willis Raburu
• Pu Pu Pu by Parroty and Pappy
• Makodiro by Kanairo
• Swagger
• Nimerudi Tena
• Weka
• Leo (feat. Mejja)
• Dose
• Weka

Her music has been featured on Boomplay playlists such as Rap 101, 254 Bash, Gengetone Ibambe and Hip Hop Nation among others. Ssaru's Songs are included in Boomplay music playlists. Search, stream, and download Ssaru's Songs, his latest singles and albums in MP3 only on the Boomplay platform for free....more

Country/Region : Kenya
Listen to Ssaru's new songs including "Kichwa Tu ft. TRIO MIO, Timmy tDat", "Leo ft. Mejja", "Zungushiwa" and many more. Enjoy Ssaru's latest songs and explore the Ssaru's new music albums. If you want to download Ssaru songs MP3, use the Boomplay App to download the Ssaru songs for free. Discover Ssaru's latest songs, popular songs, trending songs all on Boomplay.
Ssaru's stage name isn't a far cry from her real name - Sylvia Saru. She also goes with the moniker Ssaru wa Manyaru. She was born on 19th May 2002. She hails from Mbololo, Taita Taveta County - located in the coastal region of Kenya. She was however primarily raised in Kayole: a neighbourhood in the Eastlands area of Nairobi.

Ssaru completed her secondary school education at Bura Girls' Secondary School in 2018 and immediately put her feet into music. Many of Ssaru's Songs became very popular and trendy on social media in line with a great number of streaming and downloads on Boomplay.

Career
Ssaru started her musical journey by posting Hip Hop freestyles on social media platforms such as Instagram and Tik Tok. One of her freestyles went viral in 2019 and this led to her discovery by many music fans in Kenya. Regarding the burning passion she had for music, Ssaru could not hold anything back and therefore dropped her debut single entitled Nyama in 2019.

The song came with visuals and featured a similar freestyle vibe that was preeminent in her past Instagram and Tik Tok videos. The song propelled to even greater levels of popularity among Gengetone and Hip Hop fans alike. Ssaru's musical style is mostly oriented towards Gengetone, rap and dancehall genres.

She is known for her honest and hard-hitting body-positive lyrics that most would consider as raunchy. Either way, her music always has a way of appealing its listeners in the best way possible. Her appeal has seen her do guest features for a couple of artists including Mejja, Trio Mio and Parroty just to name but a few.

Achivements
In 2021, Ssaru was featured as artist of the month on Spotify's Equal Playlist. The Equal Playlist is meant to celebrate and recognize the work female creative are doing in the music industry at large.

Ssaru's popularity has seen her hit over 4 million total Boomplay streams in such a short period of time. He latest song - Kichwa Tu - featuring Trio Mio has nearly 900K streams on YouTube as of now: making it her best performing release on the platform.

Ssaru's mass appeal in the Gengetone genre has made her automatically crowned as the 'Queen of Gengetone'. This comes after her resilience and success in a genre that is male dominated and usually shunned by female artists. Explore Boomplay and download Ssaru's latest songs.

Follow Boomplay and keep up-to-date with the latest songs of Ssaru and information.

Ssaru's Latest Songs
The following is a list of some of the tracks she has been featured on, she has also created a name for herself since her debut in 2019 with a string of successful singles including:
• Sipangwingwi by Exray
• Wanani Remix by Bahati and Various Artists
• Kalale by Willis Raburu
• Pu Pu Pu by Parroty and Pappy
• Makodiro by Kanairo
• Swagger
• Nimerudi Tena
• Weka
• Leo (feat. Mejja)
• Dose
• Weka

Her music has been featured on Boomplay playlists such as Rap 101, 254 Bash, Gengetone Ibambe and Hip Hop Nation among others. Ssaru's Songs are included in Boomplay music playlists. Search, stream, and download Ssaru's Songs, his latest singles and albums in MP3 only on the Boomplay platform for free.
New Comments(
135

)
FAQs about Ssaru
Where is Ssaru from?
She is from Kenya.
How to download songs of Ssaru?
You can download songs of Ssaru from Boomplay App for free.
Firstly, install Boomplay app on your mobile phone.
Secondly, navigate to the song you would like to download.
Thirdly, Tap on More > Download.