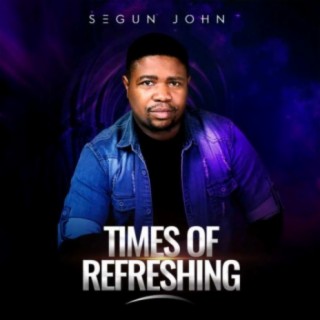 Segun John
Current #4,486

All Time #4,168

Segun John is a live performer and a musician. His expertise with different musical instruments have helped shaped him into a musical powerhouse. Segun John songs, e.g. Same God, become very popular and trendy online with a great number of streaming and downloads on Boomplay.

He grew up as a son of a local bread seller in Oke-Ira, Ogba part of Lagos, Mrs. Samiat Adekanbi. He had his primary and secondary education in Lagos. During this time, his talent in playing the drums and piano granted him an opportunity to play the drum set in a local church where be was paid N10,000 monthly salary.

Career
His plan was to learn the styles of different live bands, especially because they all had different kinds of music as their selling points. Some live bands were good with gospel songs, some were good with juju and fuji music, some were good with Jazz and Pop songs of foreign old school songs.

For a year, he continuously did backedup vocals for different bands just to learn their styles. he spent a major time of his learning process with Bolaji Olarewaju, popularly known as Big B.

He moved from corporate to regular owambe events, such as weddings and birthdays in and out of Lagos. He made appearance on different media platforms such as the Teju Babyface Show,

TVC wake up Nigeria, Channels television Sunrise, amongst others. He has hosted corporate events with different corporate organisations such as Chevron Nigeria, Toyota Nigeria, Promasidor Nigeria, Meristem Securities, amongst others.

Follow Boomplay and keep up-to-date with the latest Segun John songs and information.

Segun John songs are included in Boomplay music playlists. Search to stream and download Segun John songs MP3/ single/ albums on the platform....more

Country/Region : Nigeria
Listen to Segun John's new songs including "Yahweh Feat. Dunsin Oyekan", "Same God", "Great & Mighty (Awimayehun)" and many more. Enjoy Segun John's latest songs and explore the Segun John's new music albums. If you want to download Segun John songs MP3, use the Boomplay App to download the Segun John songs for free. Discover Segun John's latest songs, popular songs, trending songs all on Boomplay.
Segun John is a live performer and a musician. His expertise with different musical instruments have helped shaped him into a musical powerhouse. Segun John songs, e.g. Same God, become very popular and trendy online with a great number of streaming and downloads on Boomplay.

He grew up as a son of a local bread seller in Oke-Ira, Ogba part of Lagos, Mrs. Samiat Adekanbi. He had his primary and secondary education in Lagos. During this time, his talent in playing the drums and piano granted him an opportunity to play the drum set in a local church where be was paid N10,000 monthly salary.

Career
His plan was to learn the styles of different live bands, especially because they all had different kinds of music as their selling points. Some live bands were good with gospel songs, some were good with juju and fuji music, some were good with Jazz and Pop songs of foreign old school songs.

For a year, he continuously did backedup vocals for different bands just to learn their styles. he spent a major time of his learning process with Bolaji Olarewaju, popularly known as Big B.

He moved from corporate to regular owambe events, such as weddings and birthdays in and out of Lagos. He made appearance on different media platforms such as the Teju Babyface Show,

TVC wake up Nigeria, Channels television Sunrise, amongst others. He has hosted corporate events with different corporate organisations such as Chevron Nigeria, Toyota Nigeria, Promasidor Nigeria, Meristem Securities, amongst others.

Follow Boomplay and keep up-to-date with the latest Segun John songs and information.

Segun John songs are included in Boomplay music playlists. Search to stream and download Segun John songs MP3/ single/ albums on the platform.
New Comments(
9

)
FAQs about Segun John
Where is Segun John from?
He is from Nigeria.
How to download songs of Segun John?
You can download songs of Segun John from Boomplay App for free.
Firstly, install Boomplay app on your mobile phone.
Secondly, navigate to the song you would like to download.
Thirdly, Tap on More > Download.