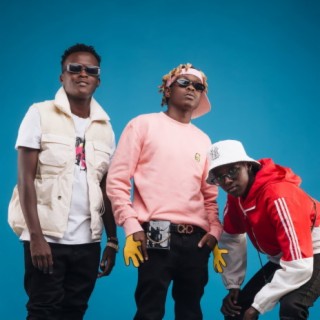 Mbuzi Gang
Current #22.4k

All Time #7,717

Mbuzi Gang is a rap and Gengetone group from Kenya. The group comprises of three acts: Joefes (Joseph Getugi) Fathermoh (Joseph Otieno) and iPhoolish (Mike Makori). The trio has proved to be one of the best and most popular rap collectives in Kenya and East Africa at large. Many of Mbuzi Gang's Songs became very popular and trendy on social media in line with a great number of streaming and downloads on Boomplay.

Career
Mbuzi Gang's origin is traced back to Joefe's and iPhoolish's friendship since 2012. This relation was later led to the idea of a rap group in 2018. This idea was however realised in 2019 when Fathermoh joined them. The group is signed to Black Market Records, an indie record label based in California USA. Mbuzi Gang's debut single - Wagithomo - was released in 2020.

The track set off the group's music career as one of the most promising on the Kenyan music scene. The group's major breakout however came as its second single: Shamra Shamra. The track features a guest appearance from Mejja; a veteran in the Kenyan music industry. The song's wide appeal saw it garner over up to over 8 million YouTube views. This exposure catapulted the group to even higher heights of fame and certainly on music fans' radar.

Achievements
One of the most notable recognitions towards Mbuzi Gang is the 2021 Pulse Music Video Award for Viewer's Choice of the Year for their Shamra Shamra music video. Mbuzi Gang boasts of one studio album under the belt. The debut album - Three Wise Goats - was released in early 2022 and features a host of East African stars including Navio, Jose Chameleon and Vanessa among others.

Follow Boomplay and keep up-to-date with the latest songs of Mbuzi Gang and information.

Mbuzi Gang's songs
• Sherehe Sheria (feat. Jovial)
• Abdala
• Bambi (feat. Fik Fameica)
• Taki Taki (feat. Lamaz Spanz KOB)
• Mchecheto (feat. KRG The Don)
• Shamra Shamra (Remix)
• Shida (feat. Jose Chameleon)
• Baikoko
• Tusere (feat. Ethic Entertainment)

The album currently has a total of nearly 500,000 streams on Boomplay. Explore Boomplay and download Mbuzi Gang's latest songs for free.
Mbuzi Gang's Songs are included in Boomplay music playlists. Search, stream, and download Mbuzi Gang's Songs, his latest singles and albums in MP3 only on the Boomplay platform for free....more

Country/Region : Kenya
Listen to Mbuzi Gang's new songs including "Kwata", "Chapa IIale", "Tulewe Tu ft. Queen Dillah" and many more. Enjoy Mbuzi Gang's latest songs and explore the Mbuzi Gang's new music albums. If you want to download Mbuzi Gang songs MP3, use the Boomplay App to download the Mbuzi Gang songs for free. Discover Mbuzi Gang's latest songs, popular songs, trending songs all on Boomplay.
Mbuzi Gang is a rap and Gengetone group from Kenya. The group comprises of three acts: Joefes (Joseph Getugi) Fathermoh (Joseph Otieno) and iPhoolish (Mike Makori). The trio has proved to be one of the best and most popular rap collectives in Kenya and East Africa at large. Many of Mbuzi Gang's Songs became very popular and trendy on social media in line with a great number of streaming and downloads on Boomplay.

Career
Mbuzi Gang's origin is traced back to Joefe's and iPhoolish's friendship since 2012. This relation was later led to the idea of a rap group in 2018. This idea was however realised in 2019 when Fathermoh joined them. The group is signed to Black Market Records, an indie record label based in California USA. Mbuzi Gang's debut single - Wagithomo - was released in 2020.

The track set off the group's music career as one of the most promising on the Kenyan music scene. The group's major breakout however came as its second single: Shamra Shamra. The track features a guest appearance from Mejja; a veteran in the Kenyan music industry. The song's wide appeal saw it garner over up to over 8 million YouTube views. This exposure catapulted the group to even higher heights of fame and certainly on music fans' radar.

Achievements
One of the most notable recognitions towards Mbuzi Gang is the 2021 Pulse Music Video Award for Viewer's Choice of the Year for their Shamra Shamra music video. Mbuzi Gang boasts of one studio album under the belt. The debut album - Three Wise Goats - was released in early 2022 and features a host of East African stars including Navio, Jose Chameleon and Vanessa among others.

Follow Boomplay and keep up-to-date with the latest songs of Mbuzi Gang and information.

Mbuzi Gang's songs
• Sherehe Sheria (feat. Jovial)
• Abdala
• Bambi (feat. Fik Fameica)
• Taki Taki (feat. Lamaz Spanz KOB)
• Mchecheto (feat. KRG The Don)
• Shamra Shamra (Remix)
• Shida (feat. Jose Chameleon)
• Baikoko
• Tusere (feat. Ethic Entertainment)

The album currently has a total of nearly 500,000 streams on Boomplay. Explore Boomplay and download Mbuzi Gang's latest songs for free.
Mbuzi Gang's Songs are included in Boomplay music playlists. Search, stream, and download Mbuzi Gang's Songs, his latest singles and albums in MP3 only on the Boomplay platform for free.
New Comments(
30

)
FAQs about Mbuzi Gang
Where is Mbuzi Gang from?
He is from Kenya.
How to download songs of Mbuzi Gang?
You can download songs of Mbuzi Gang from Boomplay App for free.
Firstly, install Boomplay app on your mobile phone.
Secondly, navigate to the song you would like to download.
Thirdly, Tap on More > Download.