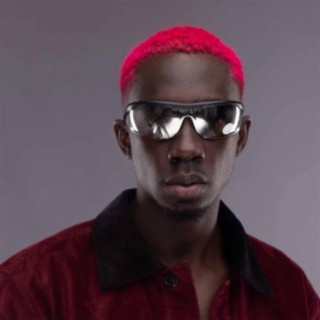 Bosom P-Yung
Current #6,524

All Time #6,412

Prince Ofori (Koofori) with the stage name as Bosom Pyung, is a Ghanaian rapper and songwriter born and raised in Berekum, Bono region of Ghana. Many Bosom P-Yung songs become very popular and trendy online with a great number of streaming and downloads on Boomplay. He is well known for his hit single "Atta Adwoa".

He has unique style of music as he rap in his native language, Twi while describing his music genre as Twi-rap. Bosom Pyung also blends it so well with a good fashion sense that goes along with some amazing dance steps.

Career.
Bosom P-yung was born to a cocoa purchasing clerk father and mother and the youngest in a family of five children. He was born and raised in his hometown, Berekum in the Bono Ahafo Region. He attended Kumasi Anglican Senior High School and also obtained a degree in Political Science from the University of Ghana.

Follow Boomplay and keep up-to-date with the latest Bosom P-Yung songs and information.

Achievement.
P Yung started music profesiionally in 2019 and came to prominence after being recognized for his talent on social media in January 2020. He was featured on a YouTube channel, Flowrthymz, which was meant for discovering new talents.

He came to limelight with the single "Attaa Adwao" and now the song already boast of over 1.5 million views on YouTube.

Bosom P-Yung posted a video clip of him performing his song "Attaa Adwoa" which got lots of retweet on twitter and then caught the attention of the award winning rapper,

His song "Attaa Adwoa" was taken from his Awiesu album.

Bosom P-Yung Songs;
• Akata
• Emergency
• Asabone
• Ataa Adwoa
• Makoma
• Odo Ndwom

Bosom P-Yung songs are included in Boomplay music playlists. Search to stream and download Bosom P-Yung songs MP3/ single/ albums on the platform....more

Country/Region : Ghana
Listen to Bosom P-Yung's new songs including "Bang Extended Version", "Attaa Adwoa", "Buumu ft. Strongman" and many more. Enjoy Bosom P-Yung's latest songs and explore the Bosom P-Yung's new music albums. If you want to download Bosom P-Yung songs MP3, use the Boomplay App to download the Bosom P-Yung songs for free. Discover Bosom P-Yung's latest songs, popular songs, trending songs all on Boomplay.
Prince Ofori (Koofori) with the stage name as Bosom Pyung, is a Ghanaian rapper and songwriter born and raised in Berekum, Bono region of Ghana. Many Bosom P-Yung songs become very popular and trendy online with a great number of streaming and downloads on Boomplay. He is well known for his hit single "Atta Adwoa".

He has unique style of music as he rap in his native language, Twi while describing his music genre as Twi-rap. Bosom Pyung also blends it so well with a good fashion sense that goes along with some amazing dance steps.

Career.
Bosom P-yung was born to a cocoa purchasing clerk father and mother and the youngest in a family of five children. He was born and raised in his hometown, Berekum in the Bono Ahafo Region. He attended Kumasi Anglican Senior High School and also obtained a degree in Political Science from the University of Ghana.

Follow Boomplay and keep up-to-date with the latest Bosom P-Yung songs and information.

Achievement.
P Yung started music profesiionally in 2019 and came to prominence after being recognized for his talent on social media in January 2020. He was featured on a YouTube channel, Flowrthymz, which was meant for discovering new talents.

He came to limelight with the single "Attaa Adwao" and now the song already boast of over 1.5 million views on YouTube.

Bosom P-Yung posted a video clip of him performing his song "Attaa Adwoa" which got lots of retweet on twitter and then caught the attention of the award winning rapper,

His song "Attaa Adwoa" was taken from his Awiesu album.

Bosom P-Yung Songs;
• Akata
• Emergency
• Asabone
• Ataa Adwoa
• Makoma
• Odo Ndwom

Bosom P-Yung songs are included in Boomplay music playlists. Search to stream and download Bosom P-Yung songs MP3/ single/ albums on the platform.
New Comments(
54

)
FAQs about Bosom P-Yung
Where is Bosom P-Yung from?
He is from Ghana.
How to download songs of Bosom P-Yung?
You can download songs of Bosom P-Yung from Boomplay App for free.
Firstly, install Boomplay app on your mobile phone.
Secondly, navigate to the song you would like to download.
Thirdly, Tap on More > Download.