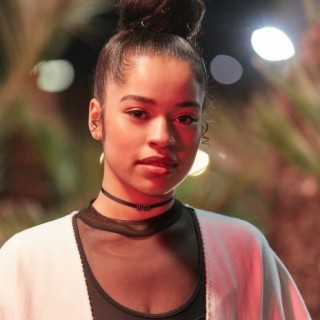 Ella Mai
Current #961

All Time #947

Ella Mai Howell is an English singer-songwriter who was born on 3 November 1994. Many of Mai's Songs became very popular and trendy on social media in line with a great number of streaming and downloads on Boomplay.

Career
Ella Mai's singing career began studying at the British and Irish Modern Music Institute London (BIMM London) in 2014. During that time she competed on series 11 of The X Factor as part of a trio, 'Arize', but didn't advance beyond the initial audition for the judges. The group broke up shortly thereafter.

In 2015, Mai uploaded a four-track solo EP of original recorded songs to SoundCloud titled Troubled. Shortly after the release of Troubled, Mai was discovered on Instagram and signed to DJ Mustard's label, 10 Summers Records and Interscope Records.

In February 2016, she released Time, the first in her EP trilogy.

The six-track EP included the single "She Don't", which featured Ty Dolla Sign. She released her second EP, Change, in November 2016 and third, Ready, in February 2017.

"Boo'd Up", which was featured on the EP, rose in popularity on social media as well as in nightclubs over the next few months. Ella Mai toured with Kehlani on her Sweet Sexy Savage World Tour.

After Mai served as the opening act on Kehlani's tour, her music reached a bigger audience and the song grew on radio airplay in the spring of 2018.

On 26 April 2018, she released a music video for "Boo'd Up" after it started to gain popularity. The song became her first top ten song in the US in the following month, deeming it her "breakthrough hit." Rolling Stone wrote that the single is "one of the biggest singles by a breakout female R&B singer in the past 10 years.

"The single peaked at number five on the US Billboard Hot 100 and broke the record for the most weeks at number one of any song by a woman on the R&B/Hip-Hop Airplay chart....more

Country/Region : United Kingdom
Songs

(0)

Albums

(0)

Playlists

(21)
Listen to Ella Mai's new songs including and many more. Enjoy Ella Mai's latest songs and explore the Ella Mai's new music albums. If you want to download Ella Mai songs MP3, use the Boomplay App to download the Ella Mai songs for free. Discover Ella Mai's latest songs, popular songs, trending songs all on Boomplay.
Ella Mai Howell is an English singer-songwriter who was born on 3 November 1994. Many of Mai's Songs became very popular and trendy on social media in line with a great number of streaming and downloads on Boomplay.

Career
Ella Mai's singing career began studying at the British and Irish Modern Music Institute London (BIMM London) in 2014. During that time she competed on series 11 of The X Factor as part of a trio, 'Arize', but didn't advance beyond the initial audition for the judges. The group broke up shortly thereafter.

In 2015, Mai uploaded a four-track solo EP of original recorded songs to SoundCloud titled Troubled. Shortly after the release of Troubled, Mai was discovered on Instagram and signed to DJ Mustard's label, 10 Summers Records and Interscope Records.

In February 2016, she released Time, the first in her EP trilogy.

The six-track EP included the single "She Don't", which featured Ty Dolla Sign. She released her second EP, Change, in November 2016 and third, Ready, in February 2017.

"Boo'd Up", which was featured on the EP, rose in popularity on social media as well as in nightclubs over the next few months. Ella Mai toured with Kehlani on her Sweet Sexy Savage World Tour.

After Mai served as the opening act on Kehlani's tour, her music reached a bigger audience and the song grew on radio airplay in the spring of 2018.

On 26 April 2018, she released a music video for "Boo'd Up" after it started to gain popularity. The song became her first top ten song in the US in the following month, deeming it her "breakthrough hit." Rolling Stone wrote that the single is "one of the biggest singles by a breakout female R&B singer in the past 10 years.

"The single peaked at number five on the US Billboard Hot 100 and broke the record for the most weeks at number one of any song by a woman on the R&B/Hip-Hop Airplay chart.