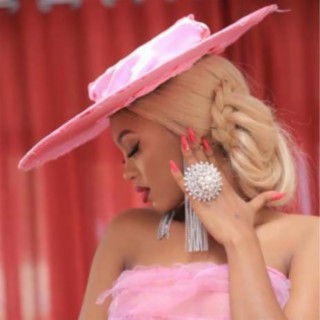 Spice Diana
Current #2,174

All Time #1,329

Namukwaya Hajara Diana, also known as Spice Diana, is a female Ugandan musician. She started her music career early and studied at Makerere University. She has had several singles including "Anti Kale", "Bukete" and "Bimpe".

Many of Spice Diana's Songs became very popular and trendy on social media in line with a great number of streaming and downloads on Boomplay.

Career
Spice Diana before fully focusing on her passion for music struggled to balance between music and school. This is because most of her lectures used to collide with her musical performances. Spice Diana started her music career in 2014 with her hit single Onsanula which later won her an award in 2015.

Prior to the year 2014, she was being managed by Dr. Fizol of Avenue Records. Spice Diana has signed record labels with Twinkle Star under a fellow musician Kalifah AgaNaga in 2016 and Humble Management before she went solo. She has many hits including "Anti Kale", "I miss you" and "Buteke".

In 2016, Spice Diana decided to organize awards to recognize her team. She named these awards the Team Spice Diana Awards.

Only Spice Diana and upcoming artists performed at the award show. Spice Diana has also collaborated with both local and international artists that including Pallaso, Ray G, Zuchu, Harmonize, Aganaga, and Jamaican Orisha Sound among others she has also had controversy. In 2017, when she was invited to perform at the Kampala City Festival and was beaten up by the Uganda Police after performing one song.

The song was called Onsanula and it had a verse that talks about the police being against the people. The lyrics may have been the cause of her beating as she stated on her Social Media Accounts.

Achievements
She won Best Female Breakthrough Artist at the 3rd HiPipo Music Awards in 2015. The prestigious award is based on a popular vote from the public via Web, SMS, WhatsApp, and social media voting....more

Country/Region : Uganda
Songs

(3)

Albums

(3)

Playlists

(7)
Listen to Spice Diana's new songs including "Upendo ft. Zuchu", "Siri Regular", "Tokombako" and many more. Enjoy Spice Diana's latest songs and explore the Spice Diana's new music albums. If you want to download Spice Diana songs MP3, use the Boomplay App to download the Spice Diana songs for free. Discover Spice Diana's latest songs, popular songs, trending songs all on Boomplay.
Namukwaya Hajara Diana, also known as Spice Diana, is a female Ugandan musician. She started her music career early and studied at Makerere University. She has had several singles including "Anti Kale", "Bukete" and "Bimpe".

Many of Spice Diana's Songs became very popular and trendy on social media in line with a great number of streaming and downloads on Boomplay.

Career
Spice Diana before fully focusing on her passion for music struggled to balance between music and school. This is because most of her lectures used to collide with her musical performances. Spice Diana started her music career in 2014 with her hit single Onsanula which later won her an award in 2015.

Prior to the year 2014, she was being managed by Dr. Fizol of Avenue Records. Spice Diana has signed record labels with Twinkle Star under a fellow musician Kalifah AgaNaga in 2016 and Humble Management before she went solo. She has many hits including "Anti Kale", "I miss you" and "Buteke".

In 2016, Spice Diana decided to organize awards to recognize her team. She named these awards the Team Spice Diana Awards.

Only Spice Diana and upcoming artists performed at the award show. Spice Diana has also collaborated with both local and international artists that including Pallaso, Ray G, Zuchu, Harmonize, Aganaga, and Jamaican Orisha Sound among others she has also had controversy. In 2017, when she was invited to perform at the Kampala City Festival and was beaten up by the Uganda Police after performing one song.

The song was called Onsanula and it had a verse that talks about the police being against the people. The lyrics may have been the cause of her beating as she stated on her Social Media Accounts.

Achievements
She won Best Female Breakthrough Artist at the 3rd HiPipo Music Awards in 2015. The prestigious award is based on a popular vote from the public via Web, SMS, WhatsApp, and social media voting.
FAQs about Spice Diana
Where is Spice Diana from?
She is from Uganda.
How to download songs of Spice Diana?
You can download songs of Spice Diana from Boomplay App for free.
Firstly, install Boomplay app on your mobile phone.
Secondly, navigate to the song you would like to download.
Thirdly, Tap on More > Download.