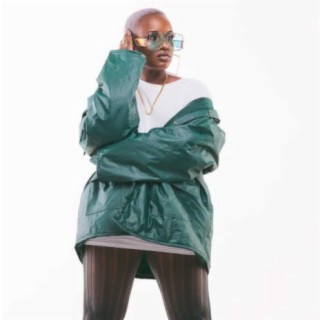 Femi One
Current #3,097

All Time #2,340

Wanjiku Kimani, professionally known as Femi One, is one of the best music artistes that the Kenyan music scene has to offer.Femi One was born on 25th April 1994 in Mwiki, Nairobi, Kenya.

She did her primary school education in Nairobi then went on to join Gakarara Secondary School. Though she did not head on to higher education, she has recently expressed interest in pursuing a programme in Media Studies.

Many of Femi One's Songs became very popular and trendy on social media in line with a great number of streaming and downloads on Boomplay.

Career
Femi One has had a steady-rising music career since her entry in the music industry in 2013. Her stellar verse in the Ligi Soo Remix which featured a string of rappers such as Jay A, Mejja and Petra was critically acclaimed by not only Hip Hop fans but also the music industry at large.

This led to her being signed to Kaka Empire - a record label and artiste management company owned by the rapper King Kaka. Since then, she has released number of hit songs including Pilau Njeri, Tippy Toe and Kipetero Kiyesu. Her major breakout hit however, came in 2020 with the release of her highly successful single called Utawezana featuring Mejja.

This hit single throttled her to even higher levels of popularity in the Kenyan music scene. By now, the single boasts of over 12 million views on YouTube and nearly 900k streams on Boomplay. Femi One released her debut album - GREATNESS - in May 2021. The full-length album was preceded by the single Adonai featuring Bern Muziki.

It features rappers from all over Africa. The album has already gone platinum on Boomplay by surpassing the 1 million mark of total streams.

Achievements
Femi One made history in 2021 after becoming the first African female Monster Energy brand ambassador. Femi One also boasts as the most streamed female rapper in East Africa on YouTube with a total of over 18 million streams on the platform.

Follow Boomplay and keep up-to-date with the latest songs of Femi One and information.

Femi One Songs
• Apart from Femi One's debut album,GREATNESS, she also released an EP called XXV. Here are some of her songs:
• ADONAI ft. Bern Muziki
• Mikiki
• Donjo
• D-Day
• Jah
• Skia
• Balance
• Adonai
• Utawezana

Femi One's music has been featured on Boomplay playlists such as Napenda Hip Hop, Power Collabos and Strictly Kenyan. Explore Boomplay and download Femi One's latest songs. Femi One's Songs are included in Boomplay music playlists. Search, stream, and download Femi One's Songs, his latest singles and albums in MP3 only on the Boomplay platform for free....more

Country/Region : Kenya
Listen to Femi One's new songs including "Utawezana ft. Mejja", "ADONAI ft. Bern Muziki", "Tunaweza ft. Iyanii & Trio Mio" and many more. Enjoy Femi One's latest songs and explore the Femi One's new music albums. If you want to download Femi One songs MP3, use the Boomplay App to download the Femi One songs for free. Discover Femi One's latest songs, popular songs, trending songs all on Boomplay.
Wanjiku Kimani, professionally known as Femi One, is one of the best music artistes that the Kenyan music scene has to offer.Femi One was born on 25th April 1994 in Mwiki, Nairobi, Kenya.

She did her primary school education in Nairobi then went on to join Gakarara Secondary School. Though she did not head on to higher education, she has recently expressed interest in pursuing a programme in Media Studies.

Many of Femi One's Songs became very popular and trendy on social media in line with a great number of streaming and downloads on Boomplay.

Career
Femi One has had a steady-rising music career since her entry in the music industry in 2013. Her stellar verse in the Ligi Soo Remix which featured a string of rappers such as Jay A, Mejja and Petra was critically acclaimed by not only Hip Hop fans but also the music industry at large.

This led to her being signed to Kaka Empire - a record label and artiste management company owned by the rapper King Kaka. Since then, she has released number of hit songs including Pilau Njeri, Tippy Toe and Kipetero Kiyesu. Her major breakout hit however, came in 2020 with the release of her highly successful single called Utawezana featuring Mejja.

This hit single throttled her to even higher levels of popularity in the Kenyan music scene. By now, the single boasts of over 12 million views on YouTube and nearly 900k streams on Boomplay. Femi One released her debut album - GREATNESS - in May 2021. The full-length album was preceded by the single Adonai featuring Bern Muziki.

It features rappers from all over Africa. The album has already gone platinum on Boomplay by surpassing the 1 million mark of total streams.

Achievements
Femi One made history in 2021 after becoming the first African female Monster Energy brand ambassador. Femi One also boasts as the most streamed female rapper in East Africa on YouTube with a total of over 18 million streams on the platform.

Follow Boomplay and keep up-to-date with the latest songs of Femi One and information.

Femi One Songs
• Apart from Femi One's debut album,GREATNESS, she also released an EP called XXV. Here are some of her songs:
• ADONAI ft. Bern Muziki
• Mikiki
• Donjo
• D-Day
• Jah
• Skia
• Balance
• Adonai
• Utawezana

Femi One's music has been featured on Boomplay playlists such as Napenda Hip Hop, Power Collabos and Strictly Kenyan. Explore Boomplay and download Femi One's latest songs. Femi One's Songs are included in Boomplay music playlists. Search, stream, and download Femi One's Songs, his latest singles and albums in MP3 only on the Boomplay platform for free.
New Comments(
128

)
FAQs about Femi One
Where is Femi One from?
She is from Kenya.
How to download songs of Femi One?
You can download songs of Femi One from Boomplay App for free.
Firstly, install Boomplay app on your mobile phone.
Secondly, navigate to the song you would like to download.
Thirdly, Tap on More > Download.