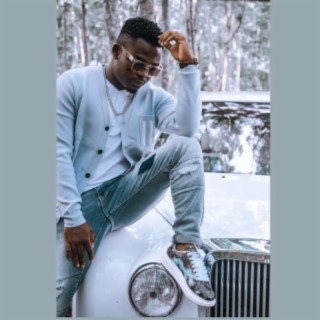 Aslay
Current #1,305

All Time #774

Aslay Isihaka Nassoro, commonly known as Aslay is a Tanzanian singer, and songwriter. Many of Aslay songs become very popular and trendy online with a great number of streaming and downloads on Boomplay.

Career
He was a teen when he emerged in 2011 with his debut single, 'Nakusemea." It was a hit in his native Tanzania and throughout East Africa, and he toured accordingly while following up with songs including "Niwe Nawe" featuring Temba. In 2013, Aslay joined Beka Flavor, Enock Bella, and Mbosso in Yamoto Band (originally Mkubwa na Wanawe Outfit) as both singer and songwriter. During their relatively brief, very successful run, the EP Hits of Aslay appeared in 2015. The group disbanded in 2017 as members, including Aslay, opted for solo projects.

With a down-to-earth take on the eclectic Tanzanian Bongo Flava style, Aslay broke through as a 16-year-old with 2011's "Nakusemea," his solo debut. After a few years as a member of the boy band Yamoto Band, he went solo again, returning to the charts with 2017's "Nibebe." Though preferring to issue singles, he delivered the album Kipenda Roho in 2019.

He soon had a hit with 2017's "Nibebe," and, preferring to perform only solo material at his concerts, made a push to release original songs at a fast clip. He eventually released the album Kipenda Roho in 2019.

Follow Boomplay and keep up to date with the latest Aslay songs and information.

Aslay Songs
• Mhudumu
• Ananikomoa
• Angekuona
• Baby
• Hakuna
• Hauna
• Kilangakomo
• Koko
• Naenjoy
• Kwatu
• Likizo
• Mapenzi
• Marioo
• Mchepuko
• Natamba
• Nichombeze
• Nyaku Nyaku
• Pusha
• Bembea
• Totoa
• Vigeregere
• Chuki
• Yatiririka
• Nyang'anyang'a

Aslay songs are included in Boomplay music playlists. Search to stream and download Aslay songs MP3/ single/ albums on the platform....more

Country/Region : Tanzania
Listen to Aslay's new songs including "Moyo Kiburi", "Bado Mapema", "Mateka" and many more. Enjoy Aslay's latest songs and explore the Aslay's new music albums. If you want to download Aslay songs MP3, use the Boomplay App to download the Aslay songs for free. Discover Aslay's latest songs, popular songs, trending songs all on Boomplay.
Aslay Isihaka Nassoro, commonly known as Aslay is a Tanzanian singer, and songwriter. Many of Aslay songs become very popular and trendy online with a great number of streaming and downloads on Boomplay.

Career
He was a teen when he emerged in 2011 with his debut single, 'Nakusemea." It was a hit in his native Tanzania and throughout East Africa, and he toured accordingly while following up with songs including "Niwe Nawe" featuring Temba. In 2013, Aslay joined Beka Flavor, Enock Bella, and Mbosso in Yamoto Band (originally Mkubwa na Wanawe Outfit) as both singer and songwriter. During their relatively brief, very successful run, the EP Hits of Aslay appeared in 2015. The group disbanded in 2017 as members, including Aslay, opted for solo projects.

With a down-to-earth take on the eclectic Tanzanian Bongo Flava style, Aslay broke through as a 16-year-old with 2011's "Nakusemea," his solo debut. After a few years as a member of the boy band Yamoto Band, he went solo again, returning to the charts with 2017's "Nibebe." Though preferring to issue singles, he delivered the album Kipenda Roho in 2019.

He soon had a hit with 2017's "Nibebe," and, preferring to perform only solo material at his concerts, made a push to release original songs at a fast clip. He eventually released the album Kipenda Roho in 2019.

Follow Boomplay and keep up to date with the latest Aslay songs and information.

Aslay Songs
• Mhudumu
• Ananikomoa
• Angekuona
• Baby
• Hakuna
• Hauna
• Kilangakomo
• Koko
• Naenjoy
• Kwatu
• Likizo
• Mapenzi
• Marioo
• Mchepuko
• Natamba
• Nichombeze
• Nyaku Nyaku
• Pusha
• Bembea
• Totoa
• Vigeregere
• Chuki
• Yatiririka
• Nyang'anyang'a

Aslay songs are included in Boomplay music playlists. Search to stream and download Aslay songs MP3/ single/ albums on the platform.
FAQs about Aslay
Where is Aslay from?
He is from Tanzania.
How to download songs of Aslay?
You can download songs of Aslay from Boomplay App for free.
Firstly, install Boomplay app on your mobile phone.
Secondly, navigate to the song you would like to download.
Thirdly, Tap on More > Download.