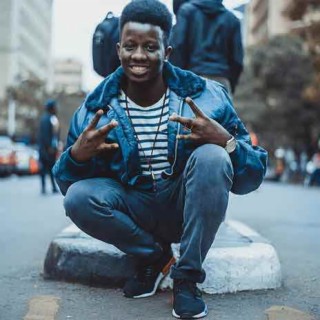 Muhanjii
Current #23.7k

All Time #9,726

A Picasso of sorts in his generation, Muhanjii is a creative genius, using music, fashion, and design to express his distinct style.
From his beginnings as a minor he used to sing in the children's church choir where he discovered his love for music. As he grew older he grew in art started rap when he was 8 yrs old, was featured in many school freestyle battles when DJ john hosted Freestyle Friday.
He used to rap in the school chapel and entertainment circles and in school functions with his all time buddy Jemedy of The T412.
He later on started doing poetry gigs after high school where he grew his writing word play and confidence on stage.

In June 1st 2012 he joined then The T412 which was a group of various creatives, the journey started as he was a dancer in the group for a while and later the group meta morphed into a band then later on into a contemporary rap group.
The group re branded and entered the music ministry in full swing with their hit single Temple that got them recognition in gospel music circles and conversations.
Same year released a mix tape Revival 12/12/12 was a monumental time to do the launch.

2013, Good news mix tape was launched in Citam Buruburu

2014, was a time of ministry and being soaked in the word.

2015, Before After tape was launched and lots of visuals where done from Aon Know, Piga Chuom and many more.
Same year 31st they where privileged to perform on both T.S.O and Groove party and meet their all time favorite artists Kristine Alicia & Omari.

2016, was a good year released 5ive the EP and worked with 5 different producers Ngalah, Myckie, Othole, Rolando Blake and Saint P.
Artists also featured were Kris erroh, S.O.C, Recapp, Scobby lazy rapper, Stonee Jiwe, Anje, Corinne Kahi, Zamora & rambim.

Same year Muhanjii took a different lane to further his music and ministry as a solo artist.
— Muhanjii's vision continues to flourish as he moves forward wait on it he is creating....more

Boom ID : 101392652 Country : Kenya Gender : Male
Songs

(17)

Albums

(5)

Playlists

(5)
1

2

3

4

5

6

7

8

9

10

11

12

13

14

15

16

17
Listen to Muhanjii's new songs including "Blandah", "Ni Yeye", "Sawa" and many more. Enjoy Muhanjii's latest songs and explore the Muhanjii's new music albums. If you want to download Muhanjii songs MP3, use the Boomplay App to download the Muhanjii songs for free. Discover Muhanjii's latest songs, popular songs, trending songs all on Boomplay.
A Picasso of sorts in his generation, Muhanjii is a creative genius, using music, fashion, and design to express his distinct style.
From his beginnings as a minor he used to sing in the children's church choir where he discovered his love for music. As he grew older he grew in art started rap when he was 8 yrs old, was featured in many school freestyle battles when DJ john hosted Freestyle Friday.
He used to rap in the school chapel and entertainment circles and in school functions with his all time buddy Jemedy of The T412.
He later on started doing poetry gigs after high school where he grew his writing word play and confidence on stage.

In June 1st 2012 he joined then The T412 which was a group of various creatives, the journey started as he was a dancer in the group for a while and later the group meta morphed into a band then later on into a contemporary rap group.
The group re branded and entered the music ministry in full swing with their hit single Temple that got them recognition in gospel music circles and conversations.
Same year released a mix tape Revival 12/12/12 was a monumental time to do the launch.

2013, Good news mix tape was launched in Citam Buruburu

2014, was a time of ministry and being soaked in the word.

2015, Before After tape was launched and lots of visuals where done from Aon Know, Piga Chuom and many more.
Same year 31st they where privileged to perform on both T.S.O and Groove party and meet their all time favorite artists Kristine Alicia & Omari.

2016, was a good year released 5ive the EP and worked with 5 different producers Ngalah, Myckie, Othole, Rolando Blake and Saint P.
Artists also featured were Kris erroh, S.O.C, Recapp, Scobby lazy rapper, Stonee Jiwe, Anje, Corinne Kahi, Zamora & rambim.

Same year Muhanjii took a different lane to further his music and ministry as a solo artist.
— Muhanjii's vision continues to flourish as he moves forward wait on it he is creating.