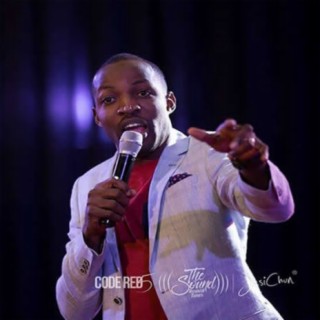 Dunsin Oyekan
Current #399

All Time #377

Dusin Oyekan who is also known as 'The Eagle' is a Nigerian gospel singer, songwriter, instrumentalist, and producer was born on the 5th of November 1984 in Kwara. He went to Airforce Nursery and Primary school Ilorin and had his secondary school education at the Federal Government College Ilorin and later continued at Baptist Model High School, Ilorin.He attended the University of Ilorin, Kwara State for his tertiary education, where he studied Industrial Chemistry.

Dusin Oyekan began his musical journey at the age of 10, after his father's love for music made him persuade Dunsin into learning musical instruments.He could play the guitar and he attributes his love for music and songwriting to his father. He currently plays several musical instruments including drums, keyboard, and guitar and he is also a record producer. In 2016, he released his debut studio album 'Code Red' which has 14 songs and features guest appearances from Ire Oluwa and Kim Burrell. That same year he was able to perform the song 'Na You' (off his debut album) featuring Kim Burell at The Experience, Africa's biggest gospel music concert which is held annually in Lagos, Nigeria. Dunsin has also performed alongside some other prominent gospel singers including Tasha Cobbs, Do Moen, Sinach, and many others.

In 2019, Dusin Oyekan released another album named "Kingdom Now" with 20 tracks. He has released songs like "More Than a Song", "Fragrance to Fire", and "At All Cost" all as singles in 2020. He released his latest album " The Gospel Of The Kingdom" in January 2021.

One of his popular songs 'Imole De' got nominated for Song of Excellence at the Africa Gospel Music and Media Awards (AGMMA) 2019 Dusin Oyekan has his programme known as the Code Red Worship Concert and the Healing Room Worship Event. An event that has had over nine successful editions.
Dunsin Oyekan was the music director of the crystal award-winning choir, The Avalanche of COZA, for many years....more

Country/Region : Nigeria
Songs

(19)

Albums

(5)

Playlists

(12)
1

2

3

4

5

6

7

8

9

10

11

12

13

14

15

16

17

18

19
Listen to Dunsin Oyekan's new songs including "Amazing", "Roar", "Do To Me What You Want" and many more. Enjoy Dunsin Oyekan's latest songs and explore the Dunsin Oyekan's new music albums. If you want to download Dunsin Oyekan songs MP3, use the Boomplay App to download the Dunsin Oyekan songs for free. Discover Dunsin Oyekan's latest songs, popular songs, trending songs all on Boomplay.
Dusin Oyekan who is also known as 'The Eagle' is a Nigerian gospel singer, songwriter, instrumentalist, and producer was born on the 5th of November 1984 in Kwara. He went to Airforce Nursery and Primary school Ilorin and had his secondary school education at the Federal Government College Ilorin and later continued at Baptist Model High School, Ilorin.He attended the University of Ilorin, Kwara State for his tertiary education, where he studied Industrial Chemistry.

Dusin Oyekan began his musical journey at the age of 10, after his father's love for music made him persuade Dunsin into learning musical instruments.He could play the guitar and he attributes his love for music and songwriting to his father. He currently plays several musical instruments including drums, keyboard, and guitar and he is also a record producer. In 2016, he released his debut studio album 'Code Red' which has 14 songs and features guest appearances from Ire Oluwa and Kim Burrell. That same year he was able to perform the song 'Na You' (off his debut album) featuring Kim Burell at The Experience, Africa's biggest gospel music concert which is held annually in Lagos, Nigeria. Dunsin has also performed alongside some other prominent gospel singers including Tasha Cobbs, Do Moen, Sinach, and many others.

In 2019, Dusin Oyekan released another album named "Kingdom Now" with 20 tracks. He has released songs like "More Than a Song", "Fragrance to Fire", and "At All Cost" all as singles in 2020. He released his latest album " The Gospel Of The Kingdom" in January 2021.

One of his popular songs 'Imole De' got nominated for Song of Excellence at the Africa Gospel Music and Media Awards (AGMMA) 2019 Dusin Oyekan has his programme known as the Code Red Worship Concert and the Healing Room Worship Event. An event that has had over nine successful editions.
Dunsin Oyekan was the music director of the crystal award-winning choir, The Avalanche of COZA, for many years.
FAQs about Dunsin Oyekan
Where is Dunsin Oyekan from?
He is from Nigeria.
How to download songs of Dunsin Oyekan?
You can download songs of Dunsin Oyekan from Boomplay App for free.
Firstly, install Boomplay app on your mobile phone.
Secondly, navigate to the song you would like to download.
Thirdly, Tap on More > Download.