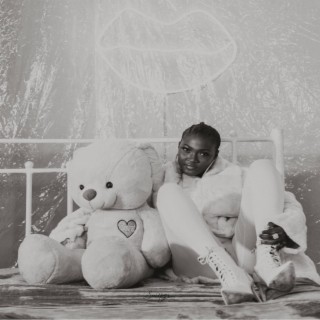 Okal
Current #99k+

All Time #5,157

Omobosola Karimat Alaka (Okal) was born October in 1997 Hails From Oyo State Ibadan. Many of Okal songs become very popular and trendy online with a great number of streaming and downloads on Boomplay.

Career
She started singing at the age 14 by playing guitar & Featuring in a live band. She is an Afro soul highlife singer. A Graduate of University Of Benin where she studied Adult Political Science.

Her Dad loved listening to the likes of Ebenezer Obey, Orlando Owoh, Beautiful Nubia, Ik Dairo but had this special love for Asa's music which made the whole family's taste bud fall in that line. Her sound came from the fact that she wasn't taking it seriously and she was ready to prove them wrong and convince them with conscious music.

She listened to Tracy Chapman, Taylor Swift, Don Williams, Dolly Parton, Kenny Rogers and Every Asa's Song till she came up with het style which attracted people to me quite quickly. Her Inspiration comes from her life experiences, a series of events and stages She has passed through in her life. She has made herself relevant Over The Years by making refixes of major hit's and dropping Original singles. The rising star Omobusola Kareemat Alaka Okal quit football to pursue a career in music.

Follow Boomplay and keep up to date with the latest Okal songs and information.

Okal Songs
• Listen
• Lover Boy
• Cost a Thang
• Spectacula
• Irin Ajo
• Thinking
• Million Dollar Something
• Without You
• Gentleman
• Pana (Female Refix)
• If Refix
• Cold World
• Rain Rain
• Natural Highness
• My Feelings

Okal songs are included in BoomPlay music playlists. Search to stream and download Okal songs MP3/ single/ albums on the platform....more

Country/Region : Nigeria
Songs

(15)

Albums

(14)

Playlists

(1)
1

2

3

4

5

6

7

8

9

10

11

12

13

14

15
Listen to Okal's new songs including "Thinking", "Spectacula", "Friday Night ft. Lazughi" and many more. Enjoy Okal's latest songs and explore the Okal's new music albums. If you want to download Okal songs MP3, use the Boomplay App to download the Okal songs for free. Discover Okal's latest songs, popular songs, trending songs all on Boomplay.
Omobosola Karimat Alaka (Okal) was born October in 1997 Hails From Oyo State Ibadan. Many of Okal songs become very popular and trendy online with a great number of streaming and downloads on Boomplay.

Career
She started singing at the age 14 by playing guitar & Featuring in a live band. She is an Afro soul highlife singer. A Graduate of University Of Benin where she studied Adult Political Science.

Her Dad loved listening to the likes of Ebenezer Obey, Orlando Owoh, Beautiful Nubia, Ik Dairo but had this special love for Asa's music which made the whole family's taste bud fall in that line. Her sound came from the fact that she wasn't taking it seriously and she was ready to prove them wrong and convince them with conscious music.

She listened to Tracy Chapman, Taylor Swift, Don Williams, Dolly Parton, Kenny Rogers and Every Asa's Song till she came up with het style which attracted people to me quite quickly. Her Inspiration comes from her life experiences, a series of events and stages She has passed through in her life. She has made herself relevant Over The Years by making refixes of major hit's and dropping Original singles. The rising star Omobusola Kareemat Alaka Okal quit football to pursue a career in music.

Follow Boomplay and keep up to date with the latest Okal songs and information.

Okal Songs
• Listen
• Lover Boy
• Cost a Thang
• Spectacula
• Irin Ajo
• Thinking
• Million Dollar Something
• Without You
• Gentleman
• Pana (Female Refix)
• If Refix
• Cold World
• Rain Rain
• Natural Highness
• My Feelings

Okal songs are included in BoomPlay music playlists. Search to stream and download Okal songs MP3/ single/ albums on the platform.
FAQs about Okal
Where is Okal from?
She is from Nigeria.
What are the latest songs of Okal?
The latest songs of Okal are Friday Night (Mixed) ft. Lazughi, Spectacula (Mixed) and Friday Night ft. Lazughi.
What are the best songs of Okal?
The best songs of Okal are Thinking, Spectacula and Cost a Thang.
What are the best albums of Okal?
The best albums of Okal are Thinking, Spectacula and Cost a Thang.
How to download songs of Okal?
You can download songs of Okal from Boomplay App for free.
Firstly, install Boomplay app on your mobile phone.
Secondly, navigate to the song you would like to download.
Thirdly, Tap on More > Download.