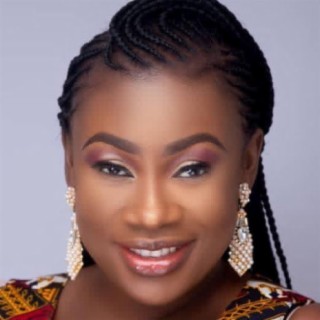 Philipa Baafi
Current #30.7k

All Time #5,254

Philipa Baafi is a renowned Ghanaian gospel musician born in Kumasi on May 15, 1980 the second-largest city in Ghana to Grace Acheampong and Akwasi Baafi. She started school at the Kings International School, before continuing at St Monica's, where she was the Girls' Prefect, the President of the Scripture Union, and the Science Club. After that she went to FC Institute of Beauty Therapy where she studied Physiology and Anatomy.

Many of Philipa's Songs became very popular and trendy on social media in line with a great number of streaming and downloads on Boomplay.

Career
She revealed that she began song ministration at the age of 9 and she discovered this when she used to sing in Bantama Methodist Church in Kumasi but she wasn't confined there because there were times when she went to other churches in Kumasi and its environs to do some renditions.

She continued singing, this time in a more polished and captivating style when she entered the St. Monica's Secondary School at Asante Mampong in 1996. After her senior high school education, she enrolled at the FC Institute of Beauty Therapy to study Physiology and Anatomy.

On completion, she proceeded to Cologne, Germany, to pursue a diploma course in beauty therapy for three months. She came out with her maiden album, Nyame Honhon Sane, in 1999 just after she had completed Senior Secondary School In 2002, and released another album, Mogya Nakasa, and followed it up with Okyeso Nyame, in February 2004. She released her fourth album, Go High, and it has received a lot of airplay.

The New Patriotic Party, NPP even adopted Go High, the title track for campaign purposes. According to her, her childhood dream was to become a medical doctor but that ambition was jettisoned very early in her life when she lost both parents in quick succession. She is hopeful of going back to school, especially after she had received assurances from her husband who had promised to support her to fulfill her childhood dream. At the moment, Philipa doubles as a gospel musician and a beauty therapist. She has two shops in Kumasi and several assistants who help her in her work.

Follow Boomplay and keep up-to-date with the latest songs of Philipa Baafi and information.

Philipa Baafi Songs
• Megye Me Din
• I Go Dance
• Hallelujah
• Nkwa
• Go High
• Ebenezer
• Go Higher
• Mogya Na Akasa
• Yesu Ne Me Last Stop

Philipa's Songs are included in Boomplay music playlists. Search, stream, and download Philipa's Songs, her latest singles and albums in MP3 only on the Boomplay platform for free....more

Country : Ghana
Songs

(0)

Albums

(0)

Playlists

(6)
Listen to Philipa Baafi's new songs including and many more. Enjoy Philipa Baafi's latest songs and explore the Philipa Baafi's new music albums. If you want to download Philipa Baafi songs MP3, use the Boomplay App to download the Philipa Baafi songs for free. Discover Philipa Baafi's latest songs, popular songs, trending songs all on Boomplay.
Philipa Baafi is a renowned Ghanaian gospel musician born in Kumasi on May 15, 1980 the second-largest city in Ghana to Grace Acheampong and Akwasi Baafi. She started school at the Kings International School, before continuing at St Monica's, where she was the Girls' Prefect, the President of the Scripture Union, and the Science Club. After that she went to FC Institute of Beauty Therapy where she studied Physiology and Anatomy.

Many of Philipa's Songs became very popular and trendy on social media in line with a great number of streaming and downloads on Boomplay.

Career
She revealed that she began song ministration at the age of 9 and she discovered this when she used to sing in Bantama Methodist Church in Kumasi but she wasn't confined there because there were times when she went to other churches in Kumasi and its environs to do some renditions.

She continued singing, this time in a more polished and captivating style when she entered the St. Monica's Secondary School at Asante Mampong in 1996. After her senior high school education, she enrolled at the FC Institute of Beauty Therapy to study Physiology and Anatomy.

On completion, she proceeded to Cologne, Germany, to pursue a diploma course in beauty therapy for three months. She came out with her maiden album, Nyame Honhon Sane, in 1999 just after she had completed Senior Secondary School In 2002, and released another album, Mogya Nakasa, and followed it up with Okyeso Nyame, in February 2004. She released her fourth album, Go High, and it has received a lot of airplay.

The New Patriotic Party, NPP even adopted Go High, the title track for campaign purposes. According to her, her childhood dream was to become a medical doctor but that ambition was jettisoned very early in her life when she lost both parents in quick succession. She is hopeful of going back to school, especially after she had received assurances from her husband who had promised to support her to fulfill her childhood dream. At the moment, Philipa doubles as a gospel musician and a beauty therapist. She has two shops in Kumasi and several assistants who help her in her work.

Follow Boomplay and keep up-to-date with the latest songs of Philipa Baafi and information.

Philipa Baafi Songs
• Megye Me Din
• I Go Dance
• Hallelujah
• Nkwa
• Go High
• Ebenezer
• Go Higher
• Mogya Na Akasa
• Yesu Ne Me Last Stop

Philipa's Songs are included in Boomplay music playlists. Search, stream, and download Philipa's Songs, her latest singles and albums in MP3 only on the Boomplay platform for free.
New Comments(
12

)