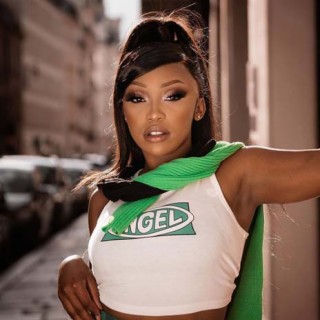 Kamo Mphela
Current #29

All Time #557

Kamogelo Mphela (born November 29, 1999), popularly known as Kamo Mphela, is a South African dancer and singer. She became an internet celebrity after she posted a video of her dancing on her social media account.

Kamo Mphela was born in Soweto ,South Africa and grew up in Emdeni, Soweto. She studied Media at the Boston Media House.

CAREER AND ACHIEVEMENTS
Her passion for dancing started at an early age, when she accompanied her father who worked at YFM and at events where she would perform on stage and dance which eventually led to her getting more exposure through live performances. She later became popular by posting videos on Instagram where she displayed her dancing skills.

Before pursuing her dancing career, she had tried acting and had got a chance to be an extra on the TV soap Isibaya, but she later realized that it was not for her and she started performing as a dancer at gigs. Her dancing skills eventually got her the name "Queen of Amapiano".

In 2019, she got signed to Major League Music and released her Ep titled, Twentee under the label. She has also released songs such as Suka Emabozen and Menemene and has collaborated with South African singer Busiswa on the single Sbwl and has featured on the MFR Soulz single Amanikiniki ranked #1 on Good Hope FM's SA House Music Top 10 Chart.

She has also performed and worked with local musicians such as Nadia Nakai and Killer Kau. She has been featured as a singer and dancer in the amapiano songs such as Sukendleleni and Labantwana Ama Uber.

Follow Boomplay and keep up-to-date with the latest Kamo Mphela songs and information.

Kamo Mphela Songs
• Nkulunkulu
• Thula Thula
• Squander
• Dubai
• Percy Tau
• Mojolo
• Mamazala
• 100 Shooter
• Menemene
• Suka Emabozeni
• Punisher
• Give Dem
• Massage to Vigro
• Amanikiniki
• Ho Monate
• Amika
• Slender
• Top Level
• SBWL
• Sandton
• Elon Musk...more

Country/Region : South Africa
Songs

(5)

Albums

(1)

Playlists

(10)
Listen to Kamo Mphela's new songs including "Dalie (Mixed) ft. Tyler ICU, Khalil Harrison & Baby S.O.N", "Menemene", "Punisher ft. Focalistic" and many more. Enjoy Kamo Mphela's latest songs and explore the Kamo Mphela's new music albums. If you want to download Kamo Mphela songs MP3, use the Boomplay App to download the Kamo Mphela songs for free. Discover Kamo Mphela's latest songs, popular songs, trending songs all on Boomplay.
Kamogelo Mphela (born November 29, 1999), popularly known as Kamo Mphela, is a South African dancer and singer. She became an internet celebrity after she posted a video of her dancing on her social media account.

Kamo Mphela was born in Soweto ,South Africa and grew up in Emdeni, Soweto. She studied Media at the Boston Media House.

CAREER AND ACHIEVEMENTS
Her passion for dancing started at an early age, when she accompanied her father who worked at YFM and at events where she would perform on stage and dance which eventually led to her getting more exposure through live performances. She later became popular by posting videos on Instagram where she displayed her dancing skills.

Before pursuing her dancing career, she had tried acting and had got a chance to be an extra on the TV soap Isibaya, but she later realized that it was not for her and she started performing as a dancer at gigs. Her dancing skills eventually got her the name "Queen of Amapiano".

In 2019, she got signed to Major League Music and released her Ep titled, Twentee under the label. She has also released songs such as Suka Emabozen and Menemene and has collaborated with South African singer Busiswa on the single Sbwl and has featured on the MFR Soulz single Amanikiniki ranked #1 on Good Hope FM's SA House Music Top 10 Chart.

She has also performed and worked with local musicians such as Nadia Nakai and Killer Kau. She has been featured as a singer and dancer in the amapiano songs such as Sukendleleni and Labantwana Ama Uber.

Follow Boomplay and keep up-to-date with the latest Kamo Mphela songs and information.

Kamo Mphela Songs
• Nkulunkulu
• Thula Thula
• Squander
• Dubai
• Percy Tau
• Mojolo
• Mamazala
• 100 Shooter
• Menemene
• Suka Emabozeni
• Punisher
• Give Dem
• Massage to Vigro
• Amanikiniki
• Ho Monate
• Amika
• Slender
• Top Level
• SBWL
• Sandton
• Elon Musk
New Comments(
30

)
FAQs about Kamo Mphela
Where is Kamo Mphela from?
She is from South Africa.
How to download songs of Kamo Mphela?
You can download songs of Kamo Mphela from Boomplay App for free.
Firstly, install Boomplay app on your mobile phone.
Secondly, navigate to the song you would like to download.
Thirdly, Tap on More > Download.