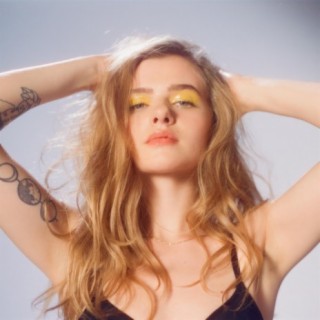 Rosie Carney
Current #99k+

All Time #13.4k

Break-out singer-songwriter Rosie Carney's long-awaited, deeply personal debut album album Bare is out now. The 22-year-old Anglo-Irish artist has been building on increasingly rave reviews. Mojo Magazine calls Carney's music "haunting" and "the sound of a troubled soul finding her voice" while Earmilk describes it as "astonishingly beautiful," "delicate but unwavering." The Irish Times praises the record as "a gorgeous cycle that runs the whole gamut of life, love and loss."

Carney was born in Hampshire, England and at 10 years old moved to Donegal on the northwest coast of Ireland. Inspired by the rugged and picturesque landscapes of her new home, she began writing music, leaving school at just 15 to showcase in New York and Los Angeles. Her later teen years were absorbed by twin struggles of asserting herself creatively in a major label system – ultimately leaving it all together - while facing her own challenges with mental health. Throughout it all, the one constant has been her songwriting, which is both cathartic and empowering....more

Country/Region : Ireland
Songs

(0)

Albums

(0)

Playlists

(0)
Listen to Rosie Carney's new songs including and many more. Enjoy Rosie Carney's latest songs and explore the Rosie Carney's new music albums. If you want to download Rosie Carney songs MP3, use the Boomplay App to download the Rosie Carney songs for free. Discover Rosie Carney's latest songs, popular songs, trending songs all on Boomplay.
Break-out singer-songwriter Rosie Carney's long-awaited, deeply personal debut album album Bare is out now. The 22-year-old Anglo-Irish artist has been building on increasingly rave reviews. Mojo Magazine calls Carney's music "haunting" and "the sound of a troubled soul finding her voice" while Earmilk describes it as "astonishingly beautiful," "delicate but unwavering." The Irish Times praises the record as "a gorgeous cycle that runs the whole gamut of life, love and loss."

Carney was born in Hampshire, England and at 10 years old moved to Donegal on the northwest coast of Ireland. Inspired by the rugged and picturesque landscapes of her new home, she began writing music, leaving school at just 15 to showcase in New York and Los Angeles. Her later teen years were absorbed by twin struggles of asserting herself creatively in a major label system – ultimately leaving it all together - while facing her own challenges with mental health. Throughout it all, the one constant has been her songwriting, which is both cathartic and empowering.
New Comments(
1

)