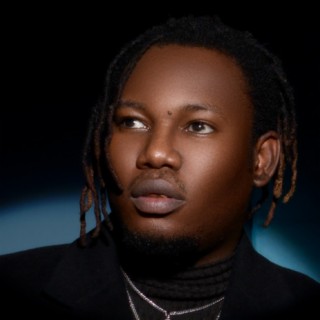 Qdot
Current #1,190

All Time #300

Qdot is a Nigerian singer and songwriter. He is popularly known for his Yoruba style of music. Qdot Alagbe was born Fakoya Qudus Oluwadamilare but goes by his stage name, Qdot. Qdot is a name he coined from Qudus. He rose to fame with his hit song "Alomo Meta" in 2013.

Qdot Alagbe Biography
Qdot Alagbe was born on 30th April 1988 in Ikorodu, Lagos state in Nigeria. He was born in a complicated family where he is the first of his father and the second of his mum. Qdot although he was born and raised in Ikorodu, Lagos state, describes himself as half Ibadan and half Lagos boy.

Qdot Alagbe Career
Qdot Alagbe is one of the talented artists in the Nigerian music industry. His music started in secondary school when he was doing rap before he switched to commercial music. He started his music career in full by 2010 when he released his debut single "Story of My Life". During his career he has worked with notable producers such as D'tunes, Antras, Indomix, and Citi Boi, the list goes on. Qdot Alagbe is fondly called "Yorubboi Music" and has continued to remain one of the most loved indigenous Yoruba singers.

Qdot Alagbe has also shared the stage and worked with top music acts in Nigeria such as Seriki, Olamide, Patoranking, Reminisce, Jhybo. He came into limelight in 2013 with his hit single called "Alomo meta" following up with an impressive outing in 2014. Subsequently, he released another single "Ibadan" featuring Olamide, which was a hit.

Qdot Alagbe record label
Qdot Alagbe recorded massive success in 2015 from dropping a Nigeria pop freestyle single titled "Alhaji". He was once featured on one of the biggest Fuji artist Hip-hop album called "My World" by Pasuma. he featured in a track called "Olohun Oje" which was one of the fan's favorite and the hit song on the album.

Qdot Alagbe Net worth
Qdot Alagbe is an influential Yoruba artist, he is believed to have an estimated Net worth of $50,000. Download and Listen your favorite songs on Boomplay....more

Country/Region : Nigeria
Listen to Qdot's new songs including "SARE ft. Davido", "OWO ft. Small Doctor", "Desperate Journey" and many more. Enjoy Qdot's latest songs and explore the Qdot's new music albums. If you want to download Qdot songs MP3, use the Boomplay App to download the Qdot songs for free. Discover Qdot's latest songs, popular songs, trending songs all on Boomplay.
Qdot is a Nigerian singer and songwriter. He is popularly known for his Yoruba style of music. Qdot Alagbe was born Fakoya Qudus Oluwadamilare but goes by his stage name, Qdot. Qdot is a name he coined from Qudus. He rose to fame with his hit song "Alomo Meta" in 2013.

Qdot Alagbe Biography
Qdot Alagbe was born on 30th April 1988 in Ikorodu, Lagos state in Nigeria. He was born in a complicated family where he is the first of his father and the second of his mum. Qdot although he was born and raised in Ikorodu, Lagos state, describes himself as half Ibadan and half Lagos boy.

Qdot Alagbe Career
Qdot Alagbe is one of the talented artists in the Nigerian music industry. His music started in secondary school when he was doing rap before he switched to commercial music. He started his music career in full by 2010 when he released his debut single "Story of My Life". During his career he has worked with notable producers such as D'tunes, Antras, Indomix, and Citi Boi, the list goes on. Qdot Alagbe is fondly called "Yorubboi Music" and has continued to remain one of the most loved indigenous Yoruba singers.

Qdot Alagbe has also shared the stage and worked with top music acts in Nigeria such as Seriki, Olamide, Patoranking, Reminisce, Jhybo. He came into limelight in 2013 with his hit single called "Alomo meta" following up with an impressive outing in 2014. Subsequently, he released another single "Ibadan" featuring Olamide, which was a hit.

Qdot Alagbe record label
Qdot Alagbe recorded massive success in 2015 from dropping a Nigeria pop freestyle single titled "Alhaji". He was once featured on one of the biggest Fuji artist Hip-hop album called "My World" by Pasuma. he featured in a track called "Olohun Oje" which was one of the fan's favorite and the hit song on the album.

Qdot Alagbe Net worth
Qdot Alagbe is an influential Yoruba artist, he is believed to have an estimated Net worth of $50,000. Download and Listen your favorite songs on Boomplay.
New Comments(
391

)
FAQs about Qdot
Where is Qdot from?
He is from Nigeria.
How to download songs of Qdot?
You can download songs of Qdot from Boomplay App for free.
Firstly, install Boomplay app on your mobile phone.
Secondly, navigate to the song you would like to download.
Thirdly, Tap on More > Download.