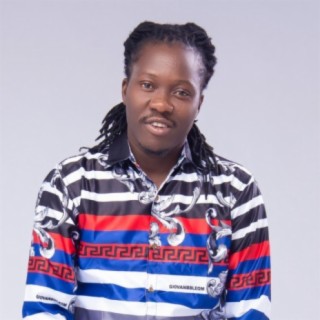 Skrewfaze
Current #13.1k

All Time #22.7k

He is known in the music circles as SKREWFAZE and has had a lots of hit songs in his native Ghana, West Africa.

SKREWFAZE has collaborated with dozens of Ghanaian musicians, featuring on almost 200 songs. He is known for his creativity and humility, something which sets him apart from a lot of the musicians in his native Ghana. He is touted as the one of the most versatile artistes in his native Ghana, with ability to switch to various music styles.

Skrewfaze released his third album in 2011 titled, 'Consynment'. Like his previous album, it was laced with francophone beats and local Ghanaian languages. 2011 also saw the launch of the Consynment Band, a band which accompanies him on his various tours.

Skrew is a trendsetter that uses his creativity to the maximum. Terms like Consynment, Kpii Kpaa, Gbozaa, Gbalagazaaa are widely used by the local population due to the creativity and the charisma of Skrewfaze.

The rebranded SKREWFAZE is currently embarking on the new phase of his music career by signing a record deal with Black Kulcha Music in the United Kingdom. His latest single, 'Move Away', which has an urban sound reggae/dancehall vibe, was released digitally worldwide on 1st December 2019 with accompanying video released on 15th Janauary 2019 to rave reviews.

His next single 'Why Now?' is due to be released on 7th February 2019....more

Country/Region : Ghana
Songs

(9)

Albums

(8)

Playlists

(3)
Listen to Skrewfaze's new songs including "Reality (Remix) ft. Ras Kuuku", "Liberia Independence Day", "Reality" and many more. Enjoy Skrewfaze's latest songs and explore the Skrewfaze's new music albums. If you want to download Skrewfaze songs MP3, use the Boomplay App to download the Skrewfaze songs for free. Discover Skrewfaze's latest songs, popular songs, trending songs all on Boomplay.
He is known in the music circles as SKREWFAZE and has had a lots of hit songs in his native Ghana, West Africa.

SKREWFAZE has collaborated with dozens of Ghanaian musicians, featuring on almost 200 songs. He is known for his creativity and humility, something which sets him apart from a lot of the musicians in his native Ghana. He is touted as the one of the most versatile artistes in his native Ghana, with ability to switch to various music styles.

Skrewfaze released his third album in 2011 titled, 'Consynment'. Like his previous album, it was laced with francophone beats and local Ghanaian languages. 2011 also saw the launch of the Consynment Band, a band which accompanies him on his various tours.

Skrew is a trendsetter that uses his creativity to the maximum. Terms like Consynment, Kpii Kpaa, Gbozaa, Gbalagazaaa are widely used by the local population due to the creativity and the charisma of Skrewfaze.

The rebranded SKREWFAZE is currently embarking on the new phase of his music career by signing a record deal with Black Kulcha Music in the United Kingdom. His latest single, 'Move Away', which has an urban sound reggae/dancehall vibe, was released digitally worldwide on 1st December 2019 with accompanying video released on 15th Janauary 2019 to rave reviews.

His next single 'Why Now?' is due to be released on 7th February 2019.
New Comments(
0

)

What do you think of this artist?