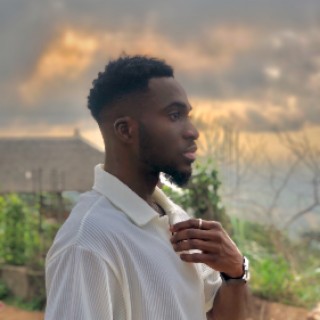 Kweku Lee
Current #99k+

All Time #27k

Kweku Lee is a Talented Ghanaian rapper,songwriter and musician known in the Music Industry. Alexander Kweku Tenkorang was born on 19 April 1995, growing up in Dansoman, a suburb in Accra. Many of Kweku Lee songs become very popular and trendy online with a great number of streaming and downloads on Boomplay.

Career
He began treading on the music path as a young rapper way back in St. Anthony's Junior High School. Kweku Lee stays current and up to date with his craft and directions as well as the subject and message most of his songs tend to preach therefore labeled as Contemporary.

Kweku Lee has unleashed his first single titled "XXL Love" in 2019 for all music listeners, lovers and industry as a whole to listen and share thoughts with him as he embarks on this musical journey with all. While Kweku Lee's ambition is to be a fully flanged international artiste, he is also focused on pushing his side business as an entrepreneur.

Follow Boomplay and keep up to date with the latest Kweku Lee songs and information.

Kweku Lee Songs and Albums
• XXL Love
• Young Addict
• Five
• Fvck You
• Win Win
• Fire Tongue
• Maye Fine
• Black Gold
• Slim Macho
• XXL Love (Album)
• Through the Mud (Album)

Kweku Lee songs are included in Boomplay music playlists. Search to stream and download Kweku Lee songs MP3/ single/ albums on the platform....more

Country/Region : Ghana
Listen to Kweku Lee's new songs including "Three", "Five", "We Dey Move" and many more. Enjoy Kweku Lee's latest songs and explore the Kweku Lee's new music albums. If you want to download Kweku Lee songs MP3, use the Boomplay App to download the Kweku Lee songs for free. Discover Kweku Lee's latest songs, popular songs, trending songs all on Boomplay.
Kweku Lee is a Talented Ghanaian rapper,songwriter and musician known in the Music Industry. Alexander Kweku Tenkorang was born on 19 April 1995, growing up in Dansoman, a suburb in Accra. Many of Kweku Lee songs become very popular and trendy online with a great number of streaming and downloads on Boomplay.

Career
He began treading on the music path as a young rapper way back in St. Anthony's Junior High School. Kweku Lee stays current and up to date with his craft and directions as well as the subject and message most of his songs tend to preach therefore labeled as Contemporary.

Kweku Lee has unleashed his first single titled "XXL Love" in 2019 for all music listeners, lovers and industry as a whole to listen and share thoughts with him as he embarks on this musical journey with all. While Kweku Lee's ambition is to be a fully flanged international artiste, he is also focused on pushing his side business as an entrepreneur.

Follow Boomplay and keep up to date with the latest Kweku Lee songs and information.

Kweku Lee Songs and Albums
• XXL Love
• Young Addict
• Five
• Fvck You
• Win Win
• Fire Tongue
• Maye Fine
• Black Gold
• Slim Macho
• XXL Love (Album)
• Through the Mud (Album)

Kweku Lee songs are included in Boomplay music playlists. Search to stream and download Kweku Lee songs MP3/ single/ albums on the platform.
New Comments(
10

)
FAQs about Kweku Lee
Where is Kweku Lee from?
He is from Ghana.
How to download songs of Kweku Lee?
You can download songs of Kweku Lee from Boomplay App for free.
Firstly, install Boomplay app on your mobile phone.
Secondly, navigate to the song you would like to download.
Thirdly, Tap on More > Download.