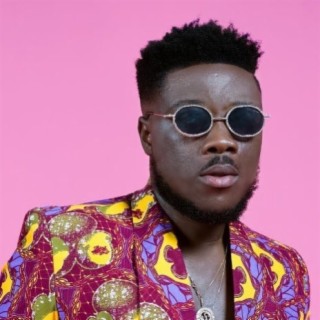 Kurl Songx
Current #19.7k

All Time #15.3k

He curled the songs from the street to the stage
-The story of Kurl Songx
Most successful people have a grass-to grace story that they use to inspire others and that holds true for Afro Pop artiste, Kurl Songx, who believes his time in the limelight cannot be considered a success if he doesn't use his story to change lives and attitudes.
Some years ago, the Jennifer Lomotey hitmaker was no different from the many young men we see every day on the streets hustling to make a better life for themselves.
At a very young age, Kurl Songx, who grew up in the ghettos of Adabraka in Accra had to toil on the streets to support his family.
It was definitely not by choice but as the first son of three children, the young man assumed that responsibility to help his single mother who was struggling at the time to cater for her family.
However, from being a "good" boy who wanted the best for his family, his good intentions rather turned into a bitter story when he joined bad company on the streets in a bid to escape the pressures of life and the negative vices he took up threatened his future.
Today, he looks back with joy at how his mother's wise counsel and most importantly, his music talent helped him not to go the way of many young people whose lives have been destroyed by the hard street life.
Such passion in one so young is admirable but his rags to riches story is one that should inspire anyone not to give up no matter what they go through....more

Country/Region : Ghana
Songs

(5)

Albums

(5)

Playlists

(6)
Listen to Kurl Songx's new songs including "Jennifer Lomotey ft. Sarkodie", "Trumpet", "Lobi" and many more. Enjoy Kurl Songx's latest songs and explore the Kurl Songx's new music albums. If you want to download Kurl Songx songs MP3, use the Boomplay App to download the Kurl Songx songs for free. Discover Kurl Songx's latest songs, popular songs, trending songs all on Boomplay.
He curled the songs from the street to the stage
-The story of Kurl Songx
Most successful people have a grass-to grace story that they use to inspire others and that holds true for Afro Pop artiste, Kurl Songx, who believes his time in the limelight cannot be considered a success if he doesn't use his story to change lives and attitudes.
Some years ago, the Jennifer Lomotey hitmaker was no different from the many young men we see every day on the streets hustling to make a better life for themselves.
At a very young age, Kurl Songx, who grew up in the ghettos of Adabraka in Accra had to toil on the streets to support his family.
It was definitely not by choice but as the first son of three children, the young man assumed that responsibility to help his single mother who was struggling at the time to cater for her family.
However, from being a "good" boy who wanted the best for his family, his good intentions rather turned into a bitter story when he joined bad company on the streets in a bid to escape the pressures of life and the negative vices he took up threatened his future.
Today, he looks back with joy at how his mother's wise counsel and most importantly, his music talent helped him not to go the way of many young people whose lives have been destroyed by the hard street life.
Such passion in one so young is admirable but his rags to riches story is one that should inspire anyone not to give up no matter what they go through.