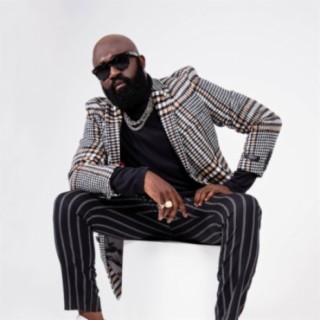 Sean Dampte
Current #10.8k

All Time #5,137

Sean Dampte; real name Oluwaseun Oluyole, is a Nigerian born & UK based Afro-Pop artist.

One of 5 siblings, Sean is the third family member to pursue a career in entertainment & discovered his innate talent for words and rhymes at a young age. The young Sean Dampte would play with words and metaphors, learning to weave these into his songs later in life continues to set him apart.

Sean Dampte has earned a solid reputation that; without question, never fails to get people grooving along to his stellar combination of Afrobeats, pop & dancehall fusion.

Dampte is regarded as a pioneer of the Afro Fusion sound, having released the now monster hit single 'Wine Your Tinkolo' with YQ in 2009. The track achieved massive success & climbed the charts in Dampte's home of Nigeria and internationally.

In 2011, Dampte worked on Tay Dizm's single 'Are You Ready' - Dizm is famously a huge part of T-Pain's Nappy Boy Records label. Sean went onto work with Rayce in 2017 on his second hit 'Alignment;...more

Country/Region : United Kingdom
Songs

(44)

Albums

(17)

Playlists

(2)
1

2

3

4

5

6

7

8

9

10

11

12

13

14

15

16

17

18

19

20

21

22

23

24

25

26

27

28

29

30

31

32

33

34

35

36

37

38

39

40

41

42

43

44
Listen to Sean Dampte's new songs including "Gyals ft. Seyi Vibez", "Tender Body", "Agbada" and many more. Enjoy Sean Dampte's latest songs and explore the Sean Dampte's new music albums. If you want to download Sean Dampte songs MP3, use the Boomplay App to download the Sean Dampte songs for free. Discover Sean Dampte's latest songs, popular songs, trending songs all on Boomplay.
Sean Dampte; real name Oluwaseun Oluyole, is a Nigerian born & UK based Afro-Pop artist.

One of 5 siblings, Sean is the third family member to pursue a career in entertainment & discovered his innate talent for words and rhymes at a young age. The young Sean Dampte would play with words and metaphors, learning to weave these into his songs later in life continues to set him apart.

Sean Dampte has earned a solid reputation that; without question, never fails to get people grooving along to his stellar combination of Afrobeats, pop & dancehall fusion.

Dampte is regarded as a pioneer of the Afro Fusion sound, having released the now monster hit single 'Wine Your Tinkolo' with YQ in 2009. The track achieved massive success & climbed the charts in Dampte's home of Nigeria and internationally.

In 2011, Dampte worked on Tay Dizm's single 'Are You Ready' - Dizm is famously a huge part of T-Pain's Nappy Boy Records label. Sean went onto work with Rayce in 2017 on his second hit 'Alignment;
New Comments(
0

)

What do you think of this artist?