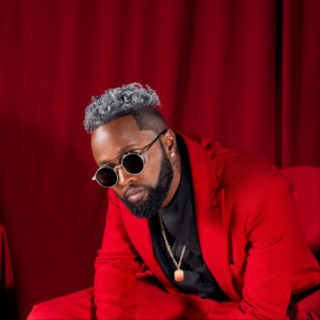 Kagwe Mungai
Current #10.5k

All Time #7,035

Kagwe Mungai was born on January 31, 1991, in Nairobi, Kenya. Kagwe Mungai is a Kenyan singer, songwriter and producer. Many of Kagwe Mungai's songs become very popular and trendy online with a great number of streaming and downloads on Boomplay.

He studied Music at the University of Southampton in England where he created his debut EP. Kagwe is a renowned producer, working with several Kenyan artists including Eric Wainaina, Fena Gitu, Mayonde, Vanessa Mdee, Sauti Sol and MDQ.

He is also a multi instrumentalist playing the drums, piano and saxophone. Being a versatlile artist has led Kagwe to explore different genre's including dancehall, jazz, hip- hop, R&B and electronica. Kagwe has credited his influences which include his music teacher in Nairobi, Moses Watatua, Michael Jackson, Pharrell, Quincy Jones, Fela Kuti andOliver Mutukudzi for inspiring his music and artistry.

Kagwe signed a record deal with OBY Africa in 2020 after his deal with Taurus Musik expired.

CAREER
Kagwe started singing whe he was 13, writing songs and practicing playing different instruments including drums and a recorder. When he was 16, Kagwe was introduced to Steve Jean, an accomplished music producer from Uganda, who taught Mungai the basics of production.

During his studies at University of Southampton in England Kagwe began working on his debut project recording music for the EP titled 'It Only Gets Better' Among the singles in the EP was his cover of Ice Prince's Oleku in 2013.

His 2013 collaboration with Fena Gitu titled Dutch was his first hit in the country and began a good working relationship between the duo that would result in many hits to come.

In 2014 he released his first solo hit titled Creeper which generated a lot of attention due to its catchiness being a moderate success in Kenya.

In 2015 he released his breakthrough smash hit single Give It To Me featuring King Kaka that pushed him further in he limelight. He went on to release a string of stand alone hit singles before his debut album.

In 2019 Kagwe release of his highly anticipated debut album titled "Spectrum". The 15 track album featured collaborations from Niniola, Owuor Arunga, Naiboi and Kansoul spawning several hit singles including Baas, African Lady, Nakulike, Miss Obi and Till the end. With nearly 1 Million streams, Spectrum earned him the rank of 2nd highest streamed Kenyan artist on Spotify.

Kagwe is set to release his sophomore album titled 'Mr.Incredible' in 2022 previewed by the singles Chay Chay, Ponky and Panties.

Kagwe Mungai Songs
• Kagwe's most popular songs include;
• Kama Kawaida
• Baas
• Doctor
• African Lady
• Till the End
• Miss Obi
• Clubbin
• Nyumbani
• Mbongi ya madenge

Follow Boomplay and keep up-to-date with the latest Kagwe Mungai's songs and information.

ACHIEVEMENTS
Kagwe Mungai has surpassed 800,000 streams on Boomplay and 5,000,000 views on Youtube. He has received nominations and awards in the following;
• 2014 MTV Europe Awards for Best African Song.
• 2015 Kenya Glamour Awards for Best Male
• 2017 PMVA for Best Collaboration of the Year
• 2018 AFRIMMA Award for Best East African Act

Kagwe Mungai's songs are included in Boomplay music playlists. Search to stream and Kahush's songs MP3/ single/ albums on the platform...more

Country/Region : Kenya
Listen to Kagwe Mungai's new songs including "Zero ft. Fena Gitu, Mayonde", "Baas ft. Kansoul", "Till The End ft. Niniola" and many more. Enjoy Kagwe Mungai's latest songs and explore the Kagwe Mungai's new music albums. If you want to download Kagwe Mungai songs MP3, use the Boomplay App to download the Kagwe Mungai songs for free. Discover Kagwe Mungai's latest songs, popular songs, trending songs all on Boomplay.
Kagwe Mungai was born on January 31, 1991, in Nairobi, Kenya. Kagwe Mungai is a Kenyan singer, songwriter and producer. Many of Kagwe Mungai's songs become very popular and trendy online with a great number of streaming and downloads on Boomplay.

He studied Music at the University of Southampton in England where he created his debut EP. Kagwe is a renowned producer, working with several Kenyan artists including Eric Wainaina, Fena Gitu, Mayonde, Vanessa Mdee, Sauti Sol and MDQ.

He is also a multi instrumentalist playing the drums, piano and saxophone. Being a versatlile artist has led Kagwe to explore different genre's including dancehall, jazz, hip- hop, R&B and electronica. Kagwe has credited his influences which include his music teacher in Nairobi, Moses Watatua, Michael Jackson, Pharrell, Quincy Jones, Fela Kuti andOliver Mutukudzi for inspiring his music and artistry.

Kagwe signed a record deal with OBY Africa in 2020 after his deal with Taurus Musik expired.

CAREER
Kagwe started singing whe he was 13, writing songs and practicing playing different instruments including drums and a recorder. When he was 16, Kagwe was introduced to Steve Jean, an accomplished music producer from Uganda, who taught Mungai the basics of production.

During his studies at University of Southampton in England Kagwe began working on his debut project recording music for the EP titled 'It Only Gets Better' Among the singles in the EP was his cover of Ice Prince's Oleku in 2013.

His 2013 collaboration with Fena Gitu titled Dutch was his first hit in the country and began a good working relationship between the duo that would result in many hits to come.

In 2014 he released his first solo hit titled Creeper which generated a lot of attention due to its catchiness being a moderate success in Kenya.

In 2015 he released his breakthrough smash hit single Give It To Me featuring King Kaka that pushed him further in he limelight. He went on to release a string of stand alone hit singles before his debut album.

In 2019 Kagwe release of his highly anticipated debut album titled "Spectrum". The 15 track album featured collaborations from Niniola, Owuor Arunga, Naiboi and Kansoul spawning several hit singles including Baas, African Lady, Nakulike, Miss Obi and Till the end. With nearly 1 Million streams, Spectrum earned him the rank of 2nd highest streamed Kenyan artist on Spotify.

Kagwe is set to release his sophomore album titled 'Mr.Incredible' in 2022 previewed by the singles Chay Chay, Ponky and Panties.

Kagwe Mungai Songs
• Kagwe's most popular songs include;
• Kama Kawaida
• Baas
• Doctor
• African Lady
• Till the End
• Miss Obi
• Clubbin
• Nyumbani
• Mbongi ya madenge

Follow Boomplay and keep up-to-date with the latest Kagwe Mungai's songs and information.

ACHIEVEMENTS
Kagwe Mungai has surpassed 800,000 streams on Boomplay and 5,000,000 views on Youtube. He has received nominations and awards in the following;
• 2014 MTV Europe Awards for Best African Song.
• 2015 Kenya Glamour Awards for Best Male
• 2017 PMVA for Best Collaboration of the Year
• 2018 AFRIMMA Award for Best East African Act

Kagwe Mungai's songs are included in Boomplay music playlists. Search to stream and Kahush's songs MP3/ single/ albums on the platform
FAQs about Kagwe Mungai
Where is Kagwe Mungai from?
He is from Kenya.
How to download songs of Kagwe Mungai?
You can download songs of Kagwe Mungai from Boomplay App for free.
Firstly, install Boomplay app on your mobile phone.
Secondly, navigate to the song you would like to download.
Thirdly, Tap on More > Download.