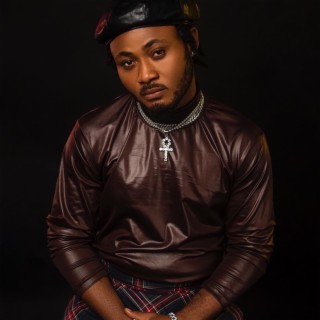 Luddy Dave
Current #975

All Time #1,427

David Lucky Oguns, also known as Luddy Dave. A recording artiste, singer, songwriter, and performer currently signed to Top Rock Entertainment. Although he does contemporary African music, He appreciates all forms of music. His music style is unique as it is a mix of several Afro genres, AfroHybrid. Afrohybrid is a music genre that feeds the body, soul and mind.

Luddy Dave songs become very popular and trendy online with a great number of streaming and downloads on Boomplay.

Career
Luddy Dave music journey started when he was still a child growing up on the streets of the ancient city of warriors, Ibadan. At the age of nine, LuddyDave joined the choir of my local church and grew to become its lead singer. The experience helped to hone Luddy Dave's music talent and led him on a quest for more.

As a member of the choir, he wrote soul touching songs based on events around him. He drew inspiration from established acts like Plantashun Boys, Styl Plus, R. Kelly, Mary J. Blige and several other great musicians. This experience made LuddyDave realize that he could pursue music as a career and also shaped him as a person.

With a determination to make music his purpose in life, Luddy Dave left Nigeria for South Africa. Adapting to life in a new country was far from easy, but he found refuge still in music. Luddy Dave quickly set about my passion, and in no time, he started gaining people's attention. He soon became a local favourite and was rewarded with several invitational performances in clubs across Pretoria, Johannesburg and Soweto. This was in addition to regular gigs at the Royal Hotel in Johannesburg.

After several years of playing music in South Africa, Luddy Dave realized that you cannot give away, without giving home first. So returned to Nigeria and signed with a new record label and 4am management company.

Follow Boomplay and keep up-to-date with the latest Luddy Dave songs and information.

Luddy Dave Songs
• Me Singing
• Smile
• GAT ME SINGING
• Kalamata
• Sade
• Yolo
• Jailer
• Kuphi
• Sade

Luddy Dave songs are included in Boomplay music playlists. Search to stream and download Luddy Dave songs MP3/ single/ albums on the platform....more

Country/Region : Nigeria
Songs

(17)

Albums

(13)

Playlists

(7)
1

2

3

4

5

6

7

8

9

10

11

12

13

14

15

16

17
Listen to Luddy Dave's new songs including "Shey You Go Dey (Speed Up)", "Plenty Talk ft. Barry Jhay", "Jolie ft. G-Nako & Frankie Maston" and many more. Enjoy Luddy Dave's latest songs and explore the Luddy Dave's new music albums. If you want to download Luddy Dave songs MP3, use the Boomplay App to download the Luddy Dave songs for free. Discover Luddy Dave's latest songs, popular songs, trending songs all on Boomplay.
David Lucky Oguns, also known as Luddy Dave. A recording artiste, singer, songwriter, and performer currently signed to Top Rock Entertainment. Although he does contemporary African music, He appreciates all forms of music. His music style is unique as it is a mix of several Afro genres, AfroHybrid. Afrohybrid is a music genre that feeds the body, soul and mind.

Luddy Dave songs become very popular and trendy online with a great number of streaming and downloads on Boomplay.

Career
Luddy Dave music journey started when he was still a child growing up on the streets of the ancient city of warriors, Ibadan. At the age of nine, LuddyDave joined the choir of my local church and grew to become its lead singer. The experience helped to hone Luddy Dave's music talent and led him on a quest for more.

As a member of the choir, he wrote soul touching songs based on events around him. He drew inspiration from established acts like Plantashun Boys, Styl Plus, R. Kelly, Mary J. Blige and several other great musicians. This experience made LuddyDave realize that he could pursue music as a career and also shaped him as a person.

With a determination to make music his purpose in life, Luddy Dave left Nigeria for South Africa. Adapting to life in a new country was far from easy, but he found refuge still in music. Luddy Dave quickly set about my passion, and in no time, he started gaining people's attention. He soon became a local favourite and was rewarded with several invitational performances in clubs across Pretoria, Johannesburg and Soweto. This was in addition to regular gigs at the Royal Hotel in Johannesburg.

After several years of playing music in South Africa, Luddy Dave realized that you cannot give away, without giving home first. So returned to Nigeria and signed with a new record label and 4am management company.

Follow Boomplay and keep up-to-date with the latest Luddy Dave songs and information.

Luddy Dave Songs
• Me Singing
• Smile
• GAT ME SINGING
• Kalamata
• Sade
• Yolo
• Jailer
• Kuphi
• Sade

Luddy Dave songs are included in Boomplay music playlists. Search to stream and download Luddy Dave songs MP3/ single/ albums on the platform.
New Comments(
45

)
FAQs about Luddy Dave
Where is Luddy Dave from?
He is from Nigeria.
How to download songs of Luddy Dave?
You can download songs of Luddy Dave from Boomplay App for free.
Firstly, install Boomplay app on your mobile phone.
Secondly, navigate to the song you would like to download.
Thirdly, Tap on More > Download.