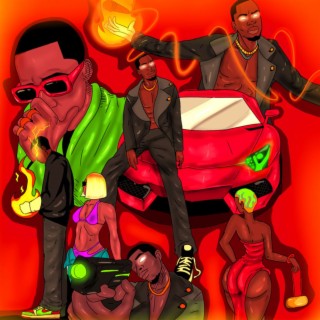 Bizzonthetrack
Current #49.9k

All Time #16.4k

Fans often wonder what's the muse behind their favorite artist songs and creativity. I believe it is normal to ponder on what roams in their minds, but with Bizzonthetrack you would ponder and then stop to listen to his songs and ponder again and it goes on and on! Not only are his songs relatable, they also give something extra, extra groovy, extra of the alternative-Afro genre that you have never heard before. He did produce something extra on this wonderful EP which he called Bisi Kuti Deluxe, he is gradually owning this altern-Afro and that's something only rare talents do.

Bizzonthetrack is a songwriter, creative director and record producer from Lagos,Nigeria. He started his career as a rapper in 2016 same year he released his first body of work and has been churning out music projects every year ever since, the multi-talented singer and record producer, when asked the reason behind his consistency he said "People love melodies, they love to listen to melody"....more

Country/Region : Nigeria
Songs

(131)

Albums

(69)

Playlists

(0)

Videos and More
1

2

3

4

5

6

7

8

9

10

11

12

13

14

15

16

17

18

19

20

21

22

23

24

25

26

27

28

29

30

31

32

33

34

35

36

37

38

39

40

41

42

43

44

45

46

47

48

49

50

51

52

53

54

55

56

57

58

59

60

61

62

63

64

65

66

67

68

69

70

71

72

73

74

75

76

77

78

79

80

81

82

83

84

85

86

87

88

89

90

91

92

93

94

95

96

97

98

99

100
Listen to Bizzonthetrack's new songs including "Banuso", "All Night Long", "Ghetto Soldier" and many more. Enjoy Bizzonthetrack's latest songs and explore the Bizzonthetrack's new music albums. If you want to download Bizzonthetrack songs MP3, use the Boomplay App to download the Bizzonthetrack songs for free. Discover Bizzonthetrack's latest songs, popular songs, trending songs all on Boomplay.
Fans often wonder what's the muse behind their favorite artist songs and creativity. I believe it is normal to ponder on what roams in their minds, but with Bizzonthetrack you would ponder and then stop to listen to his songs and ponder again and it goes on and on! Not only are his songs relatable, they also give something extra, extra groovy, extra of the alternative-Afro genre that you have never heard before. He did produce something extra on this wonderful EP which he called Bisi Kuti Deluxe, he is gradually owning this altern-Afro and that's something only rare talents do.

Bizzonthetrack is a songwriter, creative director and record producer from Lagos,Nigeria. He started his career as a rapper in 2016 same year he released his first body of work and has been churning out music projects every year ever since, the multi-talented singer and record producer, when asked the reason behind his consistency he said "People love melodies, they love to listen to melody".
FAQs about Bizzonthetrack
Where is Bizzonthetrack from?
He is from Nigeria.
How to download songs of Bizzonthetrack?
You can download songs of Bizzonthetrack from Boomplay App for free.
Firstly, install Boomplay app on your mobile phone.
Secondly, navigate to the song you would like to download.
Thirdly, Tap on More > Download.