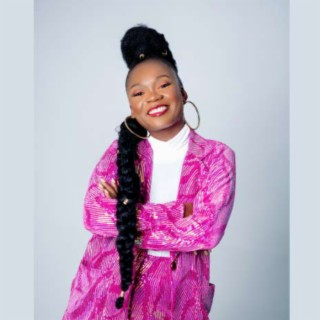 Mwasiti
Current #12.1k

All Time #9,162

Mwasiti Almas Yusuph (born February 2, 1986) popularly known as Mwasiti, is a gifted singer and songwriter of Afropop, Zouk and Bongo Flava music from Tanzania. Many of Mwasiti songs become very popular and trendy online with a great number of streaming and downloads on Boomplay. Mwasiti is now one of the most popular Bongo Flava artists in Tanzania and role model to Tanzanian youth.

She is best known for her single "Nalivua Pendo," which was number one on the Tanzania radio charts for eight consecutive weeks and won "Best Zouk Song" at the 2009 Tanzania Music Awards.

Career
Her mother discovered Mwasiti's talent in 1995 when she was still in primary school. Her mother encouraged this talent, and after graduating from school she pursued her dream of becoming a musician.

Mwasiti started her music career in 2006 after joining Tanzania House of Talent. She released her first single titled Nambie in 2006, which was nominated twice at the Tanzania Music Awards as Best newcomer artist and nominated for Best zouk song. In 2014 she performed in New York City at the Malaria No More Benefit Concert, organized by Malaria No More.

In year 2006, she was nominated 'Best Upcoming Female Artist' at the Tanzania Music awards. Her single "Nalivua Pendo" holds the record for staying number one on the radio charts for eight consecutive weeks, and stayed on the charts for the next 30 weeks.It then won "Best Zouk Song" at the 2009 Tanzania Music Awards.

At the 2013 Tanzania Music Awards, Mwasiti become the first female artist to receive five nominations. She has said her songs have been inspired by aspects of her own life.She believes it's important for Tanzanian artists to remember their roots.She is a civil rights activist for causes such as malaria and helping refugees.

Follow Boomplay and keep up to date with the latest Mwasiti songs and information.

Mwasiti Singles
• Nambie (2006)
• Hao (featuring Chidi Benz) (2007)
• Nalivua pendo (2008)
• Sio kisa pombe (2009)
• Serebuka (2010)
• Sema nae (2012)
• Unaniangalia (2013)
• Kaa nao (2016)
• Mapenzi ugonjwa (2017)

Mwasiti songs are included in Boomplay music playlists. Search to stream and download Mwasiti songs MP3/ single/ albums on the platform....more

Country/Region : Tanzania
Listen to Mwasiti's new songs including "Nalivua Pendo", "Maringo ft. Mimi Mars", "Hao ft. Chidi Benz" and many more. Enjoy Mwasiti's latest songs and explore the Mwasiti's new music albums. If you want to download Mwasiti songs MP3, use the Boomplay App to download the Mwasiti songs for free. Discover Mwasiti's latest songs, popular songs, trending songs all on Boomplay.
Mwasiti Almas Yusuph (born February 2, 1986) popularly known as Mwasiti, is a gifted singer and songwriter of Afropop, Zouk and Bongo Flava music from Tanzania. Many of Mwasiti songs become very popular and trendy online with a great number of streaming and downloads on Boomplay. Mwasiti is now one of the most popular Bongo Flava artists in Tanzania and role model to Tanzanian youth.

She is best known for her single "Nalivua Pendo," which was number one on the Tanzania radio charts for eight consecutive weeks and won "Best Zouk Song" at the 2009 Tanzania Music Awards.

Career
Her mother discovered Mwasiti's talent in 1995 when she was still in primary school. Her mother encouraged this talent, and after graduating from school she pursued her dream of becoming a musician.

Mwasiti started her music career in 2006 after joining Tanzania House of Talent. She released her first single titled Nambie in 2006, which was nominated twice at the Tanzania Music Awards as Best newcomer artist and nominated for Best zouk song. In 2014 she performed in New York City at the Malaria No More Benefit Concert, organized by Malaria No More.

In year 2006, she was nominated 'Best Upcoming Female Artist' at the Tanzania Music awards. Her single "Nalivua Pendo" holds the record for staying number one on the radio charts for eight consecutive weeks, and stayed on the charts for the next 30 weeks.It then won "Best Zouk Song" at the 2009 Tanzania Music Awards.

At the 2013 Tanzania Music Awards, Mwasiti become the first female artist to receive five nominations. She has said her songs have been inspired by aspects of her own life.She believes it's important for Tanzanian artists to remember their roots.She is a civil rights activist for causes such as malaria and helping refugees.

Follow Boomplay and keep up to date with the latest Mwasiti songs and information.

Mwasiti Singles
• Nambie (2006)
• Hao (featuring Chidi Benz) (2007)
• Nalivua pendo (2008)
• Sio kisa pombe (2009)
• Serebuka (2010)
• Sema nae (2012)
• Unaniangalia (2013)
• Kaa nao (2016)
• Mapenzi ugonjwa (2017)

Mwasiti songs are included in Boomplay music playlists. Search to stream and download Mwasiti songs MP3/ single/ albums on the platform.
New Comments(
16

)
FAQs about Mwasiti
Where is Mwasiti from?
She is from Tanzania.
How to download songs of Mwasiti?
You can download songs of Mwasiti from Boomplay App for free.
Firstly, install Boomplay app on your mobile phone.
Secondly, navigate to the song you would like to download.
Thirdly, Tap on More > Download.