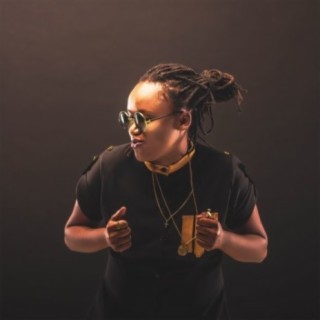 Fena Gitu
Current #19.8k

All Time #5,464

Trufena Wanjiru Gitu popularly know by her stage name Fena Gitu is a Kenyan rapper, singer, songwriter and producer born on April 25 1991 in Nairobi, Kenya. She is well known for her hit song "Siri". Many of Fena's Songs became very popular and trendy on social media in line with a great number of streaming and downloads on Boomplay.

Career
Raised by a single parent, Fena went for her studies in Catholic School Precious Blood where she majored in Computer Science and later joined the United State International University (USIU) in 2008 and took International relations while minoring in Psychology. She came to limelight in 2008 after she emerged winner of the 'Fete de la Musique' competition at Aliance Français in Nairobi.

Before joining Muthoni Drummer Queen's team in 2010, she started as a backup singer for Dela in 2009. She began her solo career releasing two albums "Fenamenon" and "Unleashed" which boast of more than 30 songs.

Achievements
Fena Gitu's career have been a soft work of art with her determination for success and accomplishing more in her life. She got nominated for the 2019 AFRIMMA East African Best Female Artist of The Year.

She also got to perform in the Coke Studio African Season 2 where she got exposed to big label artistes like Sauti Sol, Wyre, Octopizzo, Nameless and so on. The sensational singer is one of the most sought after female rapper in the Kenyan music industry with unique sound cutting across different genres such as Neo-Soul, Afro-Soul and Hip Hop. Follow Boomplay and keep up-to-date with the latest songs of Fena Gitu and information.

Fena Gitu's Latest Songs
• Beba
• Gimme Love
• The Gitu Girls Christmas Special
• Empress
• Steam
• Fenamenal Woman
• Kaende
• Chai Moto
• Siri
• Ngoma
• Vaccine
• Back4th

She managed to scope over 1.3M streams on her total hits on Boomplay with her top streamed song being "Unleashed" with over 205k streams. Download and stream her songs for free only on Boomplay. Fena's Songs are included in Boomplay music playlists. Search, stream, and download Fena's Songs, his latest singles and albums in MP3 only on the Boomplay platform for free....more

Country/Region : Kenya
Listen to Fena Gitu's new songs including "Doing Her Thing Tho", "Ngoma", "Sijaskia Vibaya ft. Njugush" and many more. Enjoy Fena Gitu's latest songs and explore the Fena Gitu's new music albums. If you want to download Fena Gitu songs MP3, use the Boomplay App to download the Fena Gitu songs for free. Discover Fena Gitu's latest songs, popular songs, trending songs all on Boomplay.
Trufena Wanjiru Gitu popularly know by her stage name Fena Gitu is a Kenyan rapper, singer, songwriter and producer born on April 25 1991 in Nairobi, Kenya. She is well known for her hit song "Siri". Many of Fena's Songs became very popular and trendy on social media in line with a great number of streaming and downloads on Boomplay.

Career
Raised by a single parent, Fena went for her studies in Catholic School Precious Blood where she majored in Computer Science and later joined the United State International University (USIU) in 2008 and took International relations while minoring in Psychology. She came to limelight in 2008 after she emerged winner of the 'Fete de la Musique' competition at Aliance Français in Nairobi.

Before joining Muthoni Drummer Queen's team in 2010, she started as a backup singer for Dela in 2009. She began her solo career releasing two albums "Fenamenon" and "Unleashed" which boast of more than 30 songs.

Achievements
Fena Gitu's career have been a soft work of art with her determination for success and accomplishing more in her life. She got nominated for the 2019 AFRIMMA East African Best Female Artist of The Year.

She also got to perform in the Coke Studio African Season 2 where she got exposed to big label artistes like Sauti Sol, Wyre, Octopizzo, Nameless and so on. The sensational singer is one of the most sought after female rapper in the Kenyan music industry with unique sound cutting across different genres such as Neo-Soul, Afro-Soul and Hip Hop. Follow Boomplay and keep up-to-date with the latest songs of Fena Gitu and information.

Fena Gitu's Latest Songs
• Beba
• Gimme Love
• The Gitu Girls Christmas Special
• Empress
• Steam
• Fenamenal Woman
• Kaende
• Chai Moto
• Siri
• Ngoma
• Vaccine
• Back4th

She managed to scope over 1.3M streams on her total hits on Boomplay with her top streamed song being "Unleashed" with over 205k streams. Download and stream her songs for free only on Boomplay. Fena's Songs are included in Boomplay music playlists. Search, stream, and download Fena's Songs, his latest singles and albums in MP3 only on the Boomplay platform for free.
New Comments(
72

)
FAQs about Fena Gitu
Where is Fena Gitu from?
She is from Kenya.
How to download songs of Fena Gitu?
You can download songs of Fena Gitu from Boomplay App for free.
Firstly, install Boomplay app on your mobile phone.
Secondly, navigate to the song you would like to download.
Thirdly, Tap on More > Download.