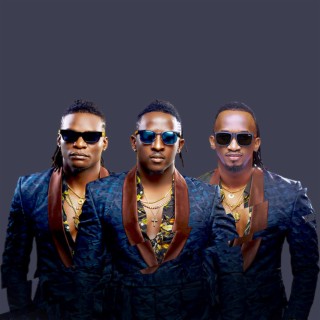 B2C
Current #757

All Time #690

The music trio boy band B2C meaning Born 2 Conquer also known as Kampala Boys is a celebrated versatile music group that sings in different styles; Zouk, Ragga, Reggae, Afro Beat. The group was established in 2015 and consists of three members; 2 vocalists and 1 ragga artist; Julio whose real name is Kasagga Julius and was born on 6th February 1992. Bobby Lash as for his real name Ssali Peterson and was born on 20th of April 1992 and Mr. Lee. Also known as Mugisha Richard and was born on 24th of January 1992.

Career
Their music career began in 2009 while in high school, recording demos and performing before other students, forming the B2C Entertainment. They recorded their first single titled "Omutima Guluma" in 2013 which officially kick started their career.

The trio took 2013 to be their magical year because it was when they bursted onto the music scene after the release of their single "Wansensera" and later getting signed by Andy Events, a manager who was able to take them places and promote their career.

Their debut 13-track album dubbed 'Born to Conquer was released in 2017 with songs like Wansensera, Nyongera, Njabala featuring Spice Diana, Tokigezza and So Fly among others. They topped the charts with their hit singles and collaborations. They teamed up with vocalist, Rema Namakula to give arguably the best song of the year, 'Gutujja' which, up to now, is being jammed on by Ugandans.

In 2018, B2C released an official statement ending their relationship with long-time manager, Andy Events shortly after their successful concert in September. Their bitter split was believed to rotate around payments as the artists claimed they were underpaid despite the hard work they put in to execute a series of concerts that pulled huge crowds and money....more

Country/Region : Uganda
Songs

(37)

Albums

(31)

Playlists

(1)
1

2

3

4

5

6

7

8

9

10

11

12

13

14

15

16

17

18

19

20

21

22

23

24

25

26

27

28

29

30

31

32

33

34

35

36

37
Listen to B2C's new songs including "OBULUNGI BUNUMA", "Gwe Weka", "Kiss You" and many more. Enjoy B2C's latest songs and explore the B2C's new music albums. If you want to download B2C songs MP3, use the Boomplay App to download the B2C songs for free. Discover B2C's latest songs, popular songs, trending songs all on Boomplay.
The music trio boy band B2C meaning Born 2 Conquer also known as Kampala Boys is a celebrated versatile music group that sings in different styles; Zouk, Ragga, Reggae, Afro Beat. The group was established in 2015 and consists of three members; 2 vocalists and 1 ragga artist; Julio whose real name is Kasagga Julius and was born on 6th February 1992. Bobby Lash as for his real name Ssali Peterson and was born on 20th of April 1992 and Mr. Lee. Also known as Mugisha Richard and was born on 24th of January 1992.

Career
Their music career began in 2009 while in high school, recording demos and performing before other students, forming the B2C Entertainment. They recorded their first single titled "Omutima Guluma" in 2013 which officially kick started their career.

The trio took 2013 to be their magical year because it was when they bursted onto the music scene after the release of their single "Wansensera" and later getting signed by Andy Events, a manager who was able to take them places and promote their career.

Their debut 13-track album dubbed 'Born to Conquer was released in 2017 with songs like Wansensera, Nyongera, Njabala featuring Spice Diana, Tokigezza and So Fly among others. They topped the charts with their hit singles and collaborations. They teamed up with vocalist, Rema Namakula to give arguably the best song of the year, 'Gutujja' which, up to now, is being jammed on by Ugandans.

In 2018, B2C released an official statement ending their relationship with long-time manager, Andy Events shortly after their successful concert in September. Their bitter split was believed to rotate around payments as the artists claimed they were underpaid despite the hard work they put in to execute a series of concerts that pulled huge crowds and money.
New Comments(
82

)
FAQs about B2C
Where is B2C from?
They are from Uganda.
How to download songs of B2C?
You can download songs of B2C from Boomplay App for free.
Firstly, install Boomplay app on your mobile phone.
Secondly, navigate to the song you would like to download.
Thirdly, Tap on More > Download.