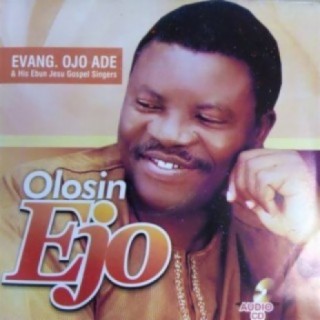 Evang. Ojo Ade
Current #1,216

All Time #2,191

Evangelist Ojo Ade is a gospel singer,songwriter,evangelist. Evangelist Ojo Ade songs become very popular and trendy online with a great number of streaming and downloads on Boomplay.

He was born on October 10, 1959 at Ikeji Ile, a city in Osun State southwestern Nigeria. He was educated at St. Judges Anglican Church at Ikeji Ile before he left to Lagos State southwestern Nigeria for a vocational program in Electronics. In 1987, he proceeded to Calvary International Bible College under the tutelage of Rev. Anjorin, Ibadan based pastor and preacher.

Career
He began his music career in 1977 when he Joined a church choir but established his personal musical group in 1979. In 1981, two years after he established his musical group, he released his debut album titled Jesun To Funmi and later released Satani Ko Sinmi. He is one of the gospel singers who had made a significant contributions to gospel music in Nigeria.

Follow Boomplay and keep up-to-date with the latest Evangelist Ojo Ade songs and information.

Evang Ojo Ade Songs
• Satani Ko Simi
• Gbani Gbani
• E Dakun E Gbami
• Ojo Ola Mi a Dara
• Oja Okunkun
• Ta Lo Le Gba Wa
• Awon Orin Iyin
• Ranmi Lowo
• Asegbe Ma Si Laye
• Nigeria Eku Iroju
• Asiko
• Tani Baba Re
• Sun M'olorun
• Eleruniyi
• Eyin Agbagba
• Ashilo Ahon
• Letter O
• Ijoba Toba Yapa
• Aye Mi
• Oja Abiamo
• Ore Ti Jesu Se Fun Mi Po
• Iwo Lama Gbega
• Baba Esee

Evangelist Ojo Ade songs are included in Boomplay music playlists. Search to stream and download Evangelist Ojo Ade songs MP3/ single/ albums on the platform....more

Country/Region : Nigeria
Listen to Evang. Ojo Ade's new songs including "Gbese Ope Mi Po", "Ojo Isiro", "Ojo Ayo" and many more. Enjoy Evang. Ojo Ade's latest songs and explore the Evang. Ojo Ade's new music albums. If you want to download Evang. Ojo Ade songs MP3, use the Boomplay App to download the Evang. Ojo Ade songs for free. Discover Evang. Ojo Ade's latest songs, popular songs, trending songs all on Boomplay.
Evangelist Ojo Ade is a gospel singer,songwriter,evangelist. Evangelist Ojo Ade songs become very popular and trendy online with a great number of streaming and downloads on Boomplay.

He was born on October 10, 1959 at Ikeji Ile, a city in Osun State southwestern Nigeria. He was educated at St. Judges Anglican Church at Ikeji Ile before he left to Lagos State southwestern Nigeria for a vocational program in Electronics. In 1987, he proceeded to Calvary International Bible College under the tutelage of Rev. Anjorin, Ibadan based pastor and preacher.

Career
He began his music career in 1977 when he Joined a church choir but established his personal musical group in 1979. In 1981, two years after he established his musical group, he released his debut album titled Jesun To Funmi and later released Satani Ko Sinmi. He is one of the gospel singers who had made a significant contributions to gospel music in Nigeria.

Follow Boomplay and keep up-to-date with the latest Evangelist Ojo Ade songs and information.

Evang Ojo Ade Songs
• Satani Ko Simi
• Gbani Gbani
• E Dakun E Gbami
• Ojo Ola Mi a Dara
• Oja Okunkun
• Ta Lo Le Gba Wa
• Awon Orin Iyin
• Ranmi Lowo
• Asegbe Ma Si Laye
• Nigeria Eku Iroju
• Asiko
• Tani Baba Re
• Sun M'olorun
• Eleruniyi
• Eyin Agbagba
• Ashilo Ahon
• Letter O
• Ijoba Toba Yapa
• Aye Mi
• Oja Abiamo
• Ore Ti Jesu Se Fun Mi Po
• Iwo Lama Gbega
• Baba Esee

Evangelist Ojo Ade songs are included in Boomplay music playlists. Search to stream and download Evangelist Ojo Ade songs MP3/ single/ albums on the platform.
New Comments(
31

)
FAQs about Evang. Ojo Ade
Where is Evang. Ojo Ade from?
He is from Nigeria.
How to download songs of Evang. Ojo Ade?
You can download songs of Evang. Ojo Ade from Boomplay App for free.
Firstly, install Boomplay app on your mobile phone.
Secondly, navigate to the song you would like to download.
Thirdly, Tap on More > Download.