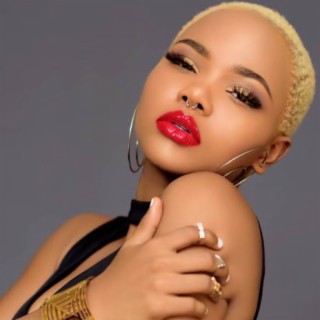 Rosa Ree
Current #4,613

All Time #3,234

Rosary Henry Martyn Robert Iwole was born in Moshi, raised in Arusha and spent an enormous chunk of her childhood in Kenya wherever she had her primary and teaching.

She was born in April,1995 and is thus twenty six years recent presently. Many Rosa Ree's songs become very popular and trendy online with a great number of streaming and downloads on Boomplay.

CAREER
Rosary Henry Martyn Robert Iwole may be a Tanzanian common singer, rapper and composer who bust the bottom running once she was signed by The business Studios in 2015.

Her recent feature mutually of 3 African continental artistes within the BET 2020 hip hop cypher extremely bettered her CV and accumulated her following and recognition.

Follow Boomplay and keep up-to-date with the latest Rosa Ree's songs and information.

ROSA REE'S SONGS
• Watatubu
• Banjuka
• I'm not sorry
• Wanted pombe
• Usiyempenda kaka
• Birthday
• Nguvu za kiume
• Blue print

Her internet value details area unit still quite obscure however associate degree estimate of $200k has been created.

Rosa Ree's songs are included in Boomplay music playlists. Search to stream and download Rosa Ree's songs and MP3/Single/Albums on the platform....more

Country/Region : Tanzania
Listen to Rosa Ree's new songs including "Banjuka", "Sukuma Ndinga Remix", "Dipn Whine It ft. G-Nako" and many more. Enjoy Rosa Ree's latest songs and explore the Rosa Ree's new music albums. If you want to download Rosa Ree songs MP3, use the Boomplay App to download the Rosa Ree songs for free. Discover Rosa Ree's latest songs, popular songs, trending songs all on Boomplay.
Rosary Henry Martyn Robert Iwole was born in Moshi, raised in Arusha and spent an enormous chunk of her childhood in Kenya wherever she had her primary and teaching.

She was born in April,1995 and is thus twenty six years recent presently. Many Rosa Ree's songs become very popular and trendy online with a great number of streaming and downloads on Boomplay.

CAREER
Rosary Henry Martyn Robert Iwole may be a Tanzanian common singer, rapper and composer who bust the bottom running once she was signed by The business Studios in 2015.

Her recent feature mutually of 3 African continental artistes within the BET 2020 hip hop cypher extremely bettered her CV and accumulated her following and recognition.

Follow Boomplay and keep up-to-date with the latest Rosa Ree's songs and information.

ROSA REE'S SONGS
• Watatubu
• Banjuka
• I'm not sorry
• Wanted pombe
• Usiyempenda kaka
• Birthday
• Nguvu za kiume
• Blue print

Her internet value details area unit still quite obscure however associate degree estimate of $200k has been created.

Rosa Ree's songs are included in Boomplay music playlists. Search to stream and download Rosa Ree's songs and MP3/Single/Albums on the platform.
FAQs about Rosa Ree
Where is Rosa Ree from?
She is from Tanzania.
How to download songs of Rosa Ree?
You can download songs of Rosa Ree from Boomplay App for free.
Firstly, install Boomplay app on your mobile phone.
Secondly, navigate to the song you would like to download.
Thirdly, Tap on More > Download.