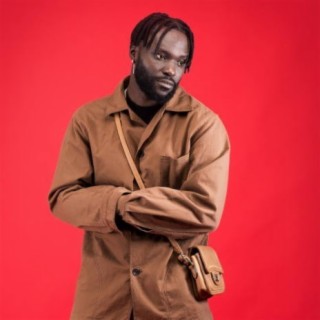 Naiboi
Current #5,255

All Time #2,048

Michael Kennedy Claver, professionally known as Naiboi is not a stranger to music fans in Kenya and East Africa. He has made a name for himself on the music scene to the point of becoming a household name. Naiboi was born and raised in Nairobi. Many of Naiboi's Songs became very popular and trendy on social media in line with a great number of streaming and downloads on Boomplay.

He hasn't however made public neither details about his parents and siblings nor his age. It is believed that he is in his early or mid 30s at the moment. His wife is known as Mariam Ahmed and they are blessed with a child called Junaid Claver.

Career
Naiboi has undergone a quite dynamic metamorphosis throughout his career in music. Though most people identify with the Naiboi they new in early 2014, Naiboi has had a long run in the industry for over 18 years now. Naiboi started out as a record producer back in 2003 under the moniker Rapdamu. Throughout that period, he has done production for legendary Kenyan artistes like DNA, King Kaka and Frasha. In 2014, Naiboi chose to take the recording artist route.

This prompted a change from his producer name Rapdamu to the stage name Naiboi, which is a play on the words 'Nairobi Boy'. He released his debut single in 2014 called Welle Welle, featuring Timmy Tdat. The single was such a successful hit that it not only introduced him to music fans as a top-tier musician but also as an act to watch out for in the music industry. Since then, he has been a streak of great music.

Achievements
Naiboi has proved his excellence on the music scene by taking home 2 Pulse Music Video Awards for his features on Gudi Gudi and Tingika. He received the awards under the categories of Breakthrough Artist and Breakthrough Video respectively. Naiboi was also featured on the 2019 season of Coke Studio Africa where he worked on a song called Vigelegele with the Tanzanian artist, Rayvanny.

Naiboi also boasts of sharing a stage with the Grammy award-winning reggae collective Morgan Heritage during the Wasafi Festival in 2018.

At the moment Naiboi has a total of over 22 million streams on YouTube and over 5 million on Boomplay. Naiboi released his first EP called Otero on 15th November 2021 with features from Nyashinski, Femi One, Arrow Bwoy and DJ Kalonje among others.

The EP was received quite well with music fans. It has already passed the 1 million mark of streams on Boomplay. Naiboi's music has been featured on Boomplay play lists such as Afro Wave Party, Bongo Connect, Afro Fresh and Playaz Club among others. Explore Boomplay and download Naiboi's latest songs.

Follow Boomplay and keep up-to-date with the latest songs of Naiboi and information.

Naiboi's Latest Songs
• Daktari (feat. Frasha)
• Usipime Mwanaume
• 4mulla
• Sondeka
• 2 in 1
• I Wanna Be
• Black (feat. Nyashinski)

Naiboi is also a co-founder and CEO of Pacho Entertainment - a Kenyan record label company based in Nairobi. Artistes originally signed to the label include Timmy Tdat, Frasha, Everlast and Rankaddah. The label also houses a host of talented record producers such as Cedo, Illogos and Jegede.

Naiboi's Songs are included in Boomplay music playlists. Search, stream, and download Naiboi's Songs, his latest singles and albums in MP3 only on the Boomplay platform for free....more

Country/Region : Kenya
Listen to Naiboi's new songs including "BLACK X Nyashinski", "2 In 1", "NTILIE ft. Nyashinski" and many more. Enjoy Naiboi's latest songs and explore the Naiboi's new music albums. If you want to download Naiboi songs MP3, use the Boomplay App to download the Naiboi songs for free. Discover Naiboi's latest songs, popular songs, trending songs all on Boomplay.
Michael Kennedy Claver, professionally known as Naiboi is not a stranger to music fans in Kenya and East Africa. He has made a name for himself on the music scene to the point of becoming a household name. Naiboi was born and raised in Nairobi. Many of Naiboi's Songs became very popular and trendy on social media in line with a great number of streaming and downloads on Boomplay.

He hasn't however made public neither details about his parents and siblings nor his age. It is believed that he is in his early or mid 30s at the moment. His wife is known as Mariam Ahmed and they are blessed with a child called Junaid Claver.

Career
Naiboi has undergone a quite dynamic metamorphosis throughout his career in music. Though most people identify with the Naiboi they new in early 2014, Naiboi has had a long run in the industry for over 18 years now. Naiboi started out as a record producer back in 2003 under the moniker Rapdamu. Throughout that period, he has done production for legendary Kenyan artistes like DNA, King Kaka and Frasha. In 2014, Naiboi chose to take the recording artist route.

This prompted a change from his producer name Rapdamu to the stage name Naiboi, which is a play on the words 'Nairobi Boy'. He released his debut single in 2014 called Welle Welle, featuring Timmy Tdat. The single was such a successful hit that it not only introduced him to music fans as a top-tier musician but also as an act to watch out for in the music industry. Since then, he has been a streak of great music.

Achievements
Naiboi has proved his excellence on the music scene by taking home 2 Pulse Music Video Awards for his features on Gudi Gudi and Tingika. He received the awards under the categories of Breakthrough Artist and Breakthrough Video respectively. Naiboi was also featured on the 2019 season of Coke Studio Africa where he worked on a song called Vigelegele with the Tanzanian artist, Rayvanny.

Naiboi also boasts of sharing a stage with the Grammy award-winning reggae collective Morgan Heritage during the Wasafi Festival in 2018.

At the moment Naiboi has a total of over 22 million streams on YouTube and over 5 million on Boomplay. Naiboi released his first EP called Otero on 15th November 2021 with features from Nyashinski, Femi One, Arrow Bwoy and DJ Kalonje among others.

The EP was received quite well with music fans. It has already passed the 1 million mark of streams on Boomplay. Naiboi's music has been featured on Boomplay play lists such as Afro Wave Party, Bongo Connect, Afro Fresh and Playaz Club among others. Explore Boomplay and download Naiboi's latest songs.

Follow Boomplay and keep up-to-date with the latest songs of Naiboi and information.

Naiboi's Latest Songs
• Daktari (feat. Frasha)
• Usipime Mwanaume
• 4mulla
• Sondeka
• 2 in 1
• I Wanna Be
• Black (feat. Nyashinski)

Naiboi is also a co-founder and CEO of Pacho Entertainment - a Kenyan record label company based in Nairobi. Artistes originally signed to the label include Timmy Tdat, Frasha, Everlast and Rankaddah. The label also houses a host of talented record producers such as Cedo, Illogos and Jegede.

Naiboi's Songs are included in Boomplay music playlists. Search, stream, and download Naiboi's Songs, his latest singles and albums in MP3 only on the Boomplay platform for free.
FAQs about Naiboi
Where is Naiboi from?
He is from Kenya.
How to download songs of Naiboi?
You can download songs of Naiboi from Boomplay App for free.
Firstly, install Boomplay app on your mobile phone.
Secondly, navigate to the song you would like to download.
Thirdly, Tap on More > Download.