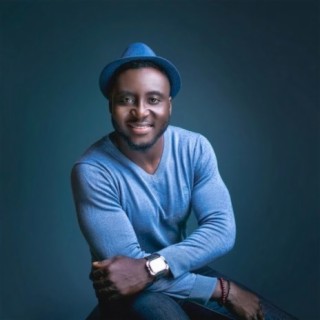 Djinee
Current #10.6k

All Time #7,525

Djinee real/full name is Osayamwen Nosa Donald, is a Nigerian musician,song writer, producer and TV presenter/veejay. Many of Djinee songs become very popular and trendy online with a great number of streaming and downloads on Boomplay.

A native of Edo State, he grew up in Lagos and schooled at Ladoke Akintola University.

Career
He grew in a family of ardent music lovers and sang in the school choir. His music is influenced by pop and classical music as well as rhythm and blues.

Djinee was once a Veejay at Soundcity before he began singing professionally in 2005. He dropped his popular single 'Ego' which brought him to lime light and subsequently his debut self-titled album which featured the popular single 'Overkillin' in 2009

His pitch perfect vocal ability on the song brought him accolades amongst which are "Best new artiste" at the Nigerian Music Awards in London and several nominations followed. And it didn't end there, from that soulful journey of finding his "Ego', Djinee took us one a compelling trip where he mesmerized our desires with more songs like "I no deyshame" "Lade"…and just when we wanted to put a tag on him as the soft music man, he came out with one of the most imposing songs in the music scene at the time. It was "Overkillin".

Djinee established himself quite well in the music business without trying to push or mimic existing brands. He created his niche and has continued to excel as an artiste who knows exactly what he can deliver. In June 2009 He released the self-titled album titled "DJINEE". This saw him engaging the services of seasoned producers like Cobhams, Rymzo, Don Jazzy, M I and Jesse jags. The hit song "Overkillin'" which has become a national anthem was in that album.

For 5 years he worked as a presenter for the music and lifestyle station SOUNDCITY where he put in dedicated time into the job as a Producer/Anchorman. Currently, Djinee co-owns a production company 'Kreazivity Works' under which his work is being produced.

Influenced by greats like, Luciano Pavarotti, Bruce Springsteen, Coldplay, MajekFashek, and Rex Lawson,Djinee is currently preparing for the release of his sophomore album. His latest single and video "ON ME" ft Muna is currently gaining a lot of airplays and online buzz. Djinee, who also plays the guitar with his amazing 11-man band, can be well described as a modern day African man who's passionate about his arts.

Follow Boomplay and keep up to date with the latest Djinee songs and information.

Djinee Songs
• Ego
• Overkillin'
• I No Dey Shame
• Overkilling
• Lade
• Pamper You
• Find You
• Forever
• Thank You
• Stay
• Come Sun, Come Rain
• Lovers Rock
• My Pillow
• Din Din
• Shout out to My Lover
• Na My Wife
• Wonder
• On Me
• Alright
• We Dey Here
• Uruese
• Safe

Achievement
To his credit have been many awards, some of which are: 4 Channel O awards, 3 Soundcity Music Video Awards and 2 Nigerian Music Video Awards nominations in 2010. In May 2008 at the Nigerian music awards he was presented with the Voice of the year award.

Djinee songs are included in Boomplay music playlists. Search to stream and download Djinee songs MP3/ single/ albums on the platform....more

Country/Region : Nigeria
Songs

(27)

Albums

(7)

Playlists

(1)
1

2

3

4

5

6

7

8

9

10

11

12

13

14

15

16

17

18

19

20

21

22

23

24

25

26

27
Listen to Djinee's new songs including "Ego", "Pamper You", "Overkillin'" and many more. Enjoy Djinee's latest songs and explore the Djinee's new music albums. If you want to download Djinee songs MP3, use the Boomplay App to download the Djinee songs for free. Discover Djinee's latest songs, popular songs, trending songs all on Boomplay.
Djinee real/full name is Osayamwen Nosa Donald, is a Nigerian musician,song writer, producer and TV presenter/veejay. Many of Djinee songs become very popular and trendy online with a great number of streaming and downloads on Boomplay.

A native of Edo State, he grew up in Lagos and schooled at Ladoke Akintola University.

Career
He grew in a family of ardent music lovers and sang in the school choir. His music is influenced by pop and classical music as well as rhythm and blues.

Djinee was once a Veejay at Soundcity before he began singing professionally in 2005. He dropped his popular single 'Ego' which brought him to lime light and subsequently his debut self-titled album which featured the popular single 'Overkillin' in 2009

His pitch perfect vocal ability on the song brought him accolades amongst which are "Best new artiste" at the Nigerian Music Awards in London and several nominations followed. And it didn't end there, from that soulful journey of finding his "Ego', Djinee took us one a compelling trip where he mesmerized our desires with more songs like "I no deyshame" "Lade"…and just when we wanted to put a tag on him as the soft music man, he came out with one of the most imposing songs in the music scene at the time. It was "Overkillin".

Djinee established himself quite well in the music business without trying to push or mimic existing brands. He created his niche and has continued to excel as an artiste who knows exactly what he can deliver. In June 2009 He released the self-titled album titled "DJINEE". This saw him engaging the services of seasoned producers like Cobhams, Rymzo, Don Jazzy, M I and Jesse jags. The hit song "Overkillin'" which has become a national anthem was in that album.

For 5 years he worked as a presenter for the music and lifestyle station SOUNDCITY where he put in dedicated time into the job as a Producer/Anchorman. Currently, Djinee co-owns a production company 'Kreazivity Works' under which his work is being produced.

Influenced by greats like, Luciano Pavarotti, Bruce Springsteen, Coldplay, MajekFashek, and Rex Lawson,Djinee is currently preparing for the release of his sophomore album. His latest single and video "ON ME" ft Muna is currently gaining a lot of airplays and online buzz. Djinee, who also plays the guitar with his amazing 11-man band, can be well described as a modern day African man who's passionate about his arts.

Follow Boomplay and keep up to date with the latest Djinee songs and information.

Djinee Songs
• Ego
• Overkillin'
• I No Dey Shame
• Overkilling
• Lade
• Pamper You
• Find You
• Forever
• Thank You
• Stay
• Come Sun, Come Rain
• Lovers Rock
• My Pillow
• Din Din
• Shout out to My Lover
• Na My Wife
• Wonder
• On Me
• Alright
• We Dey Here
• Uruese
• Safe

Achievement
To his credit have been many awards, some of which are: 4 Channel O awards, 3 Soundcity Music Video Awards and 2 Nigerian Music Video Awards nominations in 2010. In May 2008 at the Nigerian music awards he was presented with the Voice of the year award.

Djinee songs are included in Boomplay music playlists. Search to stream and download Djinee songs MP3/ single/ albums on the platform.
New Comments(
7

)