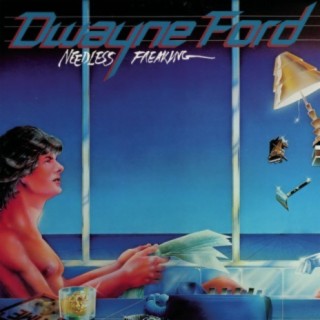 Dwayne Ford
Current #99k+

All Time #49.8k

Dwayne Ford began his professional music career in the early '70s working with the Nomads. His next group was formed with bassist Terry Danko, guitarists Jim Atkinson and Hugh Brockie, and drummer Brian Hilton. They simply called the collaboration Atkinson, Danko and Ford. It was with the latter that Ford recorded for the first time. There were other groups over the years and some notable solo work. Along the way, Ford, a guitarist, singer, drummer, and keyboardist, also became a popular session player.

A Canadian native, Ford was raised in Edmonton. He was little more than a teenager when he hit the road as a musician, working in a band for Ronnie Hawkins. Ford polished his musical skills while performing at clubs and concerts around Canada. Throughout the '70s he recorded a number of albums, including Friends With Bearfoot, Passing Time, and a self-titled group effort titled. He finished out the decade and started a new one working solo on two albums, Another Way to Fly and Needless Freaking. He also completed a number of solo singles, such as "Everlasting Love," "Roll Me Away," "Stranger in Paradise," "Hurricane," and "We'll Find a Way." ~ Charlotte Dillon...more

Country : Canada
Songs

(60)

Albums

(4)

Playlists

(0)
1

2

3

4

5

6

7

8

9

10

11

12

13

14

15

16

17

18

19

20

21

22

23

24

25

26

27

28

29

30

31

32

33

34

35

36

37

38

39

40

41

42

43

44

45

46

47

48

49

50

51

52

53

54

55

56

57

58

59

60
Listen to Dwayne Ford's new songs including "Dreams Left Behind", "Rapture", "Love Peace Pray" and many more. Enjoy Dwayne Ford's latest songs and explore the Dwayne Ford's new music albums. If you want to download Dwayne Ford songs MP3, use the Boomplay App to download the Dwayne Ford songs for free. Discover Dwayne Ford's latest songs, popular songs, trending songs all on Boomplay.
Dwayne Ford began his professional music career in the early '70s working with the Nomads. His next group was formed with bassist Terry Danko, guitarists Jim Atkinson and Hugh Brockie, and drummer Brian Hilton. They simply called the collaboration Atkinson, Danko and Ford. It was with the latter that Ford recorded for the first time. There were other groups over the years and some notable solo work. Along the way, Ford, a guitarist, singer, drummer, and keyboardist, also became a popular session player.

A Canadian native, Ford was raised in Edmonton. He was little more than a teenager when he hit the road as a musician, working in a band for Ronnie Hawkins. Ford polished his musical skills while performing at clubs and concerts around Canada. Throughout the '70s he recorded a number of albums, including Friends With Bearfoot, Passing Time, and a self-titled group effort titled. He finished out the decade and started a new one working solo on two albums, Another Way to Fly and Needless Freaking. He also completed a number of solo singles, such as "Everlasting Love," "Roll Me Away," "Stranger in Paradise," "Hurricane," and "We'll Find a Way." ~ Charlotte Dillon
New Comments(
0

)

What do you think of this artist?