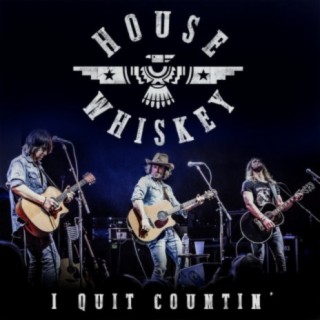 House Whiskey
Current #80.3k

All Time #11.6k

House Whiskey is a country rock band from the outskirts of Nashville TN. The group consists of lead vocalist Jesse Murphy, guitarists Michael Wilkes and Wally Montgomery. They have created a buzz in the country music community with their original sound that features three part harmonies, double lead guitars and raw unpolished grit that comes from the gravel roads and dive bars where House Whiskey was formed.
From the CMA Fest to the Houston Livestock Rodeo to opening for acts like The Charlie Daniels Band, Tracy Byrd, David Lee Murphy and Lit, House Whiskey is steadily building a fan base around the country. When not touring the U.S. they are busy writing songs in Nashville.
CMA Award winning and Grammy nominated producer Brett Beavers (Dierks Bentley, Dustin Lynch) was so impressed with the group that he decided to take them into the studio to record their debut EP. They released their first single, "I Quit Countin'" in the Fall of 2019.
For more information about House Whiskey visit www.housewhiskey.com, www.facebookcom/housewhiskey or www.instagram.com/housewhiskey/...more

Country : Others
Songs

(0)

Albums

(0)

Playlists

(0)
Listen to House Whiskey's new songs including and many more. Enjoy House Whiskey's latest songs and explore the House Whiskey's new music albums. If you want to download House Whiskey songs MP3, use the Boomplay App to download the House Whiskey songs for free. Discover House Whiskey's latest songs, popular songs, trending songs all on Boomplay.
House Whiskey is a country rock band from the outskirts of Nashville TN. The group consists of lead vocalist Jesse Murphy, guitarists Michael Wilkes and Wally Montgomery. They have created a buzz in the country music community with their original sound that features three part harmonies, double lead guitars and raw unpolished grit that comes from the gravel roads and dive bars where House Whiskey was formed.
From the CMA Fest to the Houston Livestock Rodeo to opening for acts like The Charlie Daniels Band, Tracy Byrd, David Lee Murphy and Lit, House Whiskey is steadily building a fan base around the country. When not touring the U.S. they are busy writing songs in Nashville.
CMA Award winning and Grammy nominated producer Brett Beavers (Dierks Bentley, Dustin Lynch) was so impressed with the group that he decided to take them into the studio to record their debut EP. They released their first single, "I Quit Countin'" in the Fall of 2019.
For more information about House Whiskey visit www.housewhiskey.com, www.facebookcom/housewhiskey or www.instagram.com/housewhiskey/
New Comments(
0

)

What do you think of this artist?