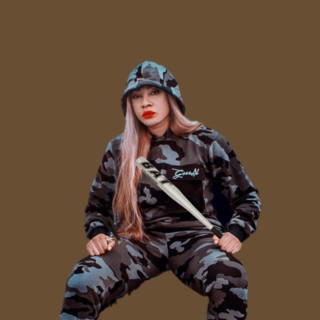 Angela Okorie
Current #2,602

All Time #1,698

Angela Okorie, is a Nigerian Singer, songwriter and actress. She was born 17th of August 1986 in Cotonou, Benin Republic. She is the third child in a family of five children. She completed both her primary and secondary school education in Lagos State, Nigeria. After completing her primary and secondary school education, Angela Okorie attended Lagos State University in Ojo, Lagos State, Nigeria and obtained a Bachelor Degree in Theatre Art.

Angela Okorie started her entertainment career as an actress, she joined the Nigerian movie industry popularly known as Nollywood in 2005.In 2009, she rose to fame after starring in the Nollywood blockbuster movie "Holy Serpent". From there, her career as an actress has known no boundary.She has featured in more than 150 Nollywood movies.

Angela Okorie also doubles as a musician and has released couple of songs like baby chuchu, give me love and e pain dem.

Enjoy Angela Okorie's songs on Boomplay!...more

Boom ID : 102264228 Country : Nigeria Gender : Female
Songs

(18)

Albums

(9)

Playlists

(0)
1

2

3

4

5

6

7

8

9

10

11

12

13

14

15

16

17

18
Listen to Angela Okorie's new songs including "Legit", "Because of Money", "Legit" and many more. Enjoy Angela Okorie's latest songs and explore the Angela Okorie's new music albums. If you want to download Angela Okorie songs MP3, use the Boomplay App to download the Angela Okorie songs for free. Discover Angela Okorie's latest songs, popular songs, trending songs all on Boomplay.
Angela Okorie, is a Nigerian Singer, songwriter and actress. She was born 17th of August 1986 in Cotonou, Benin Republic. She is the third child in a family of five children. She completed both her primary and secondary school education in Lagos State, Nigeria. After completing her primary and secondary school education, Angela Okorie attended Lagos State University in Ojo, Lagos State, Nigeria and obtained a Bachelor Degree in Theatre Art.

Angela Okorie started her entertainment career as an actress, she joined the Nigerian movie industry popularly known as Nollywood in 2005.In 2009, she rose to fame after starring in the Nollywood blockbuster movie "Holy Serpent". From there, her career as an actress has known no boundary.She has featured in more than 150 Nollywood movies.

Angela Okorie also doubles as a musician and has released couple of songs like baby chuchu, give me love and e pain dem.

Enjoy Angela Okorie's songs on Boomplay!
New Comments(
80

)