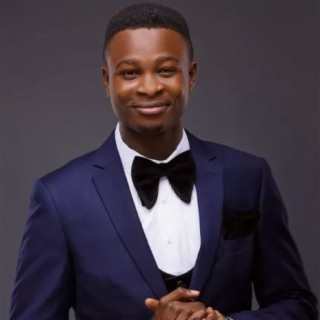 Bidemi Olaoba
Current #3,322

All Time #4,154

Abidemi Ayodeji Ogunmolu, also known as Bidemi Olaoba, is a Nigerian gospel singer, songwriter and music composer. Many of Bidemi Olaoba songs, like Praise Medley 1, become very popular and trendy online with a great number of streaming and downloads on Boomplay.
He is known for singing Gospel HighLife music in a Fuji Style.

Olaoba was born in a Christian home in Lagos, Nigeria into a family of six. He comes from Ikale Okitipupa, Ondo State.Bidemi studied Civil Engineering at the Yaba College Of Technology, Lagos and Economics[3] at the University Of Lagos, Nigeria.

Career.
Olaoba Started his musical career as a worship leader in the choir at Christ Apostolic Church and became involved in the CAC Music Ministry and Redeemed Christian Church of God. After beginning his official career, Olaoba released his first single, "Final Say", in 2016.He became known for his popular phrase "The Bible Says".

Follow Boomplay and keep up-to-date with the latest Bidemi Olaoba songs and information.

Achievement.
Olaoba was invited to perform Marathon Praise,an event organized by the Redeemed Christian Church of God, and then gained popularity. He has six studio singles, two live performance compilations, and collaborations with gospel artists. Olaoba travelled to Europe, America and African nations, he held virtual concerts and is the pioneer of the virtual concert Unrestricted Praise,which started in 2020 and featured gospel artists including Buchi, Tope Alabi, Mike Abdul, Adeleke Adeboye, Eben, and Samie Okposo.

Olaoba performed at Nigeria's biggest gospel gatherings, including the Marathon Messiah's Praise concert by the Redeemed Christian Church Of God, Festival Of Life(Dubai, Dublin, Italy and United Kingdom), MASS, HI-impact Praise, and COZA.

Bidemi Olaoba Studio Albums
• Final Say (2016)
• Bonjour (2017)
• My Life (2018)
• Baba (2019)
• Holy Gyration (2020)

Live performance compilation albums
• Winning Prase (2019)
• Mass (2020)

With over 821.4k Stream at Boomplay he is one of the top artist in Boomplay with many release click the link below to view the album: https://www.boomplaymusic.com/share/album/33274475 Also download the hit to stream offline.

Bidemi Olaoba songs are included in Boomplay music playlists. Search to stream and download Bidemi Olaoba songs MP3/ single/ albums on the platform....more

Country/Region : Nigeria
Songs

(48)

Albums

(14)

Playlists

(0)
1

2

3

4

5

6

7

8

9

10

11

12

13

14

15

16

17

18

19

20

21

22

23

24

25

26

27

28

29

30

31

32

33

34

35

36

37

38

39

40

41

42

43

44

45

46

47

48
Listen to Bidemi Olaoba's new songs including "Praise Medley 1", "1. Our Praises 2", "Praise Medley 2" and many more. Enjoy Bidemi Olaoba's latest songs and explore the Bidemi Olaoba's new music albums. If you want to download Bidemi Olaoba songs MP3, use the Boomplay App to download the Bidemi Olaoba songs for free. Discover Bidemi Olaoba's latest songs, popular songs, trending songs all on Boomplay.
Abidemi Ayodeji Ogunmolu, also known as Bidemi Olaoba, is a Nigerian gospel singer, songwriter and music composer. Many of Bidemi Olaoba songs, like Praise Medley 1, become very popular and trendy online with a great number of streaming and downloads on Boomplay.
He is known for singing Gospel HighLife music in a Fuji Style.

Olaoba was born in a Christian home in Lagos, Nigeria into a family of six. He comes from Ikale Okitipupa, Ondo State.Bidemi studied Civil Engineering at the Yaba College Of Technology, Lagos and Economics[3] at the University Of Lagos, Nigeria.

Career.
Olaoba Started his musical career as a worship leader in the choir at Christ Apostolic Church and became involved in the CAC Music Ministry and Redeemed Christian Church of God. After beginning his official career, Olaoba released his first single, "Final Say", in 2016.He became known for his popular phrase "The Bible Says".

Follow Boomplay and keep up-to-date with the latest Bidemi Olaoba songs and information.

Achievement.
Olaoba was invited to perform Marathon Praise,an event organized by the Redeemed Christian Church of God, and then gained popularity. He has six studio singles, two live performance compilations, and collaborations with gospel artists. Olaoba travelled to Europe, America and African nations, he held virtual concerts and is the pioneer of the virtual concert Unrestricted Praise,which started in 2020 and featured gospel artists including Buchi, Tope Alabi, Mike Abdul, Adeleke Adeboye, Eben, and Samie Okposo.

Olaoba performed at Nigeria's biggest gospel gatherings, including the Marathon Messiah's Praise concert by the Redeemed Christian Church Of God, Festival Of Life(Dubai, Dublin, Italy and United Kingdom), MASS, HI-impact Praise, and COZA.

Bidemi Olaoba Studio Albums
• Final Say (2016)
• Bonjour (2017)
• My Life (2018)
• Baba (2019)
• Holy Gyration (2020)

Live performance compilation albums
• Winning Prase (2019)
• Mass (2020)

With over 821.4k Stream at Boomplay he is one of the top artist in Boomplay with many release click the link below to view the album: https://www.boomplaymusic.com/share/album/33274475 Also download the hit to stream offline.

Bidemi Olaoba songs are included in Boomplay music playlists. Search to stream and download Bidemi Olaoba songs MP3/ single/ albums on the platform.
New Comments(
32

)