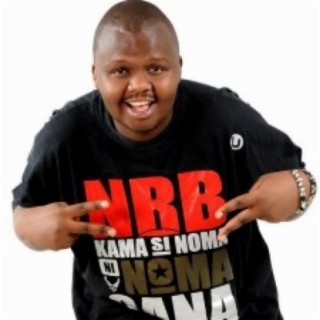 Mejja
Current #1,515

All Time #2,046

Major Nameye Khadija popularly known with his stage name Mejja is a Kenyan Genge artist. Many Mejja songs become very popular and trendy online with a great number of streaming and downloads on Boomplay.

He was signed to Calif Records where he released multiple collaborations. His single "Jana Kuliendaje" won him an award at Kenya's Chaguo la Teeniz in 2008.

CAREER AND ACHIEVEMENTS
Mejja started singing in primary school with his brother Wambugu. Together they had formed a group called Ghetto Clan. In 2008 Mejja had his first breakthrough song titled 'Jana Kuliendaje'. In 2011, Mejja released a song dubbed "Landlord" which put him in the spotlight.

In 2014, Mejja formed a group called "The Kansoul" together with Kid Kora, and Madtraxx.The group dropped their first song 'Dabo Tap' later that year. In 2020, Mejja was in many collaborations including "Cheza Kama Wewe" by Trio Mio and "Utawezana" by Femi One.

He featured in Bensoul hit "Nairobi" alongside Sauti Sol in 2021.

Follow Boomplay and keep up-to-date with the latest Mejja songs and information.

Mejja Songs
• Jana Kuliendaje
• Landlord
• Nyongwa
• Double Tap
• Niko Poa
• Twenzetu ft Madtraxx
• Ulimi Yangu
• Siskii
• siku hizi ni kubad

Mejja songs are included in Boomplay music playlists. Search to stream and download Mejja songs MP3/ single/ albums on the platform....more

Country/Region : Kenya
Songs

(10)

Albums

(12)

Playlists

(19)
Listen to Mejja's new songs including "Tabia Za Wakenya (Kanairo)", "Usiniharibie Mood", "Siskii (Kamote)" and many more. Enjoy Mejja's latest songs and explore the Mejja's new music albums. If you want to download Mejja songs MP3, use the Boomplay App to download the Mejja songs for free. Discover Mejja's latest songs, popular songs, trending songs all on Boomplay.
Major Nameye Khadija popularly known with his stage name Mejja is a Kenyan Genge artist. Many Mejja songs become very popular and trendy online with a great number of streaming and downloads on Boomplay.

He was signed to Calif Records where he released multiple collaborations. His single "Jana Kuliendaje" won him an award at Kenya's Chaguo la Teeniz in 2008.

CAREER AND ACHIEVEMENTS
Mejja started singing in primary school with his brother Wambugu. Together they had formed a group called Ghetto Clan. In 2008 Mejja had his first breakthrough song titled 'Jana Kuliendaje'. In 2011, Mejja released a song dubbed "Landlord" which put him in the spotlight.

In 2014, Mejja formed a group called "The Kansoul" together with Kid Kora, and Madtraxx.The group dropped their first song 'Dabo Tap' later that year. In 2020, Mejja was in many collaborations including "Cheza Kama Wewe" by Trio Mio and "Utawezana" by Femi One.

He featured in Bensoul hit "Nairobi" alongside Sauti Sol in 2021.

Follow Boomplay and keep up-to-date with the latest Mejja songs and information.

Mejja Songs
• Jana Kuliendaje
• Landlord
• Nyongwa
• Double Tap
• Niko Poa
• Twenzetu ft Madtraxx
• Ulimi Yangu
• Siskii
• siku hizi ni kubad

Mejja songs are included in Boomplay music playlists. Search to stream and download Mejja songs MP3/ single/ albums on the platform.
New Comments(
78

)
FAQs about Mejja
Where is Mejja from?
He is from Kenya.
How to download songs of Mejja?
You can download songs of Mejja from Boomplay App for free.
Firstly, install Boomplay app on your mobile phone.
Secondly, navigate to the song you would like to download.
Thirdly, Tap on More > Download.