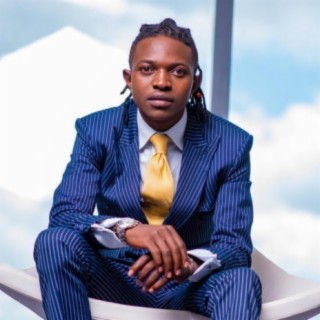 Mr. Seed
Current #1,905

All Time #852

Mr. Seed is a Kenyan gospel artist who was formerly signed to EMB Records owned by Bahati. Many Mr seed songs become very popular and trendy online with a great number of streaming and downloads on Boomplay.

Mr. Seed had his journey as a gospel artist in Kenya; the challenges he has faced along his journey including social media bullying targeting his family and himself and the steps that led to where he currently is.

He was born in Kenya where he was raised. He was born in 1995 and is one of the best performing youth artists in the country. Information on his family - parents and siblings remains scanty as at the time of this article's publication.

CAREER AND ACHIEVEMENTS
Mr. Seed went into music from a young age allowing him to be established at a young age in mainstream media. His career has been so far successful having released and performed several of his songs in different platforms. He has produced albums such as Celebrate and The Sound, doing songs like Superstar, Lovi Lovi, Simama, Usikonde, Kwa Hao and Mungu ni Nani.

His style of music is a contemporary approach, using slang and language common among the youth and trendy words. He uses this as a means to reach to as many people as possible and to retain his relevance and the ability of his audience to relate with his message.

His work has earned him recognition and accolades one being the 2014 Groove Award for Collabo Song of the Year. He is also the owner of Starborn Empire which is situated in Roysambu, Nairobi.

After his much-publicized exit from EMB records, Mr. Seed is set to launch his own record label Starborn Empire. The Roysambu-based label will be launched in a week or two Monday Blues has learned. During an interview, he said that after his fallout with Bahati he used all his savings to put up a studio.

The label has already signed Ndume, who released 'Za Yesu' -the second project from the label after Seed's 'Dunda'. The launch comes after his fiancée, Nimo Gachuiri, gave birth to their son, Gold Christen Omondi, two weeks ago. The two have followed in the footsteps of Bahati by shooting a reality show that they broadcast on Seed's YouTube channel.

Mr Seed was joined by some producers, managers and David Wonder on his way out of EMB. Wonder's fate remains unknown after the exit. Kioko, Bahati's former manager, who has been the longest-serving member of the label and has been dismissing reports that he left the label, now runs a clothes shop in town. As for the producers and managers who left alongside Mr. Seed, some of them are said to have joined his camp.

The fate of EMB records hangs in the balance after the mass exit as it now has only two artists signed up, Princess Leo and Danny Gift. Monday Blues has learned that Bahati's style of management, which is said to be heavily influenced by his wife, Diana Marua, led to the exit of most of his staff.

Currently, Princess Leo is the only female singer in the label. She got signed after winning an audition that had more than 600 participants. Leo has been silent for months after releasing her first song in which she features Bahati.

According to sources, Danny Gift is regretting his decision to sign to the label. His choice to stay shocked many. After Seed and David Wonder's exit, the label was alleged to be micromanaging artistes. Gift leads a low-key lifestyle compared to that of his label boss Bahati who isn't shy to court controversy.

Follow Boomplay and keep up-to-date with the latest Mr Seed songs and information.

Mr Seed Songs
-Lovi Lovi
-Pepeta ft Ndume
-Superstar ft Nimo
-Simama
-Niringe ft Willy Jones
-Gwara Gwara
-Upo ft Solomon Mkubwa
-Ti mundu ft Betty Bayo
-Dundaa
-Usikonde
-Happy day ft Pitson
-Makelele

Mr Seed songs are included in Boomplay music playlists. Search to stream and download Mr Seed songs MP3/ single/ albums on the platform....more

Country/Region : Kenya
Listen to Mr. Seed's new songs including "Only One ft. Masauti", "PIGANIANGE ft. Sailors 254", "Baby Love ft. Miss P" and many more. Enjoy Mr. Seed's latest songs and explore the Mr. Seed's new music albums. If you want to download Mr. Seed songs MP3, use the Boomplay App to download the Mr. Seed songs for free. Discover Mr. Seed's latest songs, popular songs, trending songs all on Boomplay.
Mr. Seed is a Kenyan gospel artist who was formerly signed to EMB Records owned by Bahati. Many Mr seed songs become very popular and trendy online with a great number of streaming and downloads on Boomplay.

Mr. Seed had his journey as a gospel artist in Kenya; the challenges he has faced along his journey including social media bullying targeting his family and himself and the steps that led to where he currently is.

He was born in Kenya where he was raised. He was born in 1995 and is one of the best performing youth artists in the country. Information on his family - parents and siblings remains scanty as at the time of this article's publication.

CAREER AND ACHIEVEMENTS
Mr. Seed went into music from a young age allowing him to be established at a young age in mainstream media. His career has been so far successful having released and performed several of his songs in different platforms. He has produced albums such as Celebrate and The Sound, doing songs like Superstar, Lovi Lovi, Simama, Usikonde, Kwa Hao and Mungu ni Nani.

His style of music is a contemporary approach, using slang and language common among the youth and trendy words. He uses this as a means to reach to as many people as possible and to retain his relevance and the ability of his audience to relate with his message.

His work has earned him recognition and accolades one being the 2014 Groove Award for Collabo Song of the Year. He is also the owner of Starborn Empire which is situated in Roysambu, Nairobi.

After his much-publicized exit from EMB records, Mr. Seed is set to launch his own record label Starborn Empire. The Roysambu-based label will be launched in a week or two Monday Blues has learned. During an interview, he said that after his fallout with Bahati he used all his savings to put up a studio.

The label has already signed Ndume, who released 'Za Yesu' -the second project from the label after Seed's 'Dunda'. The launch comes after his fiancée, Nimo Gachuiri, gave birth to their son, Gold Christen Omondi, two weeks ago. The two have followed in the footsteps of Bahati by shooting a reality show that they broadcast on Seed's YouTube channel.

Mr Seed was joined by some producers, managers and David Wonder on his way out of EMB. Wonder's fate remains unknown after the exit. Kioko, Bahati's former manager, who has been the longest-serving member of the label and has been dismissing reports that he left the label, now runs a clothes shop in town. As for the producers and managers who left alongside Mr. Seed, some of them are said to have joined his camp.

The fate of EMB records hangs in the balance after the mass exit as it now has only two artists signed up, Princess Leo and Danny Gift. Monday Blues has learned that Bahati's style of management, which is said to be heavily influenced by his wife, Diana Marua, led to the exit of most of his staff.

Currently, Princess Leo is the only female singer in the label. She got signed after winning an audition that had more than 600 participants. Leo has been silent for months after releasing her first song in which she features Bahati.

According to sources, Danny Gift is regretting his decision to sign to the label. His choice to stay shocked many. After Seed and David Wonder's exit, the label was alleged to be micromanaging artistes. Gift leads a low-key lifestyle compared to that of his label boss Bahati who isn't shy to court controversy.

Follow Boomplay and keep up-to-date with the latest Mr Seed songs and information.

Mr Seed Songs
-Lovi Lovi
-Pepeta ft Ndume
-Superstar ft Nimo
-Simama
-Niringe ft Willy Jones
-Gwara Gwara
-Upo ft Solomon Mkubwa
-Ti mundu ft Betty Bayo
-Dundaa
-Usikonde
-Happy day ft Pitson
-Makelele

Mr Seed songs are included in Boomplay music playlists. Search to stream and download Mr Seed songs MP3/ single/ albums on the platform.
New Comments(
57

)