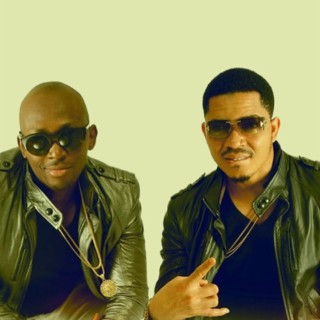 Bracket
Current #1,640

All Time #1,165

Bracket are a Nigerian afropop and R&B music duo composed of Obumneme Ali a.k.a. "Smash" and Nwachukwu Ozioko a.k.a. "Vast". Bracket started as a three-man music group before a member called Bistop dropped out. Many of Bracket songs become very popular and trendy online with great number of streaming and downloads on Boomplay.

The duo are currently signed to Ape Planet and are best known for releasing hit singles like "Happy Day", "Yori-Yori" and "Ada Owerri" which received several positive reviews and airplay.

Career:
The history of how the group began has been mixed in several stories and allegations. Bistop, a former member of the group claims to be the pioneer of the group after meeting Vast in a barbing salon back in 1999. They performed and attended several shows under a name called "Furious BV". In a press release, he said he left the group as a result of a collaborative effort of a former associate producer together with Vast and Smash. He also went on to claim that Smash was not a member of the group until 2003 after he met Smash through a friend

Achievement:
In 2012, Bracket received an honorary award from the city of Philadelphia at the African American Museum in Philadelphia.

Follow Boomplay and keep up-to-date with latest Bracket songs and information.

Bracket Songs:
• Bracket - "Let's Go" ft. Rudeboy
• Bracket - "Moving Train" ft. Umu Obiligbo
• Bracket - "African Woman"
• Bracket - "Ebenebe"
• Bracket - "Far Away" ft. Cynthia Morgan, Dezign
• Bracket - "Amen"
• Towan - "Ifugodinwa" Ft. Bracket
• Bracket - "Chinelo" ft. Duncan Mighty
• Bracket ft. Korede Bello - Just Like That
• Kelvin Boj - Wyne For Me ft. Bracket & Dammy Krane
• Bracket - "Bartender" ft. Phyno
• Bracket - "Panya" ft. Tekno
• Weatherman - Oga N'iru ft. Bracket

Net worth:
Bracket's net worth as of 2021 is estimated at around $7 million combined (net worth estimated in 2021).

Bracket songs are included in Boomplay music playlists. Search to stream and download Bracket songs MP3/ single/ albums on the platform....more

Country/Region : Nigeria
Songs

(41)

Albums

(4)

Playlists

(8)
1

2

3

4

5

6

7

8

9

10

11

12

13

14

15

16

17

18

19

20

21

22

23

24

25

26

27

28

29

30

31

32

33

34

35

36

37

38

39

40

41
Listen to Bracket's new songs including "Mama Africa", "Chop Kiss ft. Flavour", "Panya ft. Tekno" and many more. Enjoy Bracket's latest songs and explore the Bracket's new music albums. If you want to download Bracket songs MP3, use the Boomplay App to download the Bracket songs for free. Discover Bracket's latest songs, popular songs, trending songs all on Boomplay.
Bracket are a Nigerian afropop and R&B music duo composed of Obumneme Ali a.k.a. "Smash" and Nwachukwu Ozioko a.k.a. "Vast". Bracket started as a three-man music group before a member called Bistop dropped out. Many of Bracket songs become very popular and trendy online with great number of streaming and downloads on Boomplay.

The duo are currently signed to Ape Planet and are best known for releasing hit singles like "Happy Day", "Yori-Yori" and "Ada Owerri" which received several positive reviews and airplay.

Career:
The history of how the group began has been mixed in several stories and allegations. Bistop, a former member of the group claims to be the pioneer of the group after meeting Vast in a barbing salon back in 1999. They performed and attended several shows under a name called "Furious BV". In a press release, he said he left the group as a result of a collaborative effort of a former associate producer together with Vast and Smash. He also went on to claim that Smash was not a member of the group until 2003 after he met Smash through a friend

Achievement:
In 2012, Bracket received an honorary award from the city of Philadelphia at the African American Museum in Philadelphia.

Follow Boomplay and keep up-to-date with latest Bracket songs and information.

Bracket Songs:
• Bracket - "Let's Go" ft. Rudeboy
• Bracket - "Moving Train" ft. Umu Obiligbo
• Bracket - "African Woman"
• Bracket - "Ebenebe"
• Bracket - "Far Away" ft. Cynthia Morgan, Dezign
• Bracket - "Amen"
• Towan - "Ifugodinwa" Ft. Bracket
• Bracket - "Chinelo" ft. Duncan Mighty
• Bracket ft. Korede Bello - Just Like That
• Kelvin Boj - Wyne For Me ft. Bracket & Dammy Krane
• Bracket - "Bartender" ft. Phyno
• Bracket - "Panya" ft. Tekno
• Weatherman - Oga N'iru ft. Bracket

Net worth:
Bracket's net worth as of 2021 is estimated at around $7 million combined (net worth estimated in 2021).

Bracket songs are included in Boomplay music playlists. Search to stream and download Bracket songs MP3/ single/ albums on the platform.
New Comments(
24

)