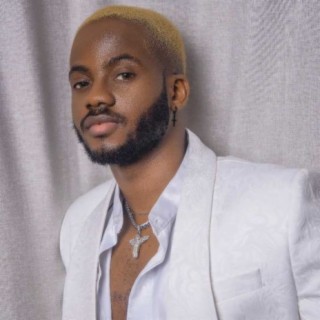 Korede Bello
Current #1,862

All Time #955

The incredible Korede Bello (born 29 February 1996) is one of Nigeria's best youngest talents in the music industry. Korede Bello songs become very popular and trendy online with a great number of streaming and downloads on Boomplay.

He came in as a professional singer, songwriter, guitarist, and composer. Korede Bello is known for being a recording artist under the most famous record label in Nigeria- Mavin Records, headed by music producer, Don Jazzy. He is also known for his hit single titled, Godwin.

Career
Korede Bello's love for music is dated back to when he was just a kid. His father saw this and decided to teach him to play the guitar, which sparked his interest in learning other musical instruments.

He grew to become a talented instrumentalist, to which he began to play on stage. He participated in his first competition in school at the ripe age of thirteen against older students and performed incredibly well.

He basked on his success in the competition by pushing himself into participating in other competitions in and outside school.

Realizing his talent for singing, he released a single, his first in 2013, which he titled "Forever," the song was welcomed by many.

Korede Bello got contracted for his first record deal on 24 February 2014 under Mavin Records, owned and managed by renowned Music Producer, Don Jazzy.

Mavin Records is famously known for discovering major and popular music talents in Nigeria, such as Di'ja, Tiwa Savage, D'Prince, Boy Spyce, Ladipoe, Magixx, Johnny Drille, Rekado Banks, Crayon, Rema, Ruger, Wande Coal, Ayra Starr, and a host of other top artists.

Few months after signing a deal with Mavin Records, Korede Bello shook Africa with his hit single titled, Godwin and then another titled, Mungo Park followed by African Princess.

Since his arrival, the young man has released hits and collaborated with other top artists like Tiwa Savage, Don Jazzy, Dr Sid, and others.

Achievement
The singer, Korede Bello has been appreciated by many brands, not his incredible achievement in the Nigerian music industry. Most notable are:
• Indigenous & Revelation of the year at Tush All Youth Awards 2011.
• Most wanted Artiste at Hype Awards 2012.
• R&B Single (Male) at Yem Awards 2012.
• Young Promoter of Cultural Heritage at The Gong Africa News Magazine 2012.
• Best Song of the Year "Godwin" at the 4th Annual Golden Icons Academy Movie Awards 2015.
• Best Pop Single "Godwin at the Headies 2015.
• Pop Artiste of the Year at the City People Entertainment Awards 2016.
• Best Contemporary Afro Video "Godwin" the 9th Nigeria Music Video Awards 2016.

Follow Boomplay and keep up-to-date with the latest Korede Bello songs and information.

Korede Bello Songs
Korede Bello has a smooth and romantic voice that is applauded by fans, especially ladies. His music genre is majorly Afro-Pop. The singer has gone on to release hits which includes;
• Butterfly
• Romantic
• Work It
• Mi Casa Su Casa
• Mungo Park
• Godwin
• Jingle Bell
• I Love Naija
• Bless Me
• Repete
• Together
• Let Him Go
• Ese Baba
• Jingle Bell
• I Love Naija
• Bless Me
• Repete
• Together
• Ese Baba
• Favorite Song
• If You Smile
• I'm Into You
• The Way You Are
• Oh Baybe
• Some

Korede Bello songs are included in Boomplay music playlists. Search to stream and download Korede Bello songs MP3/ single/ albums on the platform....more

Country/Region : Nigeria
Listen to Korede Bello's new songs including "Do Like That", "Mungo Park", "Butterfly" and many more. Enjoy Korede Bello's latest songs and explore the Korede Bello's new music albums. If you want to download Korede Bello songs MP3, use the Boomplay App to download the Korede Bello songs for free. Discover Korede Bello's latest songs, popular songs, trending songs all on Boomplay.
The incredible Korede Bello (born 29 February 1996) is one of Nigeria's best youngest talents in the music industry. Korede Bello songs become very popular and trendy online with a great number of streaming and downloads on Boomplay.

He came in as a professional singer, songwriter, guitarist, and composer. Korede Bello is known for being a recording artist under the most famous record label in Nigeria- Mavin Records, headed by music producer, Don Jazzy. He is also known for his hit single titled, Godwin.

Career
Korede Bello's love for music is dated back to when he was just a kid. His father saw this and decided to teach him to play the guitar, which sparked his interest in learning other musical instruments.

He grew to become a talented instrumentalist, to which he began to play on stage. He participated in his first competition in school at the ripe age of thirteen against older students and performed incredibly well.

He basked on his success in the competition by pushing himself into participating in other competitions in and outside school.

Realizing his talent for singing, he released a single, his first in 2013, which he titled "Forever," the song was welcomed by many.

Korede Bello got contracted for his first record deal on 24 February 2014 under Mavin Records, owned and managed by renowned Music Producer, Don Jazzy.

Mavin Records is famously known for discovering major and popular music talents in Nigeria, such as Di'ja, Tiwa Savage, D'Prince, Boy Spyce, Ladipoe, Magixx, Johnny Drille, Rekado Banks, Crayon, Rema, Ruger, Wande Coal, Ayra Starr, and a host of other top artists.

Few months after signing a deal with Mavin Records, Korede Bello shook Africa with his hit single titled, Godwin and then another titled, Mungo Park followed by African Princess.

Since his arrival, the young man has released hits and collaborated with other top artists like Tiwa Savage, Don Jazzy, Dr Sid, and others.

Achievement
The singer, Korede Bello has been appreciated by many brands, not his incredible achievement in the Nigerian music industry. Most notable are:
• Indigenous & Revelation of the year at Tush All Youth Awards 2011.
• Most wanted Artiste at Hype Awards 2012.
• R&B Single (Male) at Yem Awards 2012.
• Young Promoter of Cultural Heritage at The Gong Africa News Magazine 2012.
• Best Song of the Year "Godwin" at the 4th Annual Golden Icons Academy Movie Awards 2015.
• Best Pop Single "Godwin at the Headies 2015.
• Pop Artiste of the Year at the City People Entertainment Awards 2016.
• Best Contemporary Afro Video "Godwin" the 9th Nigeria Music Video Awards 2016.

Follow Boomplay and keep up-to-date with the latest Korede Bello songs and information.

Korede Bello Songs
Korede Bello has a smooth and romantic voice that is applauded by fans, especially ladies. His music genre is majorly Afro-Pop. The singer has gone on to release hits which includes;
• Butterfly
• Romantic
• Work It
• Mi Casa Su Casa
• Mungo Park
• Godwin
• Jingle Bell
• I Love Naija
• Bless Me
• Repete
• Together
• Let Him Go
• Ese Baba
• Jingle Bell
• I Love Naija
• Bless Me
• Repete
• Together
• Ese Baba
• Favorite Song
• If You Smile
• I'm Into You
• The Way You Are
• Oh Baybe
• Some

Korede Bello songs are included in Boomplay music playlists. Search to stream and download Korede Bello songs MP3/ single/ albums on the platform.
FAQs about Korede Bello
Where is Korede Bello from?
He is from Nigeria.
How to download songs of Korede Bello?
You can download songs of Korede Bello from Boomplay App for free.
Firstly, install Boomplay app on your mobile phone.
Secondly, navigate to the song you would like to download.
Thirdly, Tap on More > Download.