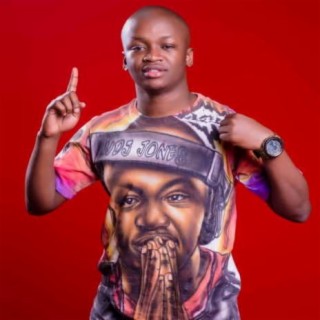 VDJ JONES
Current #7,231

All Time #5,923

Jones Achido popularly famous for his stage name VDJ Jones is an African DJ based in Kenya and begun his DJ career in 2015 after completing high school in Usenge High School. Many of VDJ Jones Songs became very popular and trendy on social media in line with a great number of streaming and downloads on Boomplay.

Career
His love for music and entertainment came around when he was in high school. During the entertainment sessions, different entertainers came to their school and the whole school would feel the music played by the DJs. That is when he developed interest in becoming an entertainer at some point in his life, upon completion of high school education, Jones decided to pursue his thirst for music and that's when he started attending discos just to learn the music pattern.

On joining the University back in 2013 he started taking Deejaying like a career despite enrolling for a Journalism course at Multimedia University. He never had any cash to pay for his DJ classes so he learned majorly through observing other DJs doing their thing. Just after clearing the University in 2015 January, he started doing casual DJ jobs earning 2$/200Ksh a night, he also tried distributing his DJ Mixtapes in matatus for free but nobody, even the matatu driver took it. He then got employed as the resident DJ at some local club earning 150$ per month, which he did for a year before quitting.

In 2016 he decided to join the street DJ mixes which majorly had the biggest platform in the streets, Matatus, and markets. He grew from a regular street DJ to one of the top and best-selling names currently in the industry. Jones recently joined music production and video directing having released popular hit songs like Rieng Remix, Wale Mang'aa and many more to come.

He is now one of the best Djs in Africa and one of the biggest DJ brands in the world, nothing is impossible with determination. After his first breakthrough in 2016, when his mixtape went viral in streets, matatus and online, he got an internship at Border TV where he was a DJ for three months.

After finishing the internship, he went back to creating massive mixtapes while relying on gigs to pay his rent and bills. In 2017 he met with Jegede, one of the best producers in the Kenyan music industry. They both made three big hits that received a good airplay and launched Jones' career as a musician. But when he met with Boondocks Gang to do a remix of their song Peleka na Rieng is where VDJ Jones set his foot fully into the industry and has never looked back since then.

To VDJ Jones, the entertainment industry has everything an upcoming entertainer wants and fantasizes a lot about; whether it is money, fame or a lot of pleasure. All of these fantasies with definitely be manifested. If that is your driver to success, then well and good, you will get them but it doesn't guarantee how long you will stay there. Hard work, determination and consistency are what took VDJ Jones to the top and is what will keep him there for as long as he can.

Follow Boomplay and keep up-to-date with the latest songs of Vdj Jones and information.

VDJ Jones Latest Songs
• Parepare
• My lover
• Bujubuju
• Peleka na Rieng remix
• Wale mang'aa
• Inachuna
• Kutu
• Hera Onge
• Design Hii
• Zimepanda
• 2 by 2
• Riba
• Kata Tenje
• Iko Bie
• Kuna Kichwa
• Jegi
• epuka
• Kwa Kwa (Twa Twa) ft. Ochungulo Family, Wakali Wao & Angry Panda

Vdj Jones Songs are included in Boomplay music playlists. Search, stream, and download Vdj Jones Songs, his latest singles and albums in MP3 only on the Boomplay platform for free....more

Country/Region : Kenya
Songs

(74)

Albums

(68)

Playlists

(22)
1

2

3

4

5

6

7

8

9

10

11

12

13

14

15

16

17

18

19

20

21

22

23

24

25

26

27

28

29

30

31

32

33

34

35

36

37

38

39

40

41

42

43

44

45

46

47

48

49

50

51

52

53

54

55

56

57

58

59

60

61

62

63

64

65

66

67

68

69

70

71

72

73

74
Listen to VDJ JONES's new songs including "Kwa Kwa (Twa Twa) ft. Ochungulo Family, Wakali Wao & Angry Panda", "Zimepanda ft. Mbogi Genje, Wakali Wao, Team Psycho, Bussa J, Calif", "Design Hii ft. Mejja, Vuva, Jeshi Jinga, Harry Craze, Josephyl, Kim Swat" and many more. Enjoy VDJ JONES's latest songs and explore the VDJ JONES's new music albums. If you want to download VDJ JONES songs MP3, use the Boomplay App to download the VDJ JONES songs for free. Discover VDJ JONES's latest songs, popular songs, trending songs all on Boomplay.
Jones Achido popularly famous for his stage name VDJ Jones is an African DJ based in Kenya and begun his DJ career in 2015 after completing high school in Usenge High School. Many of VDJ Jones Songs became very popular and trendy on social media in line with a great number of streaming and downloads on Boomplay.

Career
His love for music and entertainment came around when he was in high school. During the entertainment sessions, different entertainers came to their school and the whole school would feel the music played by the DJs. That is when he developed interest in becoming an entertainer at some point in his life, upon completion of high school education, Jones decided to pursue his thirst for music and that's when he started attending discos just to learn the music pattern.

On joining the University back in 2013 he started taking Deejaying like a career despite enrolling for a Journalism course at Multimedia University. He never had any cash to pay for his DJ classes so he learned majorly through observing other DJs doing their thing. Just after clearing the University in 2015 January, he started doing casual DJ jobs earning 2$/200Ksh a night, he also tried distributing his DJ Mixtapes in matatus for free but nobody, even the matatu driver took it. He then got employed as the resident DJ at some local club earning 150$ per month, which he did for a year before quitting.

In 2016 he decided to join the street DJ mixes which majorly had the biggest platform in the streets, Matatus, and markets. He grew from a regular street DJ to one of the top and best-selling names currently in the industry. Jones recently joined music production and video directing having released popular hit songs like Rieng Remix, Wale Mang'aa and many more to come.

He is now one of the best Djs in Africa and one of the biggest DJ brands in the world, nothing is impossible with determination. After his first breakthrough in 2016, when his mixtape went viral in streets, matatus and online, he got an internship at Border TV where he was a DJ for three months.

After finishing the internship, he went back to creating massive mixtapes while relying on gigs to pay his rent and bills. In 2017 he met with Jegede, one of the best producers in the Kenyan music industry. They both made three big hits that received a good airplay and launched Jones' career as a musician. But when he met with Boondocks Gang to do a remix of their song Peleka na Rieng is where VDJ Jones set his foot fully into the industry and has never looked back since then.

To VDJ Jones, the entertainment industry has everything an upcoming entertainer wants and fantasizes a lot about; whether it is money, fame or a lot of pleasure. All of these fantasies with definitely be manifested. If that is your driver to success, then well and good, you will get them but it doesn't guarantee how long you will stay there. Hard work, determination and consistency are what took VDJ Jones to the top and is what will keep him there for as long as he can.

Follow Boomplay and keep up-to-date with the latest songs of Vdj Jones and information.

VDJ Jones Latest Songs
• Parepare
• My lover
• Bujubuju
• Peleka na Rieng remix
• Wale mang'aa
• Inachuna
• Kutu
• Hera Onge
• Design Hii
• Zimepanda
• 2 by 2
• Riba
• Kata Tenje
• Iko Bie
• Kuna Kichwa
• Jegi
• epuka
• Kwa Kwa (Twa Twa) ft. Ochungulo Family, Wakali Wao & Angry Panda

Vdj Jones Songs are included in Boomplay music playlists. Search, stream, and download Vdj Jones Songs, his latest singles and albums in MP3 only on the Boomplay platform for free.
New Comments(
46

)
FAQs about VDJ JONES
Where is VDJ JONES from?
He is from Kenya.
How to download songs of VDJ JONES?
You can download songs of VDJ JONES from Boomplay App for free.
Firstly, install Boomplay app on your mobile phone.
Secondly, navigate to the song you would like to download.
Thirdly, Tap on More > Download.