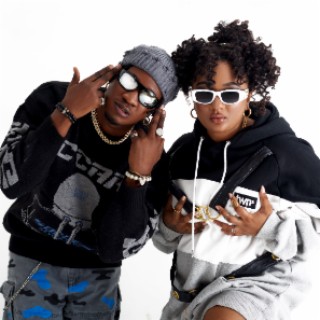 Navy Kenzo
Current #1,815

All Time #1,882

Navy Kenzo is that the highest marketing music cluster in Tanzania consisting of Nahreel and Aika. Nahreel each met in Asian country as they were finding out for his or her degrees and that they solely started making music along when they arrived to Tanzania when their studies. Many Navy Kenzo's songs become very popular and trendy online with a great number of streaming and downloads on Boomplay.

CAREER
Nahreel fell smitten with music at a young age once his father bought him a piano. throughout his university breaks, he created beats for a few individuals and his beats got a great deal of attention however he opted to initial end his degree.

He based his company, 'The business Studios' that oversees artists like Diamond, Navy Kenzo and plenty of additional.

When Nahreel and Aiko arrived in Tanzania, they joined their friends to form the cluster 'Pah One'. They but back in 2013 go their separate ways in which so was once Nahreel and Aika created the couple that's currently Navy kenzo.

They shot to fame when the discharge of their third single 'Chelewa' and that they have since been cathartic banger when banger and acting everywhere on the planet.

The Navy Kenzo couple are geological dating for the longest time. they're not too keen on umpirage their standing however in essence they're husband and adult female. Nahreel and Aiko have 2 youngsters along, Gold and Jamaica.

ACHIEVEMENT
Navy Kenzo won the award for the simplest Group / Duo Video in 2016 with the song Kamatia. In 2011, they partnered with Mozambican hip-hop queen mammal genus Do Bling for Coke Studio Season Africa four.

Follow Boomplay and keep up-to-date with the latest Navy Kenzo's songs and information.

NAVY KENZO'S SONGS
• In
• Kamatia
• Why now
• Magical
• Game
• Nisogelee
• Bajaj
• When
• Morning
• Katika ft. Diamond Platnumz

The Navy Kenzo couple area unit one in all the best marketing and paid artists in Tanzania. Nahreel is that the founding father of The business Studios. Aika is that the chief operating officer of Gold Baby product in Tanzania.

Navy Kenzo's songs are included in Boomplay music playlists. Search to stream and download Navy Kenzo's songs MP3/Single/Albums on the platform....more

Country/Region : Tanzania
Listen to Navy Kenzo's new songs including "Katika ft. Diamond Platnumz", "Fella", "Morning" and many more. Enjoy Navy Kenzo's latest songs and explore the Navy Kenzo's new music albums. If you want to download Navy Kenzo songs MP3, use the Boomplay App to download the Navy Kenzo songs for free. Discover Navy Kenzo's latest songs, popular songs, trending songs all on Boomplay.
Navy Kenzo is that the highest marketing music cluster in Tanzania consisting of Nahreel and Aika. Nahreel each met in Asian country as they were finding out for his or her degrees and that they solely started making music along when they arrived to Tanzania when their studies. Many Navy Kenzo's songs become very popular and trendy online with a great number of streaming and downloads on Boomplay.

CAREER
Nahreel fell smitten with music at a young age once his father bought him a piano. throughout his university breaks, he created beats for a few individuals and his beats got a great deal of attention however he opted to initial end his degree.

He based his company, 'The business Studios' that oversees artists like Diamond, Navy Kenzo and plenty of additional.

When Nahreel and Aiko arrived in Tanzania, they joined their friends to form the cluster 'Pah One'. They but back in 2013 go their separate ways in which so was once Nahreel and Aika created the couple that's currently Navy kenzo.

They shot to fame when the discharge of their third single 'Chelewa' and that they have since been cathartic banger when banger and acting everywhere on the planet.

The Navy Kenzo couple are geological dating for the longest time. they're not too keen on umpirage their standing however in essence they're husband and adult female. Nahreel and Aiko have 2 youngsters along, Gold and Jamaica.

ACHIEVEMENT
Navy Kenzo won the award for the simplest Group / Duo Video in 2016 with the song Kamatia. In 2011, they partnered with Mozambican hip-hop queen mammal genus Do Bling for Coke Studio Season Africa four.

Follow Boomplay and keep up-to-date with the latest Navy Kenzo's songs and information.

NAVY KENZO'S SONGS
• In
• Kamatia
• Why now
• Magical
• Game
• Nisogelee
• Bajaj
• When
• Morning
• Katika ft. Diamond Platnumz

The Navy Kenzo couple area unit one in all the best marketing and paid artists in Tanzania. Nahreel is that the founding father of The business Studios. Aika is that the chief operating officer of Gold Baby product in Tanzania.

Navy Kenzo's songs are included in Boomplay music playlists. Search to stream and download Navy Kenzo's songs MP3/Single/Albums on the platform.
New Comments(
169

)
FAQs about Navy Kenzo
Where is Navy Kenzo from?
They are from Tanzania.
How to download songs of Navy Kenzo?
You can download songs of Navy Kenzo from Boomplay App for free.
Firstly, install Boomplay app on your mobile phone.
Secondly, navigate to the song you would like to download.
Thirdly, Tap on More > Download.