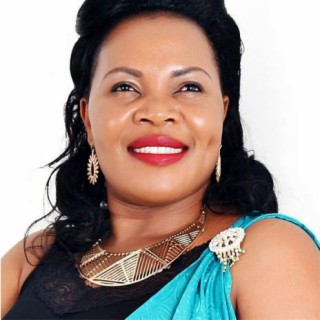 Judith Babirye
Current #321

All Time #364

Judith Babirye is a Ugandan gospel musician. She is a senior pastor at "New Life Deliverance Church", in Makindye Division, in the southeastern part of Kampala, Uganda's capital city.

Babirye was born in Nyenga, Buikwe District, to Mr and Mrs Mukooza. She attended Nalinya Lwantale Primary School in Luweero District. She studied at Ndejje Senior School for her O-Level education and at Iganga Secondary School for her A-Level studies. She was admitted to Makerere University, graduating in 2001 with a Bachelor of Arts in Tourism.

When she was in Senior Two at Ndejje Secondary School, Babirye won the music composition festivals in which they were tasked to compose the school anthem. At Iganga, she also composed the school anthem sparking off her musical career.Her debut song, "Beera Nange", won the best gospel single in the 2006 Pearl of Africa Music Awards.She has had hits like "Wambatira", "Omusaayi gwa Yesu", "Ekitibwa kyo Mukama" and "Maama"...more

Boom ID : 101374623 Country : Uganda Gender : Female
Songs

(176)

Albums

(32)

Playlists

(3)
1

2

3

4

5

6

7

8

9

10

11

12

13

14

15

16

17

18

19

20

21

22

23

24

25

26

27

28

29

30

31

32

33

34

35

36

37

38

39

40

41

42

43

44

45

46

47

48

49

50

51

52

53

54

55

56

57

58

59

60

61

62

63

64

65

66

67

68

69

70

71

72

73

74

75

76

77

78

79

80

81

82

83

84

85

86

87

88

89

90

91

92

93

94

95

96

97

98

99

100
Listen to Judith Babirye's new songs including "Nzigulilawo Egulu", "Kwata Omukono Gwange", "Buli Uzziah Affe" and many more. Enjoy Judith Babirye's latest songs and explore the Judith Babirye's new music albums. If you want to download Judith Babirye songs MP3, use the Boomplay App to download the Judith Babirye songs for free. Discover Judith Babirye's latest songs, popular songs, trending songs all on Boomplay.
Judith Babirye is a Ugandan gospel musician. She is a senior pastor at "New Life Deliverance Church", in Makindye Division, in the southeastern part of Kampala, Uganda's capital city.

Babirye was born in Nyenga, Buikwe District, to Mr and Mrs Mukooza. She attended Nalinya Lwantale Primary School in Luweero District. She studied at Ndejje Senior School for her O-Level education and at Iganga Secondary School for her A-Level studies. She was admitted to Makerere University, graduating in 2001 with a Bachelor of Arts in Tourism.

When she was in Senior Two at Ndejje Secondary School, Babirye won the music composition festivals in which they were tasked to compose the school anthem. At Iganga, she also composed the school anthem sparking off her musical career.Her debut song, "Beera Nange", won the best gospel single in the 2006 Pearl of Africa Music Awards.She has had hits like "Wambatira", "Omusaayi gwa Yesu", "Ekitibwa kyo Mukama" and "Maama"