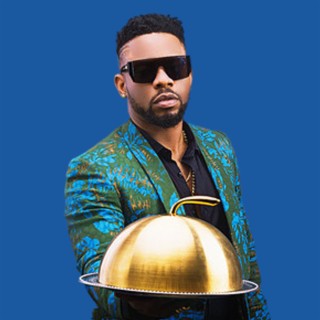 Ruffcoin
Current #13k

All Time #7,170

Ruffcoin Nwa-Aba was born Emelogu Muruako Fortune to Late Mr Akwarandu Emelogu and Ugoeze Rebecca Nne Emelogu and he has four brothers and four sisters. Many of Ruffcoin songs become very popular and trendy online with a great number of streaming and downloads on Boomplay.

Career
Ruffcoin Nwa-Aba, famously known for his smash hit single "Nwa Aba", started his Musical journey started in 1998 while still in secondary school but he made no significant move because he wanted to get a Law degree.

In his final year in school he deferred his admission to pursue his Music career. In 2004 he started recording his first album titled Nwa Aba which included smashing hit single titled "Nwa Aba". This album made him a household name most especially in the Eastern part of Nigeria.

He released his second album titled "Nwa Aba Reloaded" which had hit singles like "Take me there" and "Nwa Aba Remix" His Music style is known as Conscious Afro Hip Hop and sometimes he also plays around with other genres of music like R&B/Makosa.

Follow Boomplay and keep up to date with the latest Ruffcoin songs and information.

Ruffcoin Songs
• Eriwa
• Yati-Yati
• Nwa Aba
• Enyi Number 1
• Chuba Aku
• Na God
• Where Una Dey See This Money
• Zukwanike
• 30 40 Ft Phyno
• Baby Special (feat. Davido)
• Ogbugianyi
• Aba Made
• Koo
• Last Boyfriend
• Sweet Music
• Jegede
• The Way You Dance
• 100 Kpa
• 30-4
• Nwoke
• Be My Lady
• Oh Bebe
• Onu Ugu
• Nwaba Remix
• Onye Eze
• Street Dues
• Eriwa 2.2
• Baller
• Okachauto
• Come to My Place
• Down Low

Ruffcoin songs are included in Boomplay music playlists. Search to stream and download Ruffcoin songs MP3/ single/ albums on the platform....more

Country/Region : Nigeria
Songs

(10)

Albums

(4)

Playlists

(0)
Listen to Ruffcoin's new songs including "Sweet Outside", "Baby Special ft. Davido", "Ogbugianyi" and many more. Enjoy Ruffcoin's latest songs and explore the Ruffcoin's new music albums. If you want to download Ruffcoin songs MP3, use the Boomplay App to download the Ruffcoin songs for free. Discover Ruffcoin's latest songs, popular songs, trending songs all on Boomplay.
Ruffcoin Nwa-Aba was born Emelogu Muruako Fortune to Late Mr Akwarandu Emelogu and Ugoeze Rebecca Nne Emelogu and he has four brothers and four sisters. Many of Ruffcoin songs become very popular and trendy online with a great number of streaming and downloads on Boomplay.

Career
Ruffcoin Nwa-Aba, famously known for his smash hit single "Nwa Aba", started his Musical journey started in 1998 while still in secondary school but he made no significant move because he wanted to get a Law degree.

In his final year in school he deferred his admission to pursue his Music career. In 2004 he started recording his first album titled Nwa Aba which included smashing hit single titled "Nwa Aba". This album made him a household name most especially in the Eastern part of Nigeria.

He released his second album titled "Nwa Aba Reloaded" which had hit singles like "Take me there" and "Nwa Aba Remix" His Music style is known as Conscious Afro Hip Hop and sometimes he also plays around with other genres of music like R&B/Makosa.

Follow Boomplay and keep up to date with the latest Ruffcoin songs and information.

Ruffcoin Songs
• Eriwa
• Yati-Yati
• Nwa Aba
• Enyi Number 1
• Chuba Aku
• Na God
• Where Una Dey See This Money
• Zukwanike
• 30 40 Ft Phyno
• Baby Special (feat. Davido)
• Ogbugianyi
• Aba Made
• Koo
• Last Boyfriend
• Sweet Music
• Jegede
• The Way You Dance
• 100 Kpa
• 30-4
• Nwoke
• Be My Lady
• Oh Bebe
• Onu Ugu
• Nwaba Remix
• Onye Eze
• Street Dues
• Eriwa 2.2
• Baller
• Okachauto
• Come to My Place
• Down Low

Ruffcoin songs are included in Boomplay music playlists. Search to stream and download Ruffcoin songs MP3/ single/ albums on the platform.
FAQs about Ruffcoin
Where is Ruffcoin from?
He is from Nigeria.
What are the latest songs of Ruffcoin?
The latest songs of Ruffcoin are God Did ft. Effect, Enough Is Enough and Nwa Aba.
What are the best songs of Ruffcoin?
The best songs of Ruffcoin are Eriwa 2.2, Yati-Yati ft. Rudeboy and Chuba Aku ft. Umu Obiligbo.
What are the best albums of Ruffcoin?
The best albums of Ruffcoin are Eriwa 2.2, Yati-Yati and Still Sick.
How to download songs of Ruffcoin?
You can download songs of Ruffcoin from Boomplay App for free.
Firstly, install Boomplay app on your mobile phone.
Secondly, navigate to the song you would like to download.
Thirdly, Tap on More > Download.